Intrepreneur:
Is a person who has a entrepreneur skill set but works with in an organization, enterprise or venture.
What will you make of sour lemons?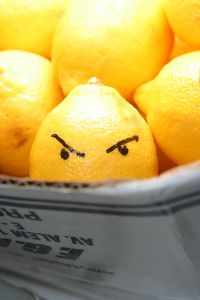 I went to Rite Aid on Saturday morning to run in and grab some sunscreen. I wanted to take a walk outside but had forgotten to put on sunscreen that morning. Being of Norwegian descent, it's prudent for me to wear sun protection when exposed to anything remotely resembling sun.
I found the sunscreen I wanted. It was on sale for $21.99 if I only signed up for a Rite Aid 'Wellness Card'. I filled out the form as the line to check out behind me grew. The sunscreen didn't come up at the right price. The line behind me grew. The clerk left her station to check the price. She instructed me to swipe my credit card and that the price would magically go right. It didn't. I stepped aside and let a nice man with chocolate milk and a candy bar (breakfast?) check out. The clerk went through a return process so that I could get the printed, advertised price. I left, went to my car to apply the sunscreen and alas, the pump was broken.
I went back into Rite Aid, found that I had purchased the last of that particular sunscreen, grabbed another on-sale $21.99 sunscreen and went to exchange it. Even though I was exchanging one $21.99 sunscreen for another, since I didn't have my 'Wellness Card' on me (left that in the car, natch), the special price for the exchange wasn't working. I asked for a manager to override the pricing difference. I had been there 3 minutes ago. They remembered me. They knew I had a 'Wellness Card.' And, the manager of the entire store came over and said, "Sorry, I don't have any override capabilities. You'll have to pay the $8 difference." "Um, but, they're both $21.99." "Right, and you can go out to your car and get your Wellness Card and stand in line again if you want." "Don't they give you any power at all? I can't believe that Rite Aid would rather have an irritated customer than give you the option to fix this here and now." "Sorry, I don't have that authority. But you're being really nice about the whole thing." And she's the store manager. My eyes widened in disbelief. It was like an episode of Seinfeld. Only instead of no soup for me, it was no sunscreen for me!
At that point, I chose to return the broken sunscreen and just go home to put sunscreen on. I left Rite Aid, after 25 total minutes, with no sunscreen in hand, irritated and curious how a store gets so big that they start to put policies in place that do not help the customer. How do you lose so much confidence in your staff that you don't give them any power? How do you dumb a job down so much that you can hire robots to do the job? Rite Aid appears to be working on the premise that even their store managers aren't even smart enough to think for themselves.
It makes me think about my business; what choices do I make that are helpful to me that are horrible for the customer? What decision making have I taken away from my front line (my packers and pullers and pourers) because I haven't trusted them enough. What can I do to change that?
We're instituting an Intrepreneur Day here at Bramble Berry. This is the chance for our staff to unleash their inner entrepreneur withIN Bramble Berry, to be the boss of their work area for the day. Is there something that's bugging them? Something they've always wanted to fix? This is the chance! We're giving everyone 1 to 3 days to research, write a mini business plan, present it to me and then implement the plan themselves. The goal is to empower our team to make positive choices for themselves and improve their work environment.
Rite Aid apparently doesn't trust their employees enough to make simple, $8 decisions. I'm glad I had such a negative experience with them because it was a reminder to me that if we expect people to be brainless automatons, they will be. If I expect my team of BrambleBerrians to do and be more, they will be.
Intrepreneur Day – here we come!