While there are many reasons to love the holiday season (cookies, Christmas music, fun decorations and spending time with family), my favorite thing about the holidays is giving back to others. Wednesday, December 11th marked the 7th year Bramble Berry teamed up with the Salvation Army in order to provide presents for more than 11 families including 21 children (you can see last year's trip here). It was great being able to go all shopaholic for families in our community and provide them with presents for under their trees.
This years annual shopping extravaganza was our largest ever! Over 20 Bramble Berry employees, family and friends met at our local Fred Meyer with lists for each family in hand. Three hours and several thousand dollars later, items for all 11 families were checked off the list. Team Bramble Berry had a great time "playing Santa" while shopping through clothes, toys and electronics to provide families with the items they coveted.
While shopping for all ages was fun, getting to pick out cute baby clothes was definitely a highlight!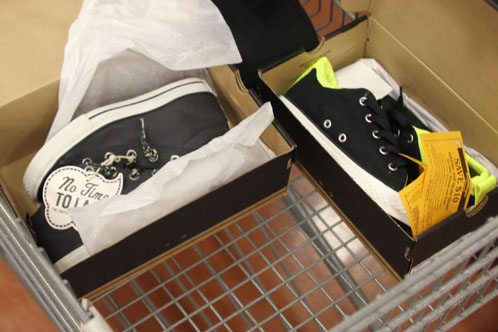 Many items on the children's wish list included new shoes, coats and hats to stay warm during the cold winter months.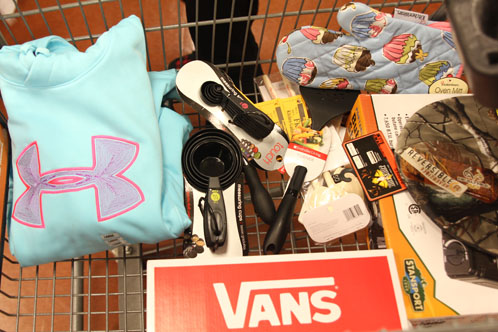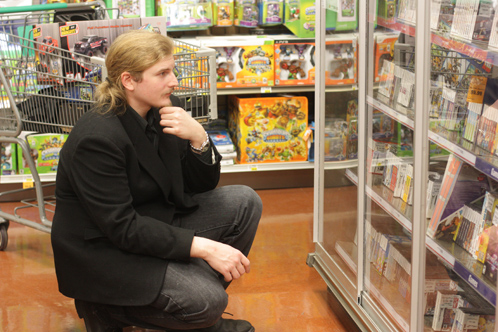 Ryan shopped for two young boys who had a DS game on their wish list. There were a lot of options, but Ryan ultimately went with a fun Mario Cart game.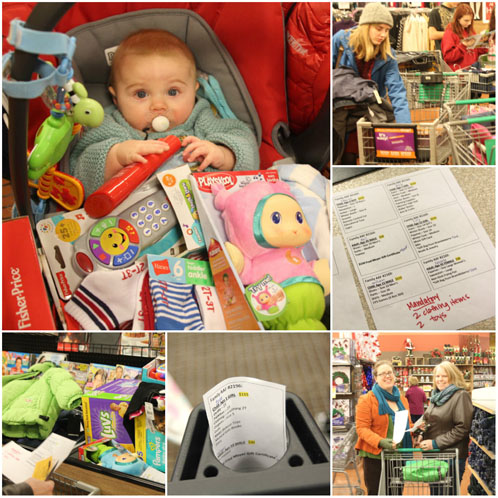 Top left: Lily was a trooper through the entire 3 hour+ trip, being surrounded by toys certainly helped! Top right: just starting to shop. Middle left: In order to stay organized, we made separate lists for each person with mandatory items highlighted. Bottom far right: Amber and her Mom Sally shopping until they drop!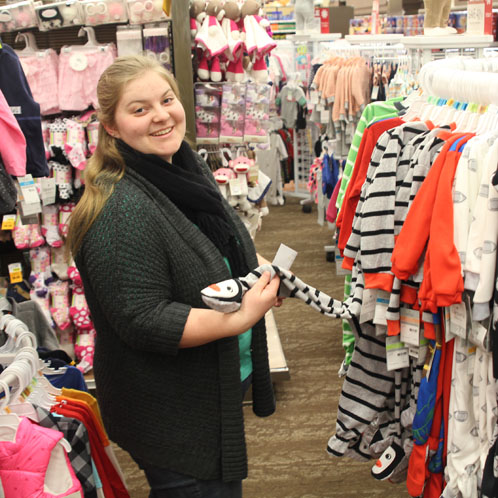 The awesome Caitlin who makes sure our products are thoroughly tested, shops through the racks of children clothing. Aren't those penguin footed pjs cute?

From left to right: Carla and her daughter Ember share a laugh while checking items off the list, one of our newest members of our crew picks out a warm winter coat, Lily and I stroll through the aisles of children's clothing…so many items to choose from!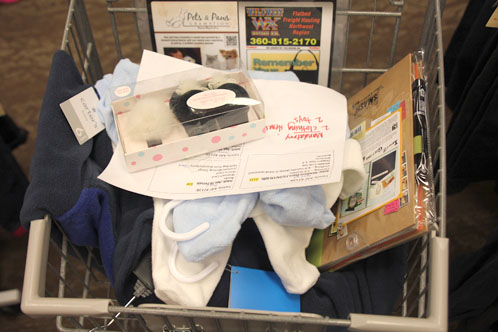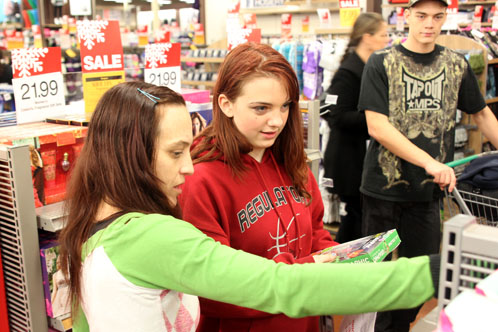 Carla and her family pick out items that will go under the tree for a young girl.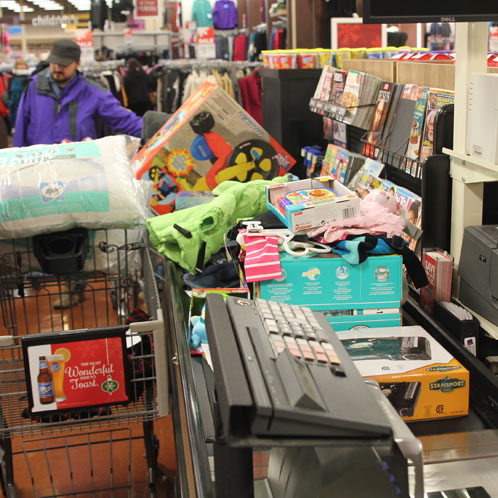 Multiple carts were filled to the brim by the time shopping was complete. Our checker was fast, efficient and got us through the line in record time for 20+ carts.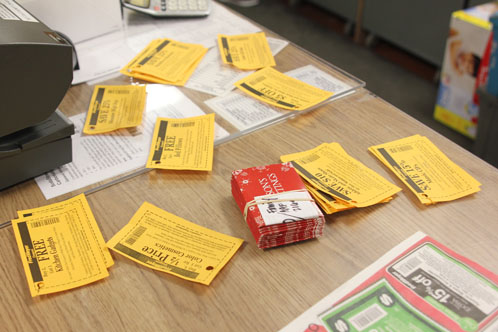 Can't forget coupons! =)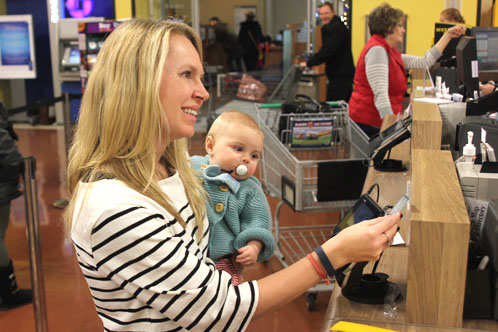 The best moment is sliding the card and making it official. You can see Lily already taking notes on how the credit card machine works =)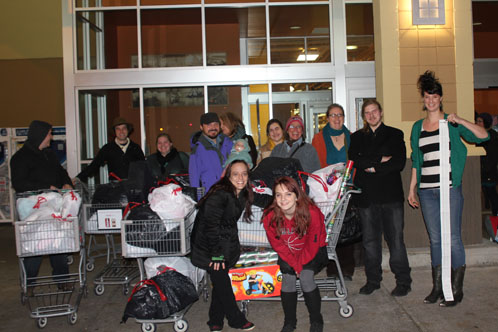 As usual, the receipt was taller than several of our employees (though Kirsten, our tallest employee isn't showing that particular trick in this photo). Providing families in our community with presents put a huge smile on everybody's faces.
It was a big team effort to get all the gifts into the van! All bags were carefully labeled for each family in order to help the Salvation Army team stay organized when all the gifts are delivered.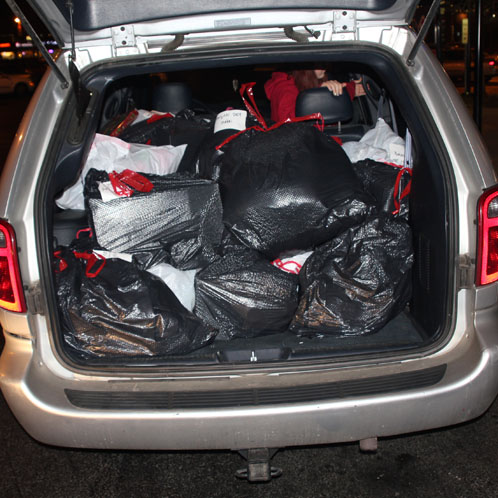 It was a very successful shopping trip, and it felt awesome filling up an entire mini-van with gifts for all 11 families. Next year we will need a few tips from Santa on how he fits all his presents in the sleigh =).
Thank you for all of your support during 2013. You are the reason that we are able to do our annual Salvation Army shopping trip. If you're looking for an organization to support, Salvation Army is a great choice. This is the perfect way to kick off our holiday season.