With the July Sample of the Month, it truly is Christmas in July. Throughout this month, every order at Brambleberry.com (excluding soap-base-only orders), will receive a complementary half-ounce bottle of Woodland Elves Fragrance Oil.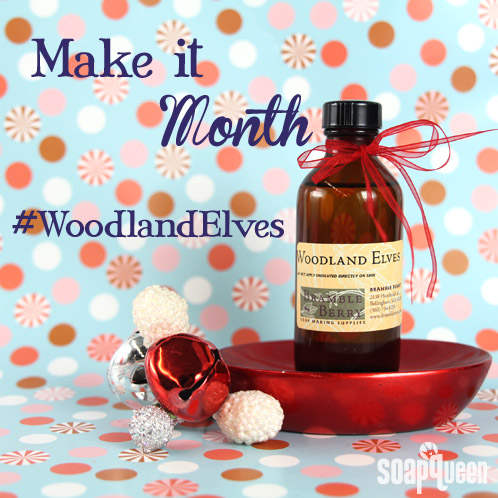 This scent includes notes that are hallmarks of the holiday season: hearty Siberian Fir, fresh White Pine, spicy Clove and festive Mistletoe. This fragrance performs beautifully in cold process soap, and works wonderfully in melt and pour, lotions and scrubs. Although the holiday season seems far off, it's never too early to start preparing for seasonal gift giving.
To jump start your holiday crafting, we're hosting another Make it Month featuring the Woodland Elves Fragrance Oil! Full details and helpful tips below: 
Your project does not necessarily need to be holiday-themed, but it does need to utilize the Woodland Elves Fragrance Oil. Cold process, melt and pour, lotions, scrubs and home crafts are all welcome. 
Post photos of your creations on Bramble Berry's Facebook page between now and July 29. Entries submitted after July 29 will not appear in our collages.
Your entry MUST include the hashtag "#WoodlandElves" in the photo caption. Without the hashtag #WoodlandElves, your photo will not appear in our Facebook album.
You can make multiple projects, but we will only consider three photos per person.
We will post a collage of staff favorite projects on August 5. We'll base our choices on how unique and creative the item is.
We encourage everyone to participate, from veterans to newbies! All photos submitted before the deadline that include the hashtag #WoodlandElves will appear in a Facebook album on the Bramble Berry Page.
This is an excellent way to show off your creations, and it's a great source of inspiration for your upcoming holiday projects. In the past, we've hosted Make it Months with a variety of themes, including 4th Of July, Oatmeal Milk and Honey Cybilla Fragrance Oil and creative packaging.
To give you a few ideas, here are a few photos from a Make it Month: Christmas that we hosted last year:
We've given you the instructions, and now it's up to you to start crafting, creating and soaping. We can't wait to see what you'll come up with!
PS – Many of the Bramble Berry holiday fragrances are coming back into stock this month. Find the full list HERE.