Recently Bramble Berry was contacted by artist Kim Faler with a unique request; she needed enough melt and pour soap base to create a literal wall of soap to be featured in the Mass MoCA exhibit "Invisible Cities", where artists were called upon to re-imagine urban landscapes. Dream come true, right? We were happy to help out this first-time soap maker with her piece "Untitled (99 44/100% Pure)", which featured Bramble Berry's LCP White Melt and Pour Soap Base scented with White Tea and Ginger Fragrance Oil. We're delighted that this innovative artist agreed to answer some questions and share some pictures of the final project. Psssst: the frame wall below? All soap.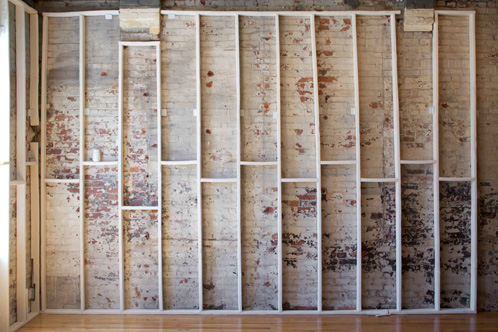 SoapQueen: Give us the background and history of how this project came about. What inspired the use of soap as a medium?
Kim Faler: The project came about a couple years ago while working on a Fulbright scholarship to Brazil, studying material-based site-specific installation art. Meaning, how materials and context change based on our experiences and understandings of these materials- such as how does a chandelier change when made of wax rather than metal or crystal; how does it's inherent nature shift when placed outside a gallery, within urban architecture or inside a domestic space. This functional shift of everyday objects is a central component of my current body of work.
At the time, I was working with paper, fabric, sheetrock and found objects- I often shift and change materials with each piece. While in Sao Paulo, I initially wanted to make a black spiral staircase out of soap adjacent to a stark white building at the end of my street. The weather and the elements would then slowly dissolve the piece and carry the color across the architecture and sidewalk.
Upon returning to the states, the piece shifted indoors and began to be more directly related to architecture- toying with how we interact with architecture on a daily basis and it's inherent structural integrity. Soap seems to be the perfect material to articulate my vision-both in the sense of our daily tactile relationship with soap, but also it's function as a cleaning mechanism. Architecture serves to provide structure and order to society (it's everywhere but also seemingly invisible) but it also can be torn down and rebuilt again- cleansing an environment of sort.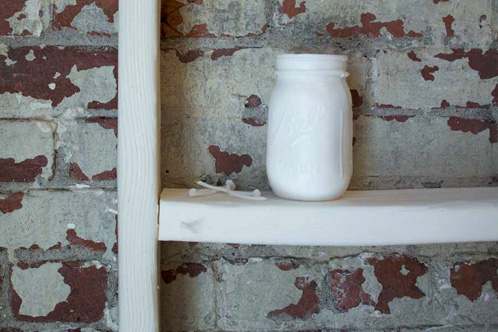 So, at Mass MoCA I played upon it's history as an historic mill and the multitudes of environments that lived within those walls. As a part of the Invisible Cities exhibition ( based off the Italo Calvino novel), I tore down the existing gallery wall, exposing windows and the outside world, and built a 2×4 stud wall out of white soap, along with soap shims, nails and a mason jar. The smell of white tea and ginger filled the gallery space and dissipated in much of same way our memories often dissolve with time and distance.
An exciting surprise from working with soap for the first time, was the affect of how soap shrinks over time. The 2×4's bent and shifted over the course of the exhibition- really accentuating the passage of time and how architecture can be perceived as a living thing. The soap's unpredictable movement also undermined a 2×4's apparent structural integrity.
SoapQueen: Wow, those are some amazing concepts! I love the idea of fragrance being so closely associated with memories. So, how did you sculpt the soap?
Kim Faler: I cast three silicon molds of existing 2×4's and used the Melt and Pour LCP soap.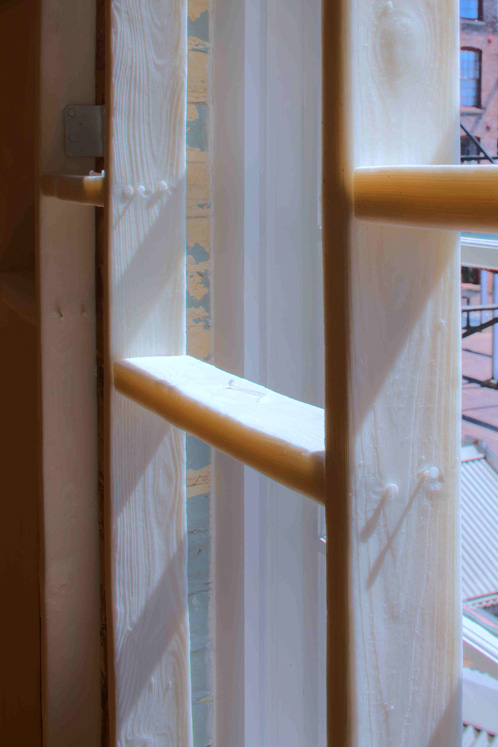 SoapQueen: What was the most challenging part of this project?
Kim Faler: The most challenging part of the project was trusting the soap- both in terms of as a architectural building block but also after the piece was finished. It was a challenge for me to let the soap be soap and "settle" into place.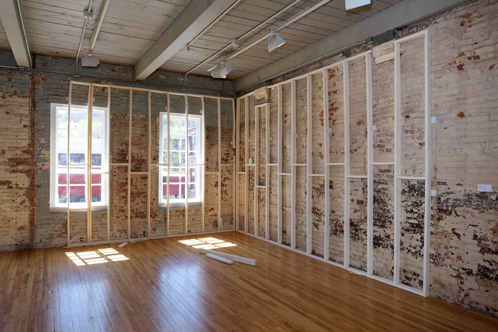 SoapQueen: Do you have a favorite Bramble Berry product?
Kim Faler: I don't have a favorite product but I was amazed with the overall enthusiasm of the company in regard to my project. I'd like to thanks everyone involved that humored my often outlandish questions- like how much do you think a 2×4 of soap weighs? Thanks again for making it possible.
SoapQueen: Thank you for letting us be a part of this project, Kim! It was a real pleasure watching this piece go from concept to reality. 
Have you ever created soap that was larger than life? Tell me about it in the comments or better yet, post a picture to our Facebook page!