This week the blog was all about honey. It's popular in handmade bath and beauty products because it helps moisturize the skin. In cold process soap, it also helps create lather. Because honey can scorch if it gets too hot, temperatures are important. Click through the How to Use Honey in Bath and Body Products post for more information.
To aid in the fight against Colony Collapse Disorder, a variety of items inspired by honey bees are 10% off until August 19th with the code: SAVEBEES. Click here to see all the sale items. The exact amount you save will be donated to the UC Davis Honey Bee Research Fund.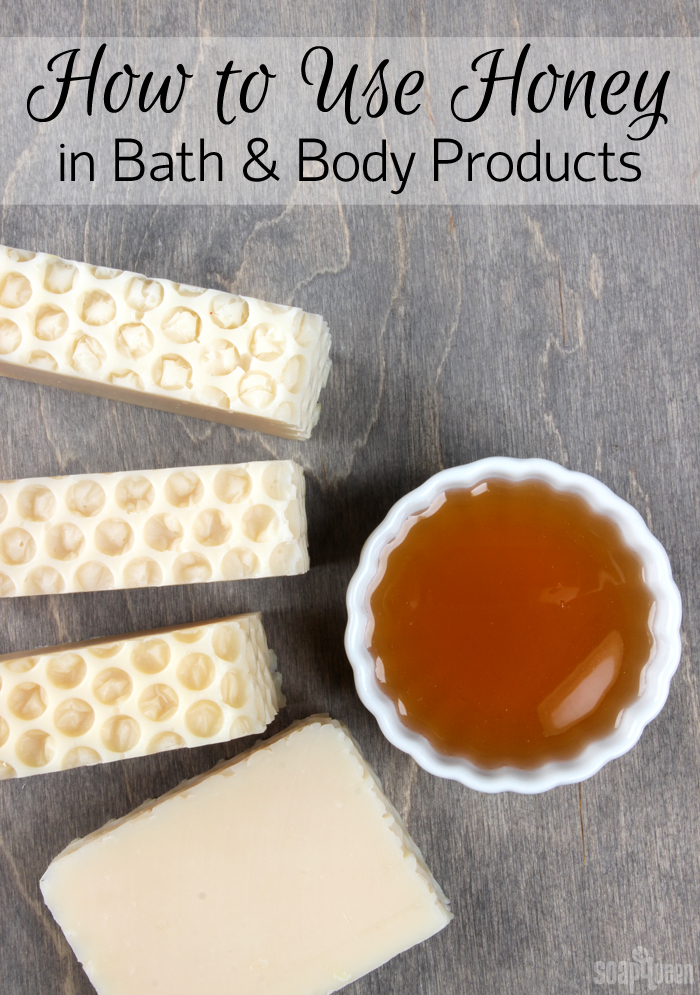 The Pure Honey Cold Process Soap has a creamy, moisturizing feeling on the skin. It's made with skin-loving olive oil, argan oil, sunflower oil and honey. The soap has a sweet smell from Pure Honey Fragrance Oil, and bubble wrap is used to create the realistic honeycomb pattern on the outside.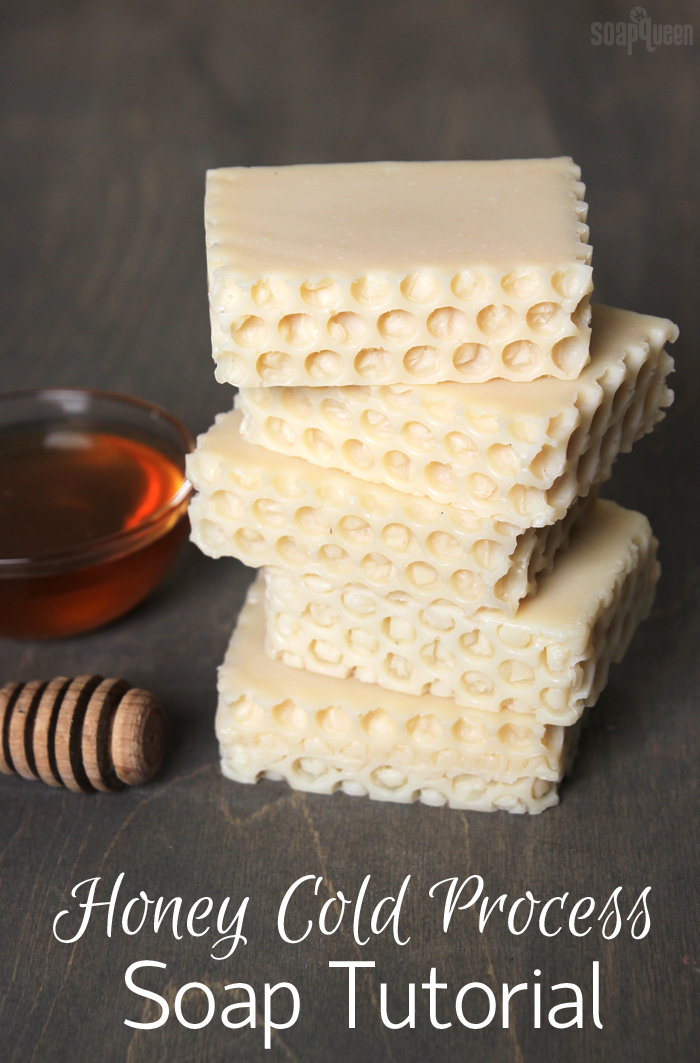 In the mood for a melt and pour project? You'll love the Bee and Honeycomb Soap Tutorial. It's made with the new 6 Cavity Honeycomb Silicone Mold, which is flexible and easy to use. It's also scented with sweet Pure Honey Fragrance Oil. To get the rich golden hue, it's colored with King's Gold Mica and Cappuccino Mica.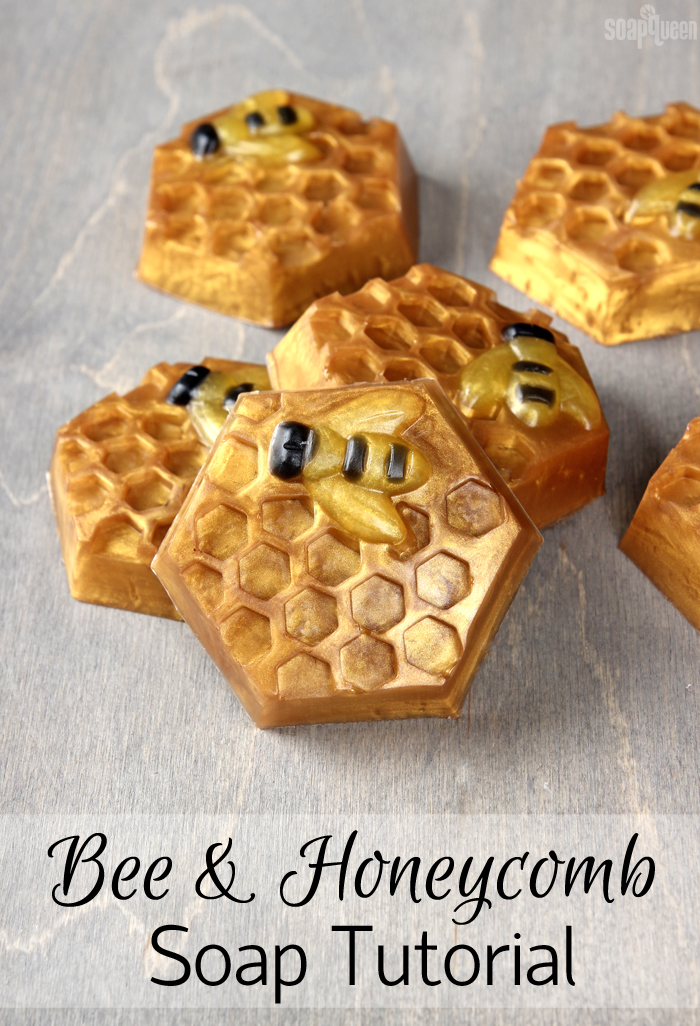 Gold is also beautiful as a mica line in soap. This week's Facebook Photo of the Week by Maria with Untouched by Maria has a gorgeous mica line. It's scented with Salty Mariner Fragrance Oil.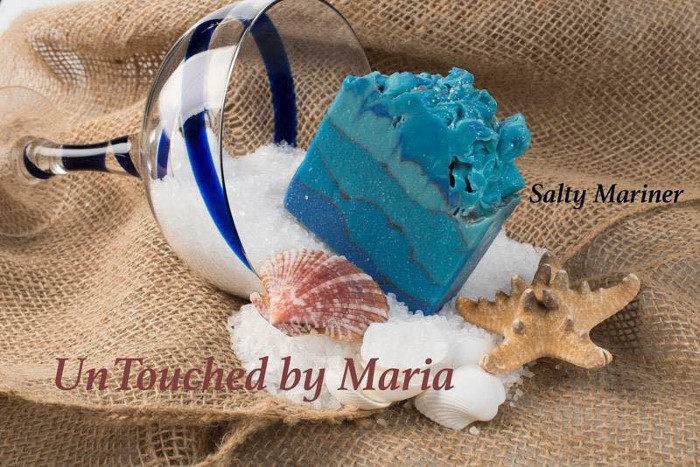 The monochromatic design in Maria's soap is stunning. I love how the blue pops against the mica line. The sparkle on top is a nice finishing touch as well. To learn more about mica lines, click through the Spiced Copper Cold Process Tutorial. The Gold Mine Cold Process Soap features a mica line and shimmery embeds.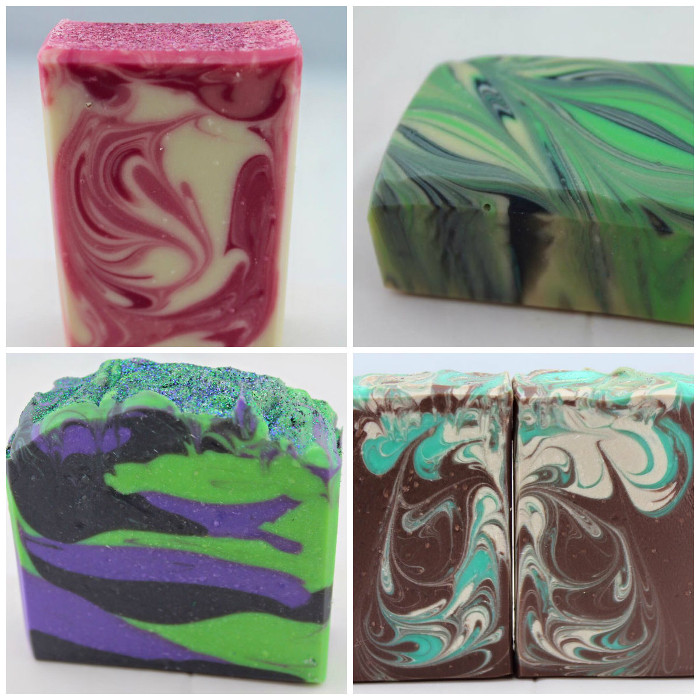 Above (clockwise, top left) are Maria's Strawberry and Champagne Cream Soap, A Shot of Courage Soap, Warm Flannel Blanket Soap and Currant and Sandalwood Soap. If you love strawberry scents, check out the Strawberries and Cream Cold Process Soap Tutorial. The Strawberry Pie Melt and Pour Tutorial looks just like the popular dessert.
Find Untouched by Maria
On Facebook
On Etsy
This week's Instagram #SoapShare winner is a delicious treat as well. The Lemon Pie Soap by Nature's Skin Nutrition has plenty of lovely detail. The curls, embeds and frosting on top are so cute. To see more of their work, check out Nature's Skin Nutrition's Instagram page.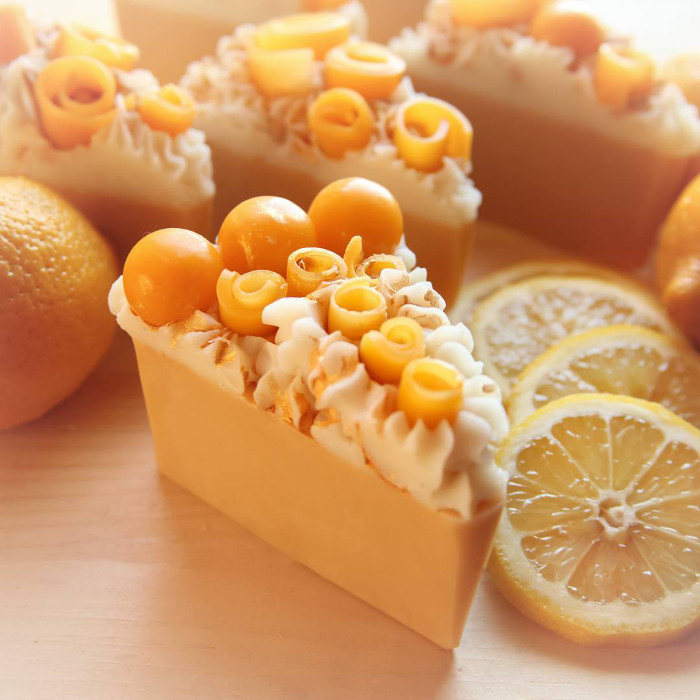 Post pictures of your crafty creations on the Facebook page each week for a chance to be featured on the Soap Queen blog and receive a sweet soapy package from Bramble Berry. Photos are chosen based on consensus from the Bramble Berry staff, so the best way to increase your chances of winning is to show us lots of photos!
To participate in the Instagram contest, hashtag your pictures with #soapshare. Each Friday, I will pick a photo on Instagram to be featured on the Bramble Berry Instagram account.
For those of you who have been featured on the blog, we now have an official "Featured on the Soap Queen" badge! You can include that badge on your website, blog, pictures, etc. To save the badge, click here. =)