This week is the start of a series of tutorials inspired by the Alps and The Sound of Music. The series includes the Sparkling Snow Sugar Scrub, which is made with Foaming Bath Butter. It also has sugar to exfoliate, and Fresh Snow and Spring Meadow fragrance oil for a clean scent. Snowflake Sparkle Mica and Super Pearly White Mica are added to make the scrub look like sunshine on snow.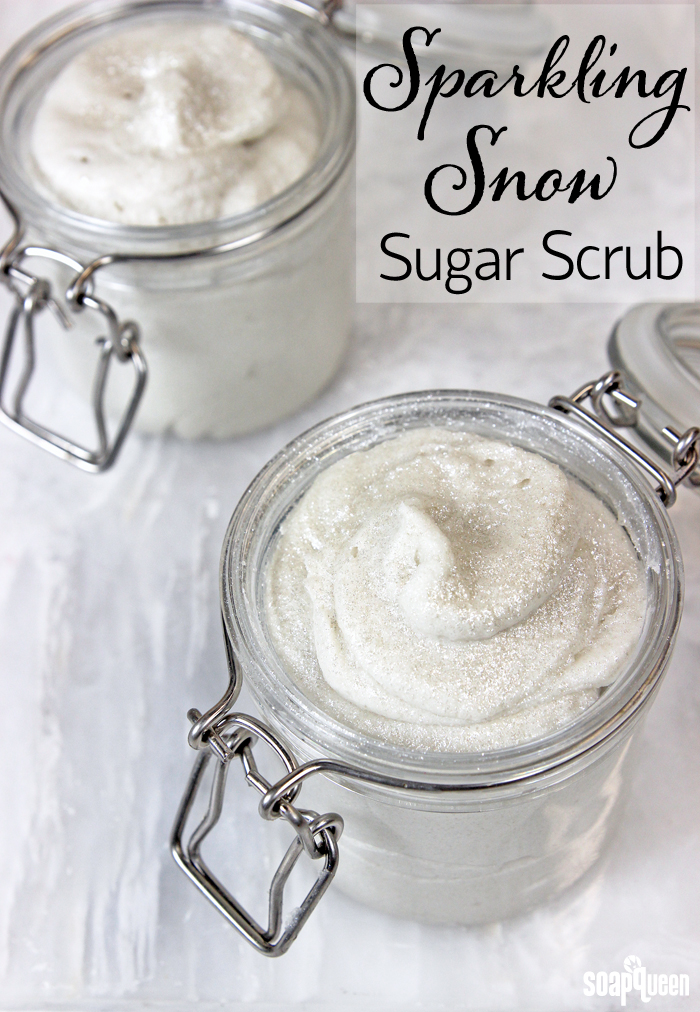 The Alpine Adventures Cold Process Tutorial also features Snowflake Sparkle Mica. It acts as the "snow" on top of the Alps landscape. The landscape is made using thick trace soap. The thicker trace holds its shape well, allowing you to build the hills and mountains in the mold. It is scented with Fresh Snow Fragrance Oil and Heavenly Honeysuckle Fragrance Oil. Look out for more Alps inspired tutorials next week! In the meantime, psych yourself up to go to the Alps by listening to this Sound of Music montage by Lady Gaga (yes, you read that right – and she kills it!).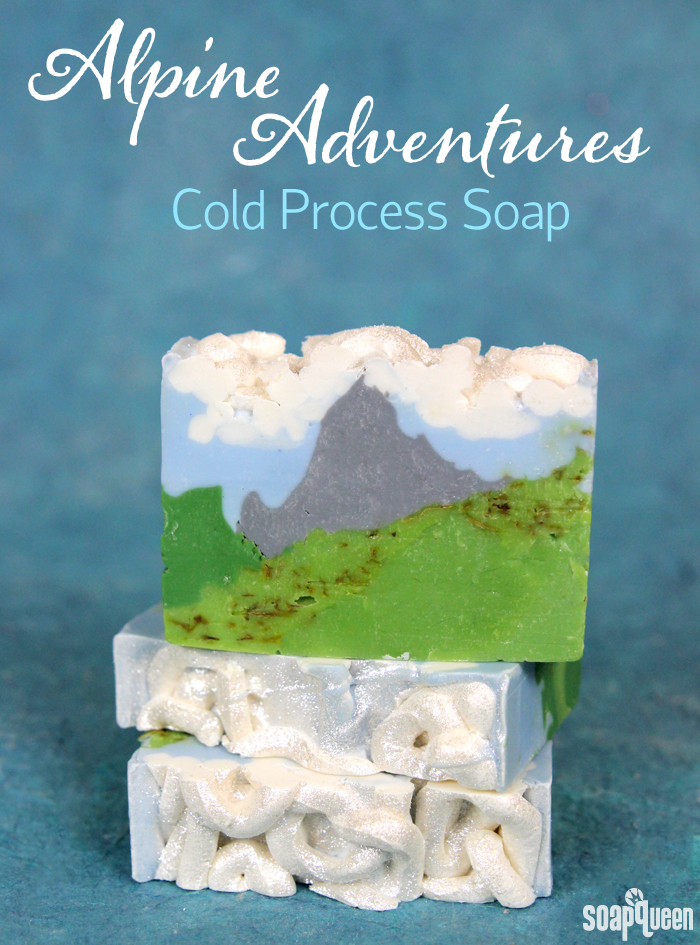 If you're in the mood for a summer-inspired soap, check out the Silky Berry Cold Process Soap video on Soap Queen TV. The soap features a sweet blend of Black Raspberry Vanilla Fragrance Oil, Strawberry Fragrance Oil and Juniper Sage Fragrance Oil. To go with the summery scent, it features purple, pink, green and white colors. It also has Tussah silk fiber for a bit of luxury.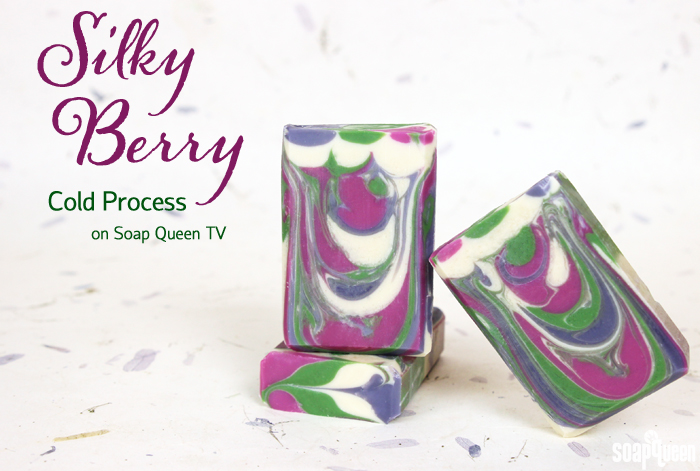 Marcela with Majestic Bliss Soaps always uses vibrant color palettes in her creations. She started soaping in April 2014, and is now selling her products online and at several Whole Foods locations. Paying it forward is important to Marcela, and part of her proceeds are donated to charity each month. Click through the Interview with Marcela of Majestic Bliss Soaps to learn more about how she got started and her soaping tips.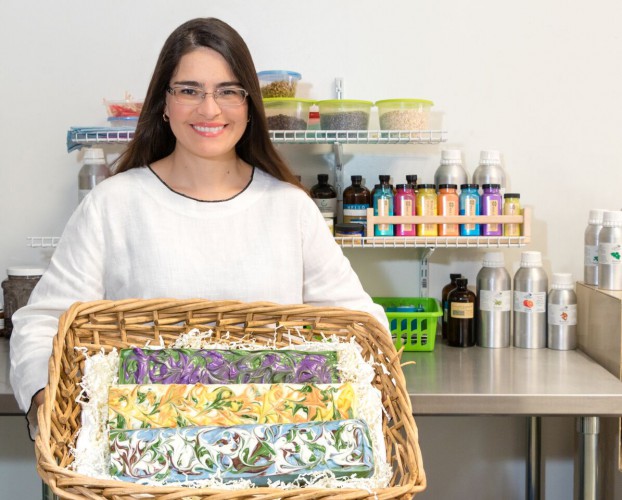 Crystal with Wonderlust Artisan Soaps makes vibrant and beautiful soap as well. Her Tell-Tale Heart Soap, scented with Blackberry Sage Cybilla Fragrance Oil, is this week's Facebook Photo of the Week.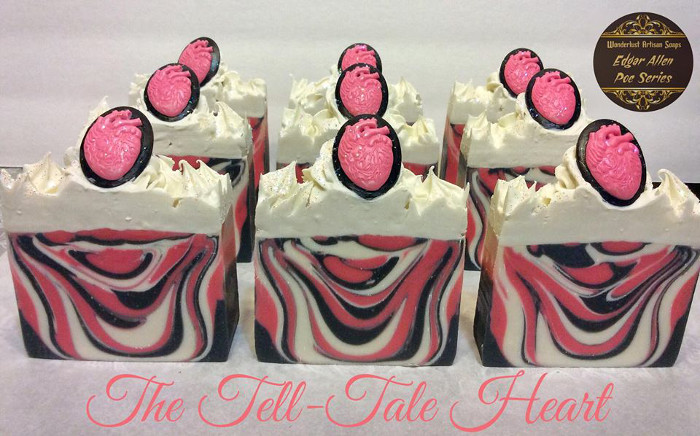 Crystal's soap is inspired by Edgar Allan Poe. It's so unique and creative! The pink, white and black swirl inside looks amazing, and the heart embed ties the look together. If you love the design, you'll love the Honey Bee Funnel Pour Cold Process Soap Tutorial. The funnel pour technique is also used in the Funnel Pour Soap video on Soap Queen TV.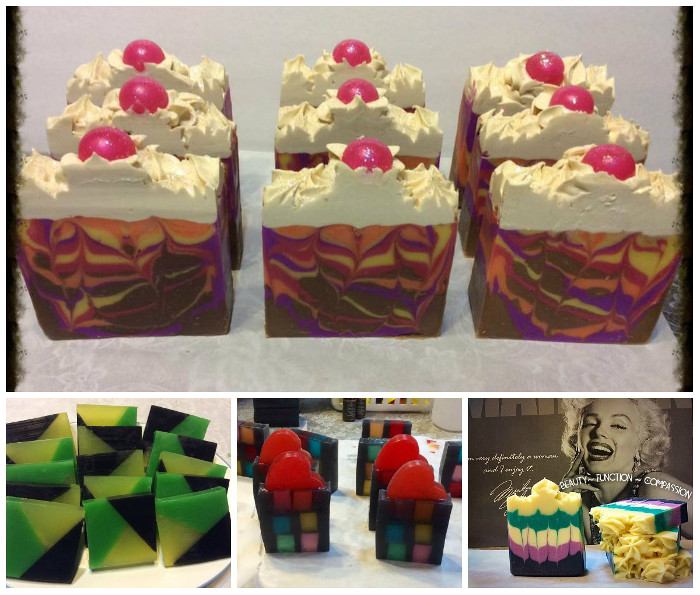 Above (clockwise, top) are Crystal's Bubblegum Bakehouse Soap, LoveSpell Soap, Six Fruits of Love Bars and Lemongrass Geometric Bars. For more soap with beautiful embeds, check out the Rainbow Hearts Melt and Pour post. To learn how to use embeds in cold process soap, click through the Queen of Hearts Cold Process Tutorial.
Find Wonderlust Artisan Soaps
On Facebook

For more vibrant color, check out the Instagram Photo of the Week by Sensually Soaps. This blue soap is so stunning. I love the wispy pink, white and black swirls inside. The poppy seeds look amazing too. See more of Sensually Soaps' beautiful work on their Instagram page.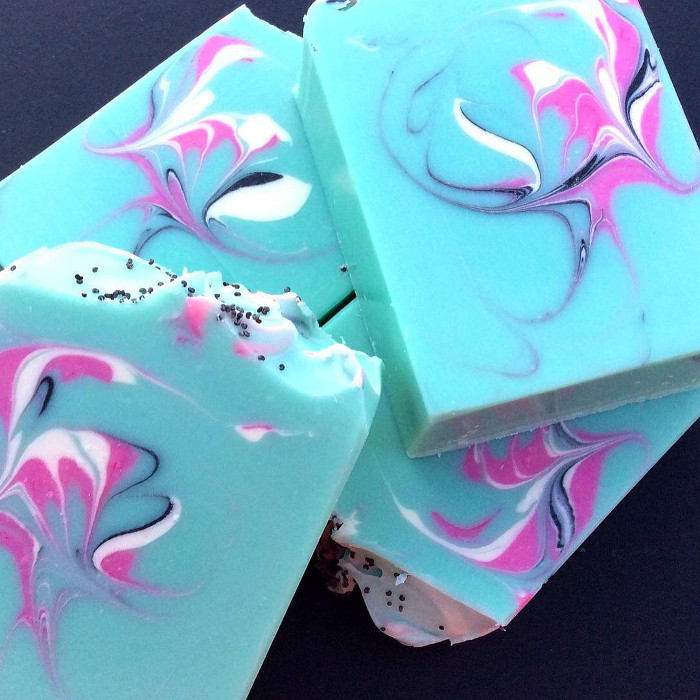 Post pictures of your crafty creations on the Facebook page each week for a chance to be featured on the Soap Queen blog and receive a sweet soapy package from Bramble Berry. Photos are chosen based on consensus from the Bramble Berry staff, so the best way to increase your chances of winning is to show us lots of photos!
To participate in the Instagram contest, hashtag your pictures with #soapshare. Each Friday, I will pick a photo on Instagram to be featured on the Bramble Berry Instagram account. 
For those of you who have been featured on the blog, we now have an official "Featured on the Soap Queen" badge! You can include that badge on your website, blog, pictures, etc. To save the badge, click here. =)