We are very lucky to have an
active and lively Facebook page
with lots of lovely followers. In fact, last month we had over 380,000 views! Thank you so much for your participation and for making our Facebook page such a success. In order to keep our Facebook content fresh, happening, and soap related, we wanted to go over some basic guidelines and etiquette for posting on the
Bramble Berry fan page
. If you've ever had a post deleted or removed from the page, this might explain why.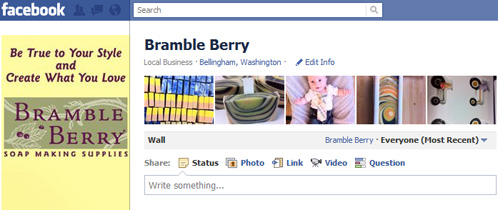 1) The purpose of our Facebook page is for us to connect with you, our customers, would-be customers and soap fanatics, in a more real-time way than is possible through the blog or email. And because there are only so many of us, we love that we can make the Facebook page available to everyone who might be able to jump in and answer a question before we are able! One of the greatest side benefits of the Facebook page is the way it fosters a sense of community, and we definitely want to support that.
2) In order to make sure that as many posts are answered as possible, the content of the Facebook page should be kept to soap related questions, comments, answers, and trouble shooting. Sales posts about individual soaps or businesses and unrelated posts create excess traffic and can sometimes clog those who are trying to access us or other soapers with a relevant soap or toiletry question. We don't want anyone to be left behind, so to make sure everyone is helped, we ask that you not share outside or unrelated posts on Bramble Berry's Fan page. We want to nurture a sense of community, but if you feel the need to post something not soap related, we recommend sending a private message.
3) Another way of letting more people get through on the Facebook page is utilizing the super awesome Bramble Berry email and phone customer service team for questions such as "Where's my order?" or "Eeek! Something is wrong with my order. Help?" through formal customer service channels. Our knowledgeable customer service team answers emails within 24 hours and is answering phones between 9am and 4pm PST, Monday through Friday, for anything needing immediate attention. The fabulous, fully soap trained, CS team is also able to help you out with soapmaking-related questions and recipe trouble shooting.
4) Many of you have created business pages for selling soap, and we are fine with you posting your creations and tagging your business in the description. We love checking out your Etsy shops and blogs. But if you are posting something, be sure it's "This cool new technique that I finally mastered!" or "An example of what I was talking about before!" and not so much "I'm having a big sale at my Etsy shop, here's the link!".
5) Be aware that if you have a business Facebook page, you won't be able to post pictures on the Bramble Berry Fan page (a Facebook policy thing, not a Bramble Berry policy thing), which is why we are okay with you tagging your business's Facebook page in your picture's description. If you have signed up for a personal page and are using it for business purposes, I can speak from personal experience that this is against Facebook's policies and they might shut you down (whoops!) without any warning.
Are you unsure if your post is appropriate for the Facebook page? Send us an email at info (at) brambleberry (dot) com and we'd be happy to help you out. And, we all look forward to interacting with you on the Bramble Berry Fan Page.  Our Facebook Fan Page team has grown to include more than just me so be sure and give Courtney, Amber and Kristen a hearty "Hello" next time you see them manning the page.
PS – Because *everything* is better with a little baby (stripes on stripes from this weekend).