LabColors are easy to use and adored soap colorants from Bramble Berry. I'm delighted to show you how to use them in cold process soap to maximize your colorant possibilities. Before reading on, if you haven't read about the colorants and how to properly dilute them, read about them HERE.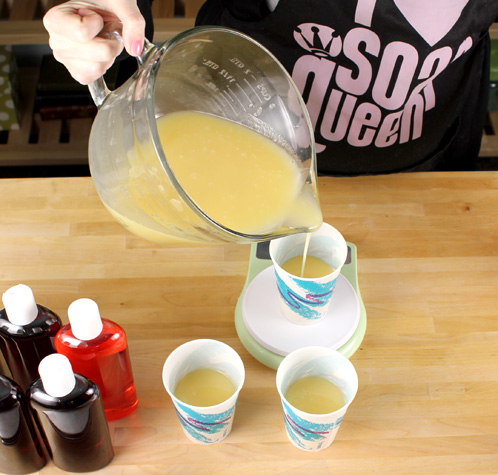 The recipe I used is a favorite for testing colorants. It's a two pound batch that allows a lot of time to hand stir in many different colors.
Recipe: 25% Coconut Oil, 40% Olive Oil, 25% Palm Oil, 10% Palm Kernel Flakes, 3% Superfat, 5% water discount. Use the Bramble Berry Lye Calculator, set to figure by percentages, to make up whatever size recipe you want with those percentages.  I divided my soap batter into 8 separate containers, 4 ounces in each cup and hand stirred in each colorant. When testing colorants, it's important NOT to scent the soap. We just want to see how the colorant reacts with the soap without any extra variables. Many fragrances and essential oils will discolor the soap anything from an ivory to a yellow to a green to a a pink to a brown. My usage rates per color varied between 2ml-6ml. I'll share my exact usage for some bright and fun colors in a later post so stay tuned!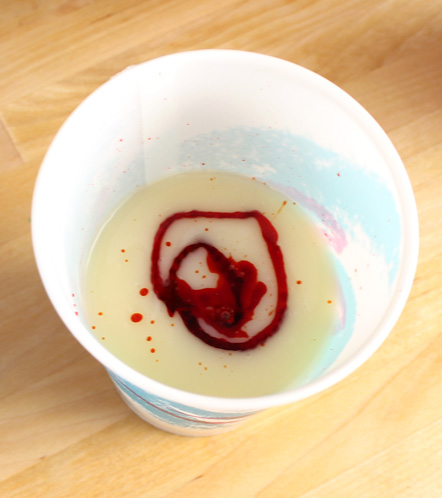 LabColor in soap batter before mixing
Gel phase is KEY when using LabColors. What is gel phase? Gel phase simply refers to a part of the saponification (soapmaking) process where the soap gets extremely warm and gelatinous – up to 180 degrees. Soap that has not gel-phased is still soap. There is nothing wrong if your soap does not gel phase. You will find slight color, texture and shine variations in gelled versus ungelled soap. Some soapers prefer not to have their soap gel at all so do not insulate their soap and mix at lower temperatures. Non-gelled soap tends to look more creamy, more matte and take a bit longer to evaporate out its excess water.  I personally prefer gel phase so I always insulate and even used a heating pad in this particular round of testing.  Again, it is a personal preference for soapmaking in general. However, with Labcolors, going through gel phase ensures a brighter, more even color.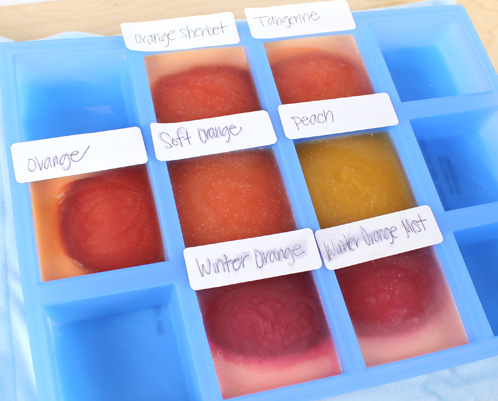 Above is another great example of gel phase starting in the middle and spreading out. Go gel phase go.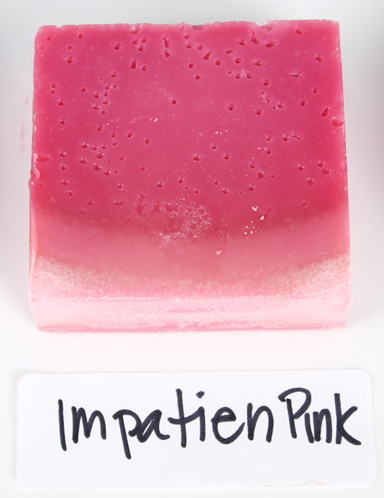 Check out the partial gel phase on this soap above. Can you believe the color difference? The 'dots' are from the soap boiling in the mold. Whoops.

Note to self: When using a silicone mold and a heating pad (trying to force gel phase) keep it on low to medium heat. High heat will cause the soap to boil and bubble a little bit. Thus the holes on the bottom of the soap in the photo above. I know better than that! Whoops.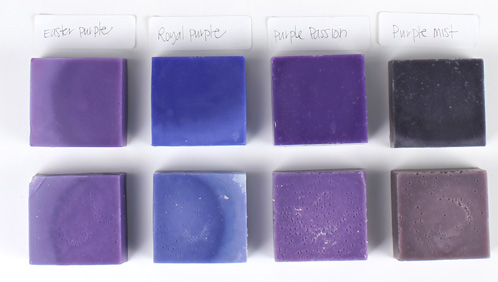 Above is a great  example of how gel phase can affect the color hue. The bottom row of soaps are the exact same colors and usage rates as the top row. Can you tell the difference in color? The top row went through more of a gel phase than the bottom row. We love gel phase, especially when using LabColors. It really makes the colors pop!
 Have a question about this blog post? Come join us at Bramble Berry's Facebook page and we can help you out with any of your soapy questions!