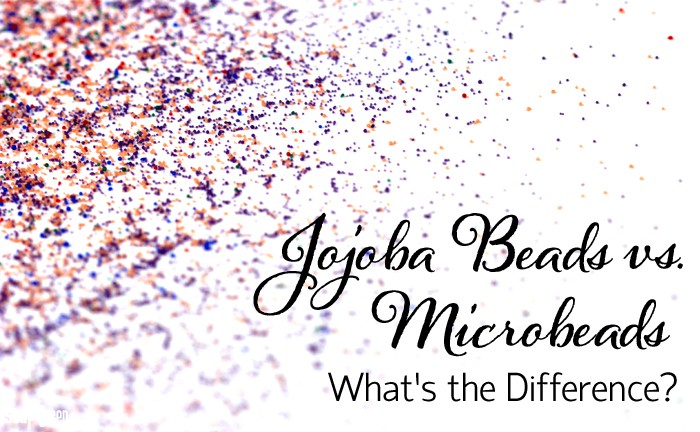 Exfoliation is the process of removing dead skin cells. It's key to healthy, soft and glowing skin. Exfoliation can be done physically by using an abrasive material on the skin, or chemically with substances such as glycolic acid. There are lots of scrubby exfoliation options for bath and beauty products, click here to learn more. One of the most popular type of exfoliants are jojoba beads, which are produced from jojoba oil. Jojoba beads are commonly mistaken for plastic microbeads. The two products look and feel very much alike, but are vastly different.
Jojoba oil is a liquid wax derived from the jojoba shrub. The wax is processed to a solid wax, which is referred to as a jojoba ester. These jojoba esters are jojoba beads! Spherical in shape, jojoba beads/esters are biodegradable and come in a wide variety of colors and shapes. Jojoba beads make a great choice for a wide variety of bath and beauty products because the edges of the bead are smooth. This smooth shape avoids microscopic tears on the skins surface. The combination of gentle exfoliation and fun colors make them a great choice for scrubs, soaps and other products. Read more about jojoba beads and how to use them in this Sunday Night Spotlight: Jojoba Beads post.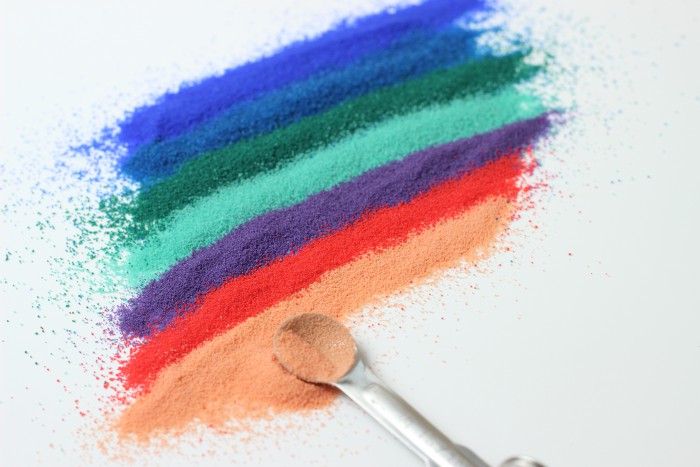 Jojoba beads come in a wide variety of sizes and colors.
Microbeads are also used in a wide variety of bath and beauty products. Micorbeads can commonly be found in soap, toothpaste and scrubs. They come in different shapes and colors, and also offer exfoliation. The difference is that microbeads are not made from jojoba oil like jojoba beads. Instead, microbeads are plastic (commonly made of polyethylene).
After the microbeads are used in beauty products, they are usually washed down the drain. The microbeads then flow through the sewer system and wastewater treatment plants, which are not able to filter the beads due to their small size. This causes plastic particle water pollution. In April 2015, samples taken from six New York wastewater plants found that nearly three quarters of the treated water contained microbeads. Click here to read more about the study.
Unlike natural jojoba beads, microbeads are not biodegradable. Eventually, microbeads find their way into streams, rivers and the ocean. Animals in these waters are unable to digest the microbeads. Studies have shown that marine life such as mussels and tiny crustaceans ingest the microbeads which remain in their digestive track or migrate to other body tissue. Likewise, humans who eat the seafood are unable to digest microbeads.
People are becoming more aware of the effects of microbeads on the environment. According to Beat the Microbead, Johnson & Johnson, Procter & Gamble and The Body Shop stopped including microbeads in their products in 2013. More recently, the Canadian government announced developing regulations to add microbeads to the list of toxic substances under the Canadian Environmental Protection Act. In the US, states have begun to ban microbeads. Illinois and New Jersey have banned the beads, while states such as Colorado have begun drafting legislation.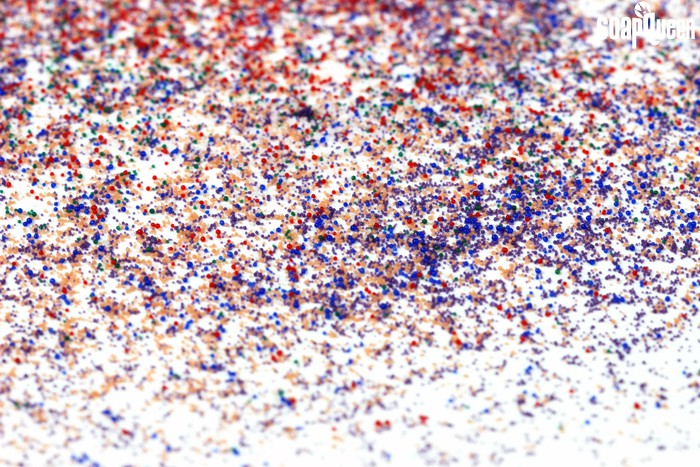 Bramble Berry does not sell plastic microbeads, but does sells natural, biodegradable jojoba beads, as shown above. 
What can you do to help? Read the ingredients of your beauty products to make sure they do not contain polyethylene or polypropylene, the two most common microbead plastics. Download the Beat the Microbead App to check if products at the store and in your home contain microbeads. When making your own beauty products, use natural exfoliants such as jojoba beads (click here to see more exfoliant options). With so many wonderful natural exfoliant options, there is no need to use plastic microbeads.