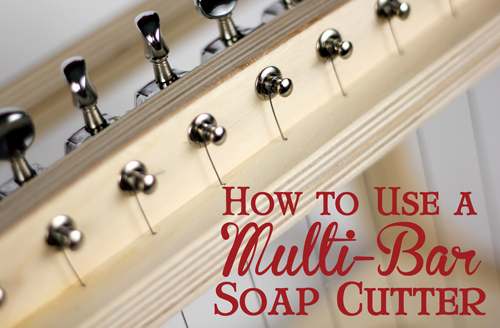 We love our Multi-Bar Soap Cutters and judging from comments on Facebook and emails, it seems like our customers do as well (yippeee!). We have had a few questions about how to use them and how to replace the wires, so we made a Soap Queen Short video. I thought it would be fun to actually show you how to use it instead of boring 'ol written instructions (but just to be safe, I've included some basic written instructions below as well)!

  Click Here to add a Multi-Bar Soap Cutter to your Bramble Berry shopping cart.
Basic Instructions for cutting a loaf of soap with the Multi-Bar Cutter:
Place soap loaf to the far left edge of the cutter.
Firmly lower the soap cutter down through the soap.
Remove the soap slices while the cutter is still down.
Instructions for changing a broken wire:
Remove pin at the back of the cutter.
Unwind the wire from the front of the cutter.
Clip kinked wire and remove from the cutter.
Remove wire from the back.
Thread new wire from the back.
Catch the loop with the pin.
Press pin in firmly.
Thread wire into the front of the cutter.
Tighten and twirl the the peg, wrapping the wired around.
Trim excess wire.
Check string tension by listening to the sound. They should all sound similar.
I hope you enjoy this simple little video. What do you think of the music? It was created by a local, Bellingham musician – Casey Connor. He was so easy to work with and we are loving the new sound.