Beautiful handcrafted soap? ✔ Check. A schedule of craft shows, list of farmers' markets, or growing Etsy shop? ✔ Check. Equally lovely packaging to go with your equally lovely soaps? Uh-oh! Many crafters may not realize it, but the way products are packaged influence a consumer to buy just as much at the actual products themselves. These soap boxes, made from sturdy cardboard, are elegant enough on their own or easy enough to embellish with ribbon or crinkle paper.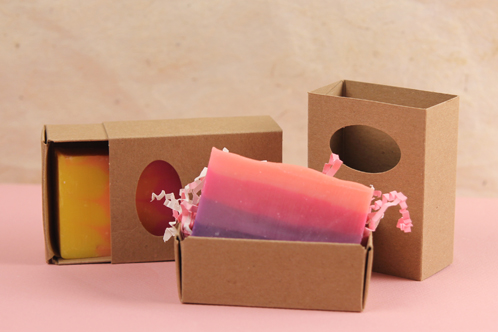 Sturdy and compact, the Sleeve and Tray Boxes are the perfect soapy packaging.
Each box measures 3 1/4″ long, 2 3/8″ across and is 1 1/4″ deep, and has a small oval cut out so the actual soap can be smelled and viewed without opening the box.  Boxes arrive in two pieces — the main box and the slide sleeve. Assembling these little guys is easy. Here is a quick Instagram video demonstrating how:

For more packaging inspiration, check out this Make it Monday: #Packaging album on Bramble Berry's Facebook.
What are you favorite ways to package soaps or other bath & body products? Answer our survey below!

Create your free online surveys with SurveyMonkey , the world's leading questionnaire tool.