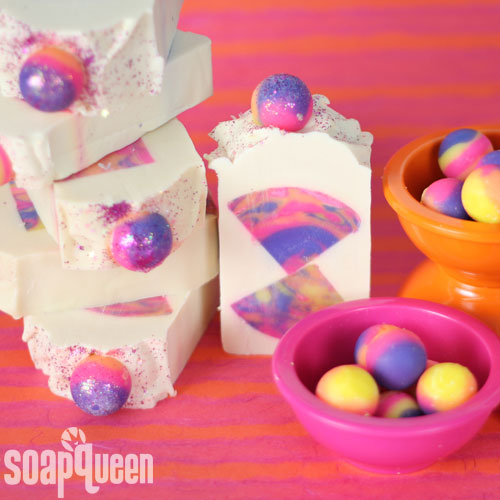 It's another throw-back Thursday video! This one features Kristy Schemrich, an amazingly talented soapmaker and teacher at our 2011 Soap Weekend Intensive (when we filmed this video). This soap has many steps but once you break it down the technique is surprisingly easy. It's been wonderful looking back through the archives, we clearly had so much fun filming with Kristy as you can see from this blooper reel.
Soap Queen TV Bloopers from Soap Queen on Vimeo.
That was fun! I bet you want to learn how to make this gorgeous soap now. Since this is a more advanced project, you should be comfortable making CP soap. This basic series on making cold process soap is a great place to start. How to line a wood mold is also very helpful for this project, learn how here.

Get the ingredients and molds added to your cart with the click of a button.
Ingredients:
Phase 1 – Neon swirled soap spheres and column:
Phase 2 – Main soap: