The first day of spring is tomorrow, and that means sunnier days, sprouting flower and Soap Gatherings! The Central Soapers will host this year's first Soap Gathering. If you aren't familiar, soap gatherings are mini conferences held by soapers across the country. Many of the gatherings feature workshops and speakers. Best of all, they're organized by members of our own soaping community.
The Central Soapers workshop is spearheaded (with lots of help from other soapers) by Kenna of Modern Soapmaking, and takes place March 22 – 23 in Overland Park, Kansas. Bramble Berry is a proud sponsor of many soap gatherings, and this year we're sending the mold & ingredients to make this Honey Bee CP soap as a raffle prize. Scented with Wildflower Honey, it features four natural colorants including Yellow Silt Clay, Purple Brazilian Clay, Dark Red Brazilian Clay and Activated Charcoal. You can still make this lovely soap even if you can't attend the gathering!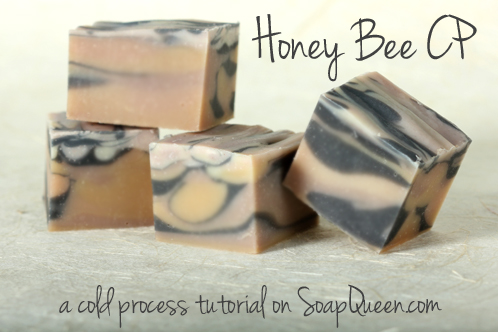 What You'll Need:
8.3 oz. Coconut Oil
1.7 oz. Mango Butter
9.9 oz. Olive Oil
8.3 oz. Palm Oil
5 oz. Sweet Almond Oil
4.6 oz. Sodium Hydroxide
10.9 oz. distilled water
2 oz. Wildflower Honey Fragrance Oil
Comb Swirl Tool
9 Bar Birchwood Mold with Liner

Click here to add everything you need for this project to your Bramble Berry shopping cart!
If you've never made Cold Process soap before, stop here! I highly recommend checking out our FREE four part SoapQueen.tv series on Cold Process Soapmaking, especially the episode on lye safety. And if you'd rather do some reading, Bramble Berry carries a wide range of books on the topic, including my book, Soap Crafting. You can also checkout the digital downloads for that instant gratification factor.
SAFETY FIRST: Suit up for safe handling practices! That means goggles, gloves and long sleeves. Make sure kids, pets, and other distractions and tripping hazards are out of the house or don't have access to your soaping space. Always soap in a well-ventilated area.
COLOR PREP: Disperse 1 teaspoon of each colorant into 1 tablespoon of Sunflower or Sweet Almond Oil (or any other liquid oil). Use a mini mixer to get clumps worked out smoothly. The clays tend to sink to the bottom of the container, so be sure to give them one final mix right before you add them into the batter.
ONE: Slowly and carefully add the lye to the water. Gently stir until the lye has fully dissolved and the liquid is clear. Set aside to cool.
TWO: Combine the Coconut, Mango, Olive, Sweet Almond and Palm Oils (remember to fully melt, then mix, your entire container of Palm Oil before portioning). Once the lye water and the oils have cooled to 130 degrees or below (and are ideally within 10 degrees of each other), add the lye water to the oils. Stick blend until thin trace. If you'd like a harder bar of soap that releases faster from the mold, you can add Sodium Lactate to the cooled lye water. Use 1 teaspoon of Sodium Lactate per pound of oils in the recipe.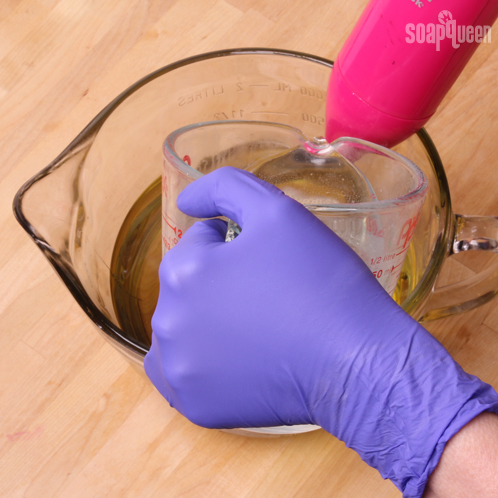 THREE: After the batter has reached a light trace, split it equally into four containers.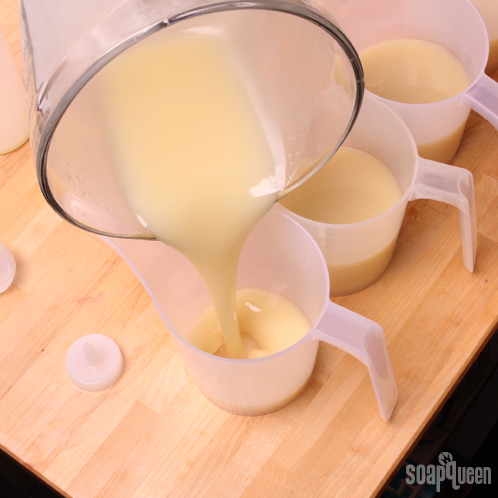 FOUR: Add the dispersed colorants to the containers in the following measurements:
the entire container of dispersed Yellow Silt Clay (3 teaspoons)

½ teaspoon dispersed Red Brazilian Clay

the entire container of dispersed Purple Brazilian Clay (3 teaspoons)

½ teaspoon dispersed Activated Charcoal
Stir in with a wire whisk or spoon.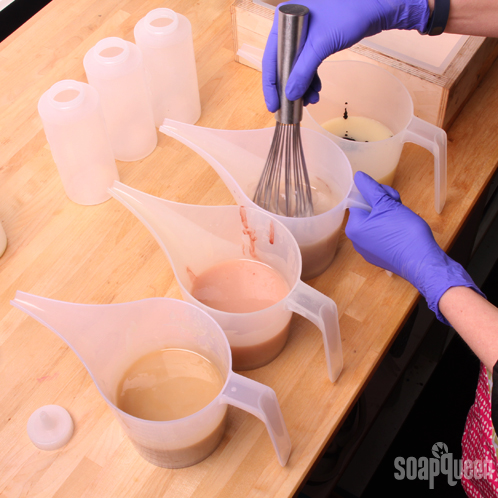 FIVE: After you've fully incorporated the color, fill ⅛ of each squirt bottle with a single color. Set them aside until step eight.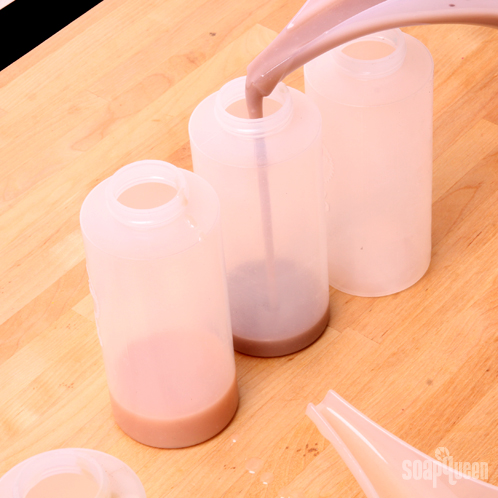 SIX: Now add the fragrance oil to the cups of batter. Split the fragrance oil equally between the four cups — eyeballing is okay!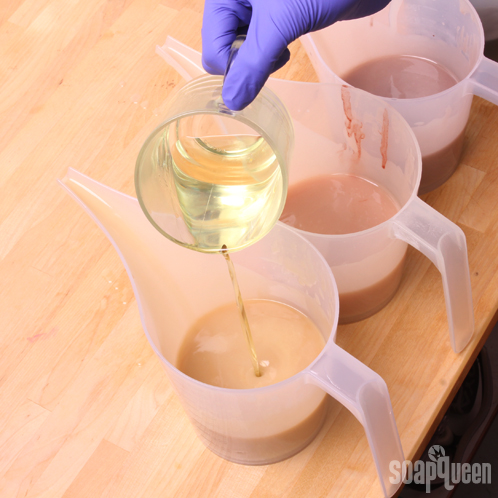 SEVEN: Pour the batter in a zigzag pattern across the mold. Layer the colors one on top of the other, in the same order, until you've emptied the containers.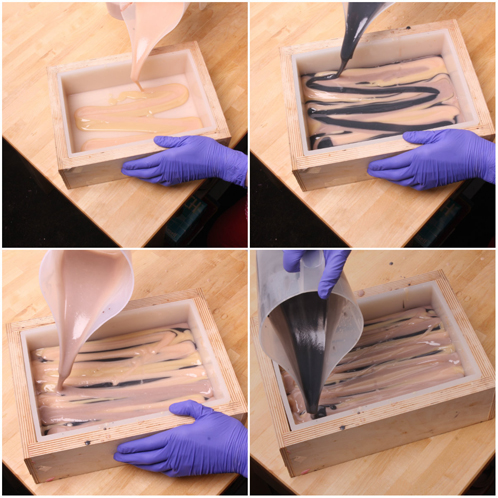 EIGHT: Get the squirt bottles from step five. Pour thin, horizontal lines across the length of the mold until you reach the other side. Repeat this process with the other colors, methodically layering one on top of the other in the same order and pattern. Do this until you've emptied all the colored squirt bottles.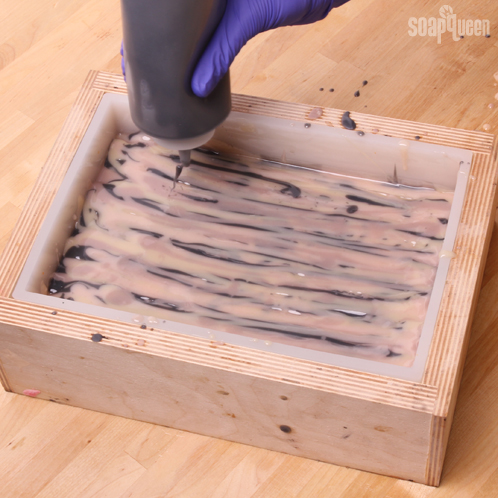 NINE: Finish the design by running the Comb Swirl Tool down the length of the mold.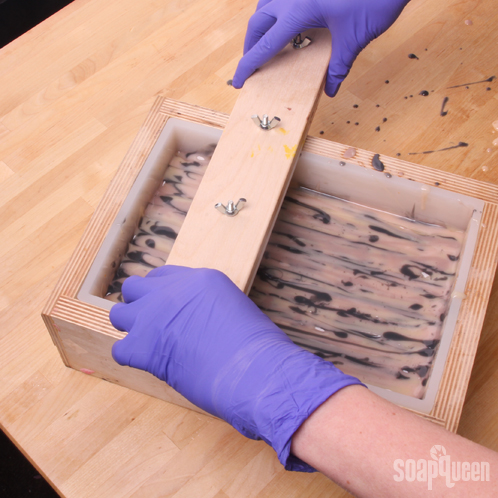 TEN: Spray the entire top with 91 or 99% Isopropyl Alcohol to reduce soda ash. Cover and insulate for 24 hours. Unmold after 3-4 days. Allow to cure 4-6 weeks. Enjoy!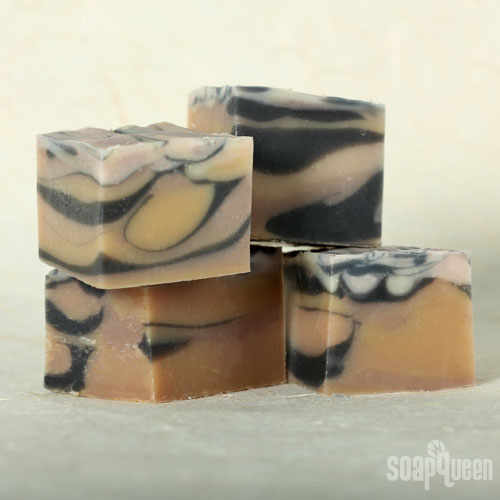 Bonus!: Check out this Instagram video for the making of this soap!