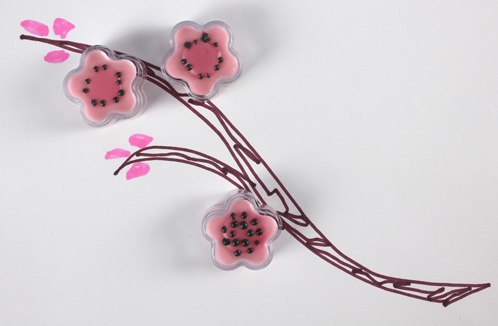 Solid perfume is a great way to carry fragrance with you without worrying about spills. This Cherry Blossom perfume is made with Bramble Berry Solid Perfume Base. It contains several skin-loving oils, like Coconut Oil and Avocado Oil. Cherry Blossom Fragrance Oil is a subtle fruity floral scent, well suited as a perfume scent. This is a unique and colorful twist on a traditional uncolored perfume balm.
Tools and Ingredients:
Solid Perfume Base
Cherry Blossom Fragrance Oil
Rose Pearl mica
Activated Charcoal
Daisy Lip Butter Pots
NOTE: The Daisy Lip Butter Pots in this tutorial have been discontinued. The kit now includes the Non-stackable Clear Lip Butter Pots.
Droppers
Mini Scoops
Skewer or Toothpick

Click here to add everything you need for this project to your Bramble Berry shopping cart!
  ONE: Melt 2 ounces of Solid Perfume Base in a heat safe container. Add one scoop of Rose Pearl mica to make a nice light pink color and add 1/4 oz Cherry Blossom Fragrance oil. Mix together very well and fill 8 flower shaped lip pots and allow to set-up.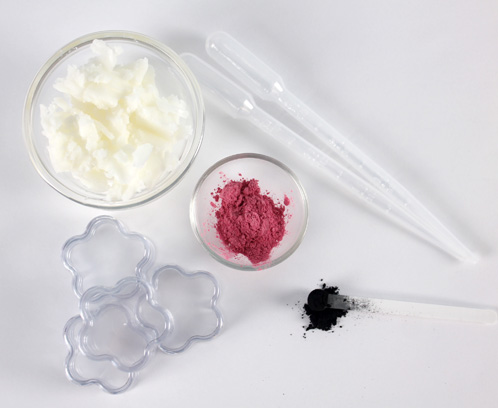 TWO: Re-melt the remainder of the pink perfume base and add another scoop of Rose Pearl mica to make a deeper pink color. Using a dropper, place a circle of this deeper pink in the center of the little flower pots.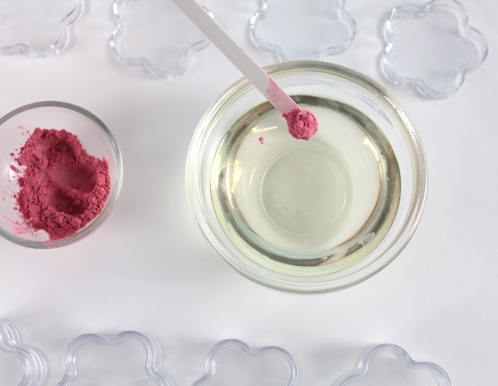 THREE: Re-melt the deep pink lip balm base left over (if necessary) and add a scoop of Activated Charcoal. Mix in well.
FOUR: Using a skewer or toothpick place little dots of the black base in a circle in the center. These will be solid within seconds and ready to use!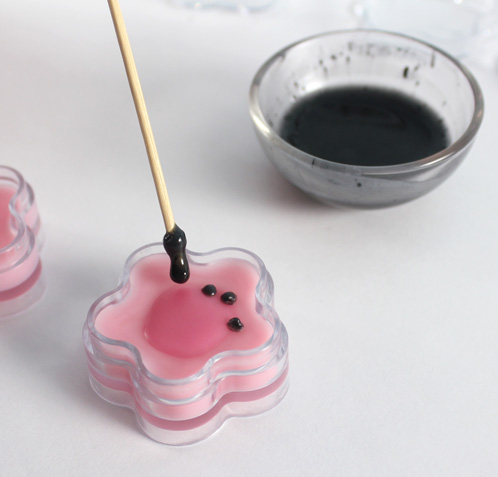 Check out some awesome blends using Cherry Blossom!
4 parts Cherry Blossom
1 part Coconut, Cybilla
2 parts Cherry Blossom
2 parts Sun Ripened Raspberry
1 part Tahitian Vanilla
2 parts Cherry Blossom
1 part Southern Peach
2 parts Cherry Blossom
2 parts Heather & Hyacinth
1 part Grapefruit Lily
3 parts Cherry Blossom
1 part English Rose
1 part Lily of the Valley