Happy Day-After-Thanksgiving! I hope you were able to sit and celebrate the season with your families yesterday, away from the traditional and normal hustle and bustle of our every day lives.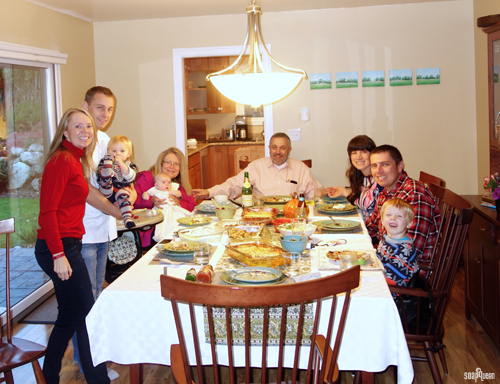 My folks arrived mid-morning, my brother Erik, sister-in-law Cheriss and new baby Alise arrived shortly thereafter and then the chaos started in earnest. We ended up having so many things in the oven that it took double the time to cook everything! It was such a joyful occasion to have baby Alise join our Faiola family clan. We have many things to be thankful for. This year, I'm especially thankful for:

1. My family – It takes a village to raise a family and it takes a supportive family to run a small business. My husband and parents are especially flexible with my ever changing work schedule.
2. Health – I fully recognize that one bad health event can change the course trajectory of a family or a life and feel blessed that our family is in vibrant health.
3. Air Travel – I have been on more business trips than I choose to remember this year – and none of it would have been possible in the short amount of time I do my surgical in-and-out meetings without the amazing convenience of giant tubes that can fly through the sky.
4. Social Media – As others bemoan the lack of connection that social media brings, I think it's expanded and broadened my relationships, both with friends and customers. I love following Soap Queen'ers on Instagram, Pinterest and Twitter and my old high school friends? It's great to know their updates more than once every 10 years at reunion time.
5. Clean(er) Eating – This year, I really embraced Whole30 and Clean & Clear (they did a Holiday Helper you can find here) and (knock on wood), think I may have kicked the sugar habit. Having consistent energy has been a huge help when trying to manage two teeeeensy children and a growing business.
Speaking of teensy weensy children, it's hard to believe it was only three years ago that Jamisen was celebrating his first Thanksgiving. It's amazing how much our family has grown with the addition of Lily and Alise. More kiddos means more love and fun!
Jamisen's first Thanksgiving!
I'd love to know what you're thankful for! Inspire me, inspire yourself (!!!) and tell me below. As an added bonus, I'll choose 2 commenters to receive a free month of Handmade Beauty Box!  Studies show that being grateful DOES increase your happiness so let me know what you are most thankful for this holiday season.