Sunday was a completely hands on exercise in controlled chaos at Soap Weekend Intensive. While Saturday was all demonstration and lots of information flow (see blog post HERE), yesterday was all about the soap art and the playing!
We kicked off the day by cutting 2 of the Cold Process soap batches from yesterday. While we were scared to cut soap that was less than 1 day old, we only got a little bit of breakage and drag tearing. The soaps both turned out extraordinarily beautiful.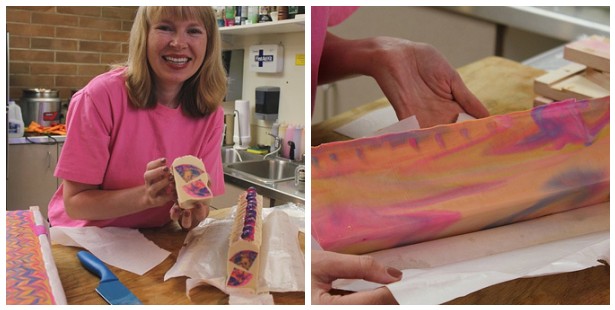 Then it was Melt and Pour for the rest of the morning. Paula from PJ's Soaps led the class in a very technique heavy, artist series of soaping classes. The first soaps were all about injectors and utilizing them to get an extremely beautifully detailed soap. Though it took some serious patience, the finished soaps were worth it. Paula was quick to point out that when you're making 16 bars at a time, it actually doesn't take too long to be so extremely detailed.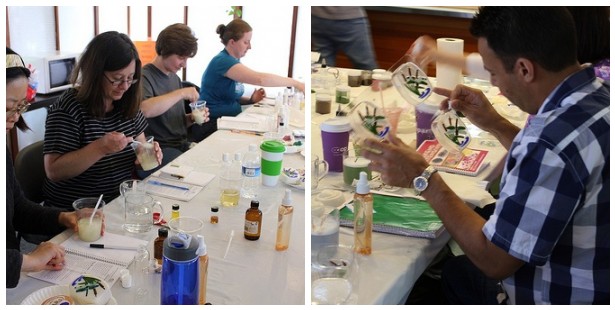 The second class Paula taught was her special painting class. She gave everyone her perfect recipe, helped everyone achieve the ideal paint consistency and then guided everyone through painting their adorable Tea Cup soap.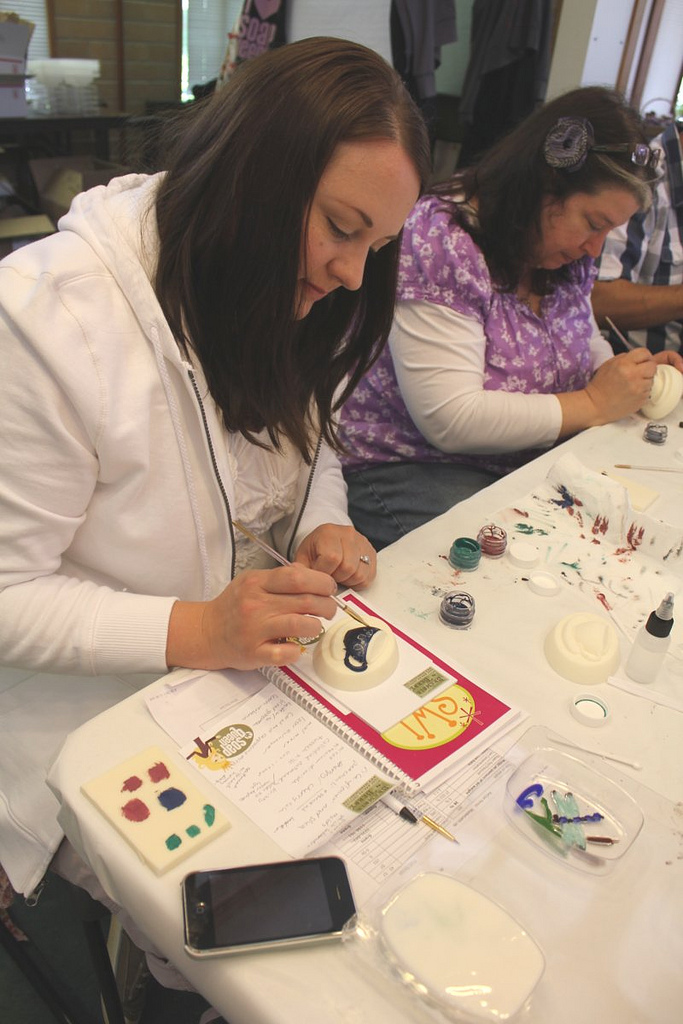 After a delicious Bellingham lunch (the weather was so lovely yesterday!), we reconvened for the fast 'n' easy 'magic' part of the day – Lotionmaking with our talented Otion instructor, Jill. I always love the controlled chaos of the lotionmaking classes because the final result is literally like magic for students. It is amazing how fast and easy lotion is to make from scratch and the best part? It's very economical since lotion is comprised to up to 80% water. Want to learn how to make lotions from scratch? There's a kit for that!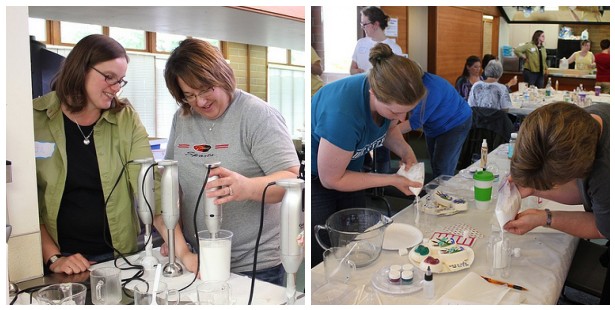 I finished the day of learning up with Liquid Soapmaking, Part II where we discussed diluting paste, fragrancing, and thickening liquid soap. I also made a promise to the students that I would figure out my top favorite Liquid Soap fragrances (based on which ones stayed clear and thick in liquid soap). It'll get it done; pinky swear!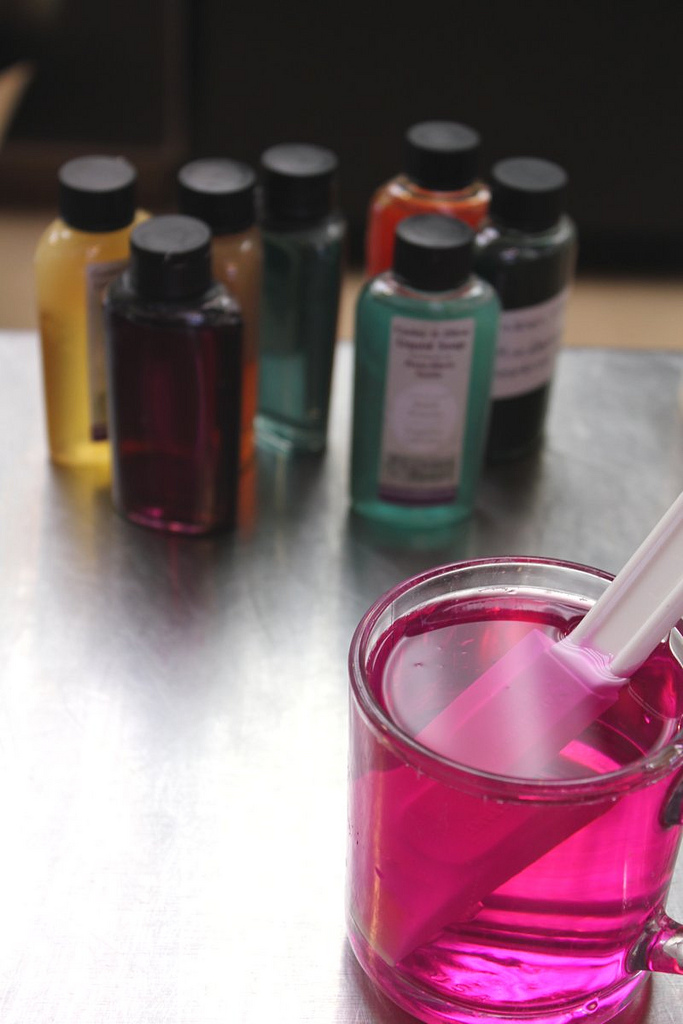 And then it was off to Otion for a bonanza of shopping AND, my favorite part, cupcakes! Like last year, we got cupcakes from Icing on the Cake including my latest 'n' greatest fave, Chocolate Salted Caramel (with salted caramel in the middle – delish!).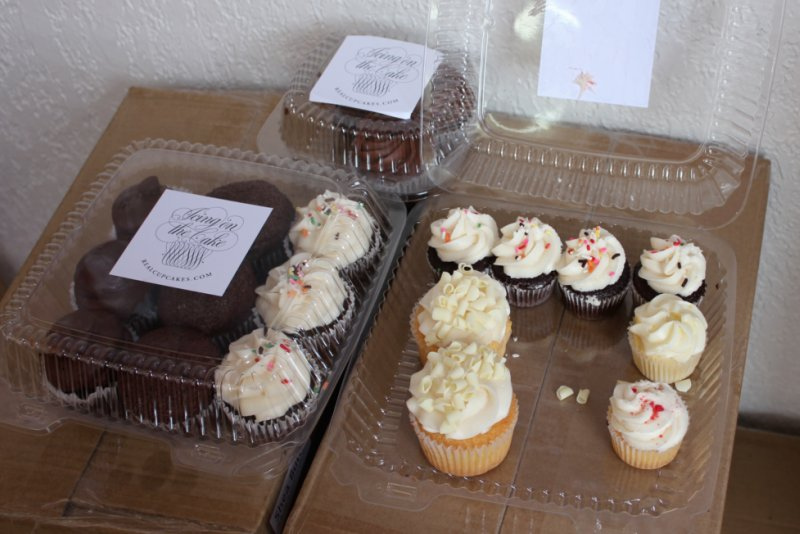 THANK YOU to all the Soap Weekend Intensive students. I enjoyed getting to know each and every one of you. Your enthusiasm for soaping and for beauty in all that you see was contagious and I feel more energized AFTER the busy weekend than before. Until next time …