"They were interesting." -Amber, BB Marketing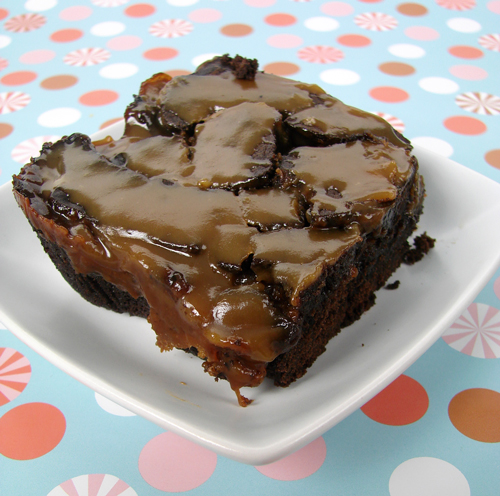 It's another Bramble'versary. Amber, our resident marketing genius, designs our rotating home page photos, our newsletter, lays out our e-books and takes the best photographs of anyone on the team. She started out as my part time assistant five years ago but didn't stay there long; it was apparent she had skills that exceeded what I needed in an assistant. I've never replaced that assistant position and Amber's never looked back. We're lucky to have her. And, for her five year Bramble'versary, I wanted to make something that was befitting of how complicated and multi-faceted her job is. Behold, the Salted Caramel Bacon Brownie.
Step One: Bacon Salted Caramel
In a non-stick pan, fry up the bacon until it's super duper crispy, turning it frequently. I've never fried bacon before in my entire life but it was pretty easy. Also, it's stunning how much fat comes out of a few slices of bacon (ewww!). Take the fried bacon out and let it set on paper towels. Leave the bacon fat in the pan and add the heavy cream to the fat.
In a separate, larger pan, add the corn syrup, salt and sugar. Heat on low until the sugar starts to melt and turn a light honey brown. Be careful here; you don't want it to scorch and go a dark, stinky brown. Add the butter, sour cream and the bacon fat/cream mixture. Stir well. Whisk in the sour cream if necessary. Crumble in the crispy bacon. Set aside.
Step Two: Brownie Mix
8 Tablespoons Salted Butter
6 ounces semi-sweet Chocolate
1/4 cup Dutch Baking Chocolate Powder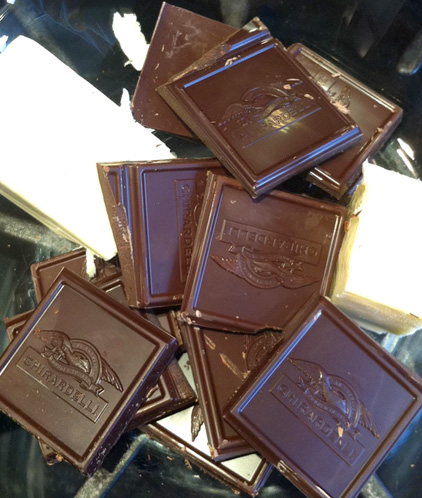 Pre-heat your oven to 350 degrees.
Mix the salted butter and chocolate together in a bowl. Microwave on short 30 second bursts (don't let the butter splatter in the microwave; it's no fun to clean up). Add the three eggs, chocolate powder and vanilla. Mix in with a beater. Fold in the sugar and flour and beat on medium until fully incorporated.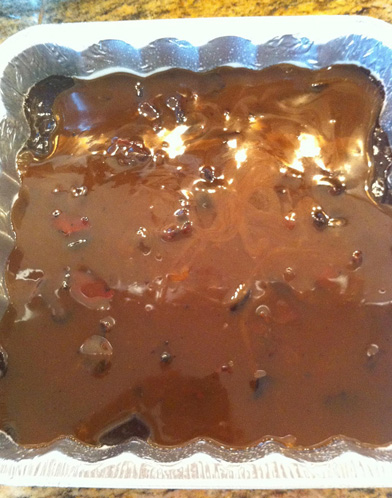 Step Three: The Mixing
Spray your baking pans with a non-stick spray or wipe down with butter. Pour in 3/4 of your chocolate batter. Pour the caramel over the batter. It should fully cover the batter, like its own little layer. Drop and drizzle the rest of the brownie batter over the caramel. Bake for 30 to 45 minutes. Take it out 5 minutes before you think it should come out (I burned one of the batches and it's really not all that delicious burnt).