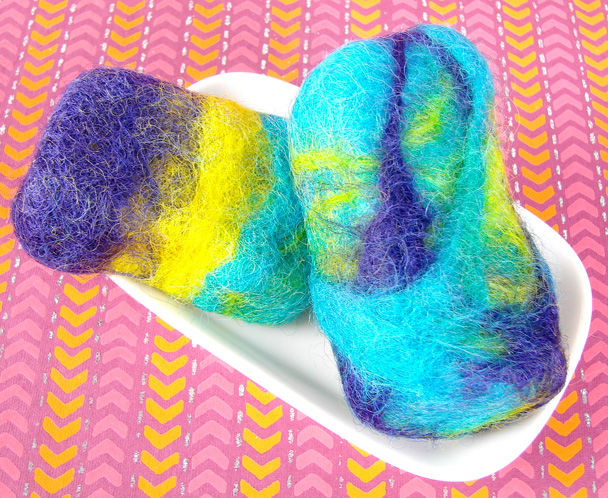 Thanks for all of the color suggestions for my wool. After switching back and forth several times I finally decided on Tropical Purple and Canary Labcolors to go with my Brilliant Blue. If you have not dyed your wool yet, see last week's post on "
Sheep Thrills
". Also, I strongly recommend felting cold process soap. It's a harder bar that generally lasts a little bit longer than melt and pour. Learn how to
make Cold Process
on
Soap Queen TV
or buy Finished
Cold Process Soap
at
Bramble Berry.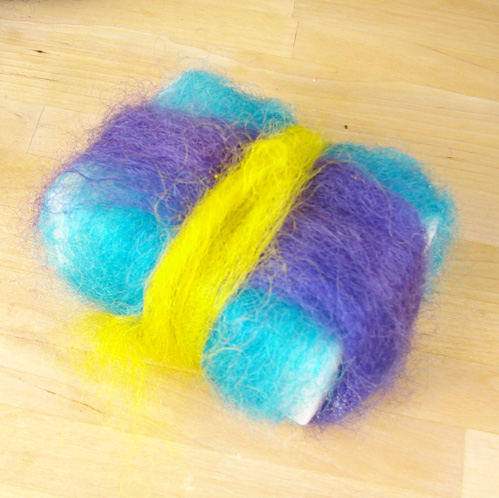 ONE:
Start off by taking a couple strands of your wool and wrap it around your soap. Do all one color, stripes or a creative pattern. Just make sure to cover the entire soap in wool so there are no "bald spots". The corners of my soap (pictured above) still needs some more wool.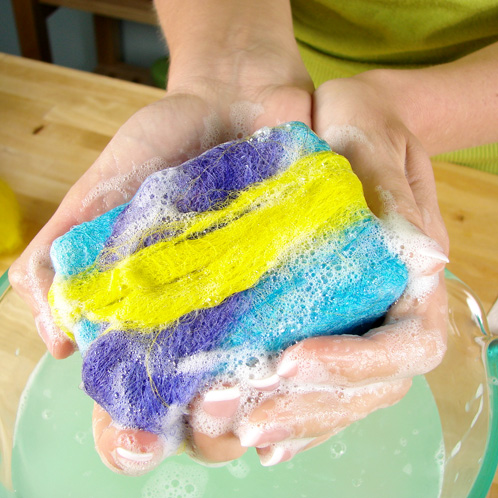 TWO:
Wet the soap with warm water and start "using the soap", scrubbing the wool with your hands, rubbing every inch of the soap. The felting process is basically matting the wool hair so it will stick together. Scrub for about 10-20 minutes until you can't pinch off any of the wool fibers. I know what you're thinking: 20 minutes is a long time. But think positive. When you're done, your hands are going to be soft and smooth as a baby's derrière.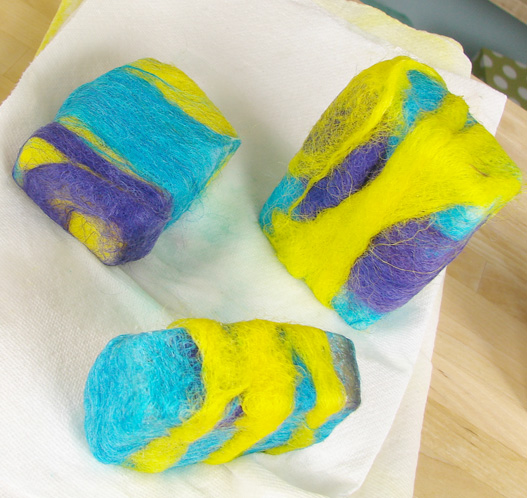 These soaps are looking good but aren't quite done yet. 
The wool is still a little too loose on the soap.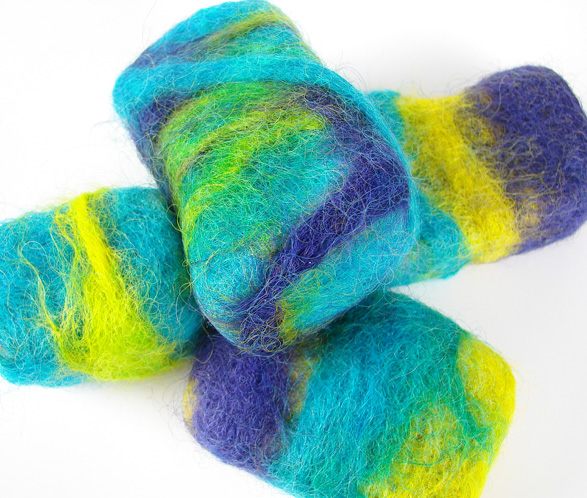 10 minutes Later: See how the wool looks more matted together?
I can't pinch off any of the wool.
VARIATION: Martha (as in my idol, the divine Miss Martha Stewart) puts her soap in old pantyhose before she felts. I think it's a great technique if you have different layers and colors. It keeps your design intact. There are also techniques that use felting boards or washing boards instead of using your hands. This would save you a little bit of time and elbow grease, but I've always done it the old fashioned way.
Have a question about this blog post? Come join us at Bramble Berry's Facebook page and we can help you out with any of your soapy questions!