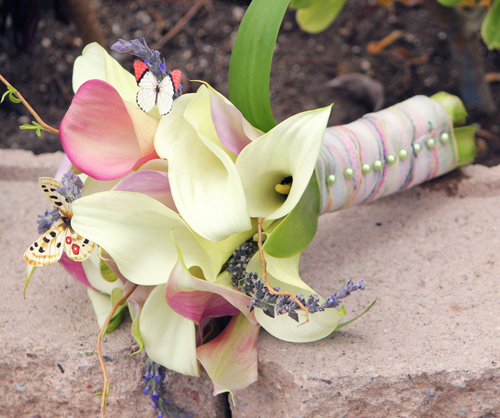 Weddings are beautiful occasions. A day of love and togetherness and the celebration of a new beginning. Unfortunately the sticker price for these festive events can be a shock especially if the bride and groom are paying for it themselves! There are clever ways to save money and going the DIY route on a lot of tasks can really help save money. When researching wedding bouquets I found that the standard was about $175-$250 for a simple rose bouquet. When you start counting Bridesmaid Bouquets and Boutonnieres you are looking at spending $1000 plus dollars. No Thank You! I made this elegant handmade bouquet for less than $30 and there were plenty of flowers left over. I used them in vases but I could have easily gotten another bouquet and a few Boutonnieres out of the three bunches of Calla Lilies that I bought at Trader Joe's for $7 per bundle. The ribbon was in the $1 bin at a craft store and the pins were about $4.00 for 100 pins. I had the floral wire but it can be purchased for a couple of dollars at a craft store. All you need is an eye for matching color, a few simple supplies and about 30 minutes of time. I embellished the bouquet with lavender and greens found around the yard!
Materials:
• Flowers in colors of your choice. NOTE – if you are having an outdoor wedding be sure to choose flowers that hold up well in the heat. Some examples are Roses, Calla Lilies, Orchids, Sunflowers, Birds-of-paradise, Dahlias and Zinnias.
• Ribbon at least 1 inch wide in color(s) of your choice
• Once inch pins with pearls in color(s) of your choice
• Floral Wire
• Scissors
Method:
1) Under cold running water cut about 1 inch off the bottoms of your flowers and place in a vase filled with cold water for storage.
2) Begin gathering the flowers working out from the center of the bouquet. Hold them high on the stems firmly but not too tightly. You want to have room to slide stems down into the bouquet and you want to avoid bruising the stems.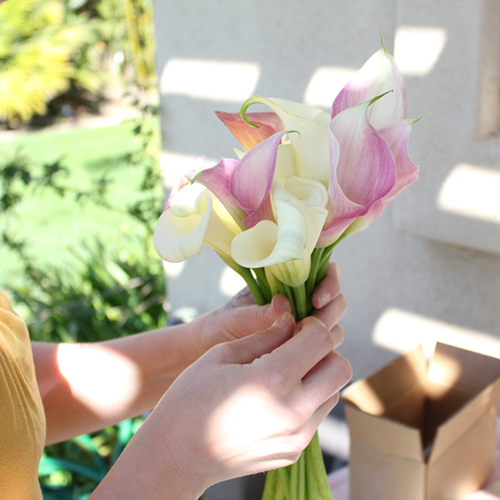 I felt like the bouquet was large enough at about 8 to 10 inches in diameter and the diameter of the stems was comfortable to hold. You can go as large as you like however!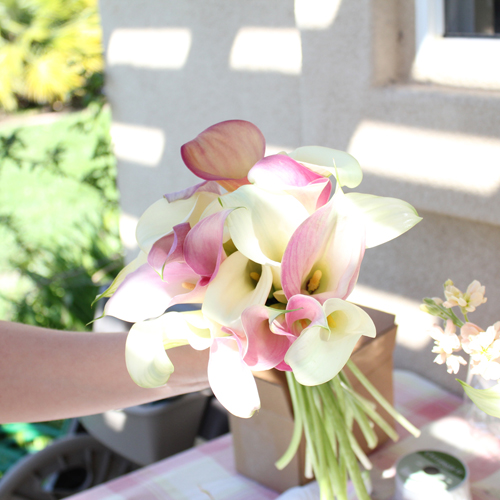 3) Add embellishments such as small flowers, twigs, and leaves. I think greenery looks good around the edges and smaller flowers and branches can be added to the interior of the bouquet by sliding stems down between stems while keeping a firm grip on the bouquet.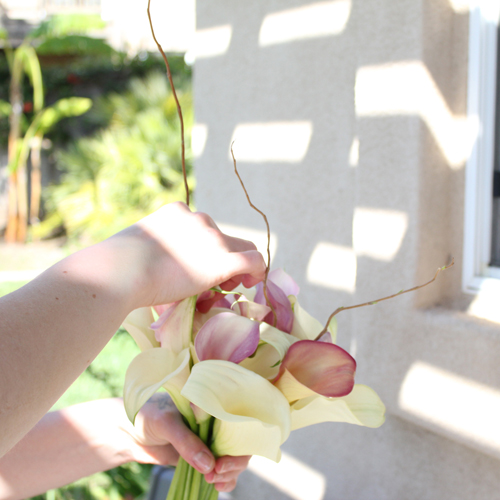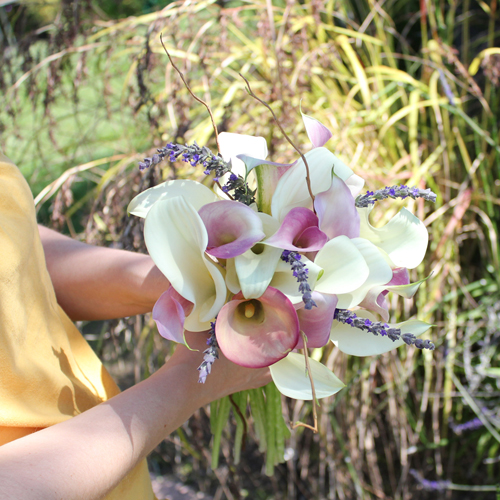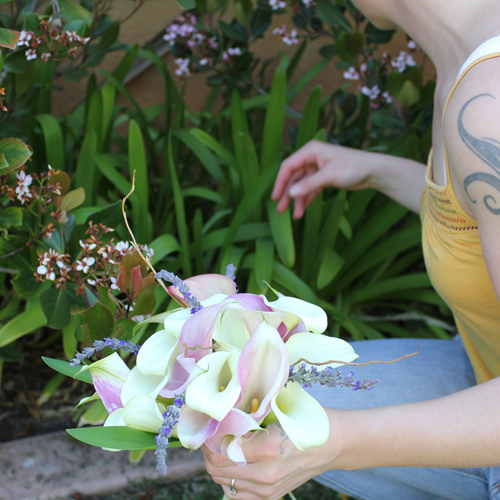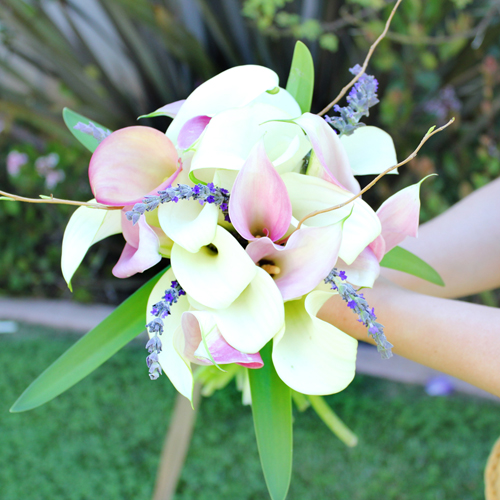 4) Once you have your bouquet flowers all in place wrap with floral wire high up on the stems to hold everything in place. Again, don't wrap the wire too tight to avoid bruising the stems.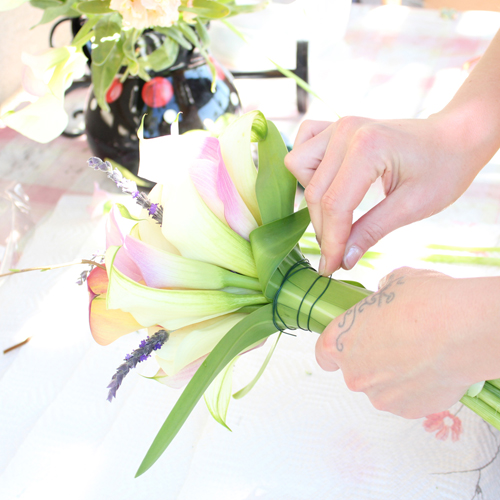 5) Next we want to cut the stems down. I would say 8 inches is safe. You want to be able to get both hands on the stem so I cut the stems to the height of my fists end to end plus one inch which came out to 7-8 inches.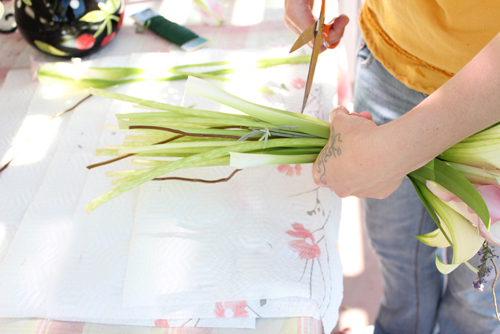 The goal is to have a nice flat bottom.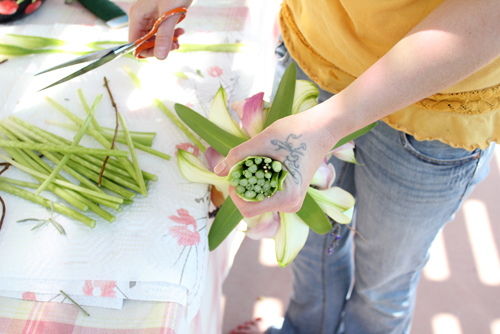 6) Tie your ribbon around the stems over the floral wire and begin wrapping it up and down the stem until you get the coverage that you like. My ribbon was sheer so I had a few layers of ribbon. A solid ribbon may take just one layer. Make sure the wire is covered as well. Leave about 3/4 inch of stems showing on the bottom.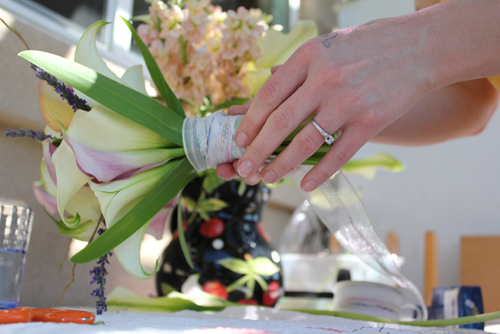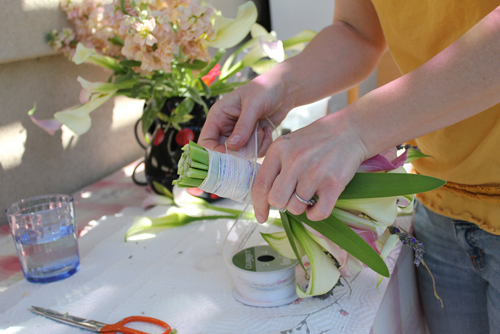 7) Cut the ribbon and hold it in place with your thumb. Begin inserting your pins at an angle into the ribbon in a line down the stem. At the top of the stems angle the pins downward and at the bottom of the stems angle them upward. Be sure you are inserting the pins so that no sharp points are sticking out!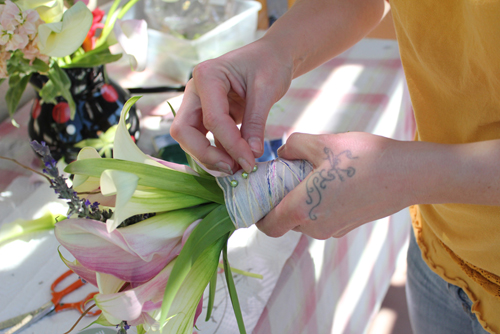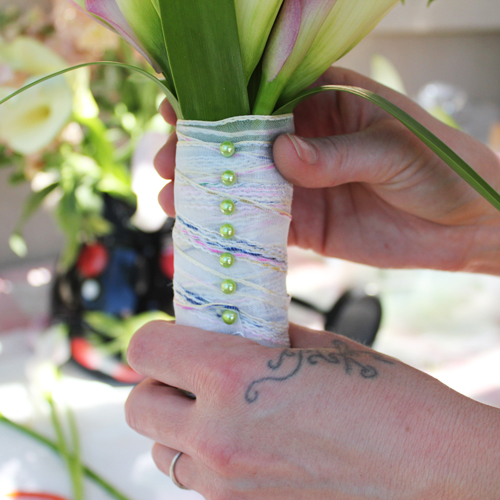 When finished store the bouquet in a vase or glass with about 1/2 inch of water in the bottom to keep it hydrated until you are ready to use it!