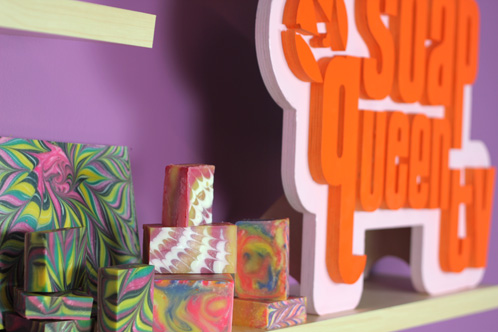 Yesterday we wrapped up another successful filming session of Soap Queen TV. The BB crew and I had a blast on set (as always) and I couldn't be more excited about the upcoming episodes! We filmed a spray perfume, an all natural solid perfume with a custom essential oil blend, Lavender bath truffles, Vanilla and Chocolate bath truffles with another yummy custom blend and, finally, a goat milk cold process soap using fresh goat milk. It was a jam packed Sunday which we enthusiastically called Sunday Funday (or Sunday Soapday)?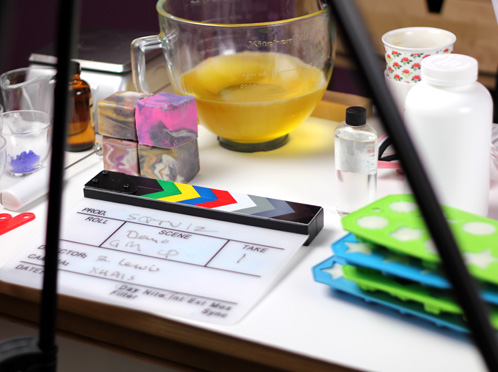 Above is the set up for the goat milk cold process soap project using the 9 bar Cube Mold and the In The Pot Swirl technique. ITP looks amazing in the cube mold. The design is hypnotizing (Can't. Stop. Staring. At. Soap). And I can't wait to show you how "non-scary" goat milk soap really is (if you can't wait for the episode to air you can read up on the technique in this Goat Milk Book).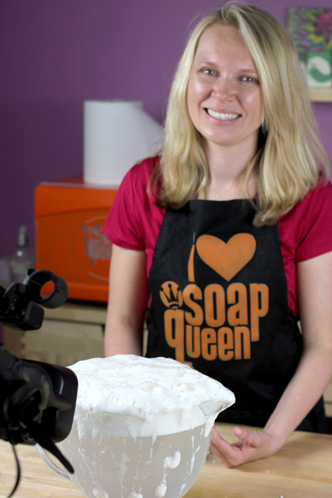 Ahhh! We've created a monster! Above is the foamy aftermath after we dropped a Bath Truffle in warm water. It flowed over with fluffy vanilla and chocolate scented bubbles. Wondering what a bath truffle is? It's a glorious combination of a bath bomb, a bath melt and a bath oil. Hello DIY spa day!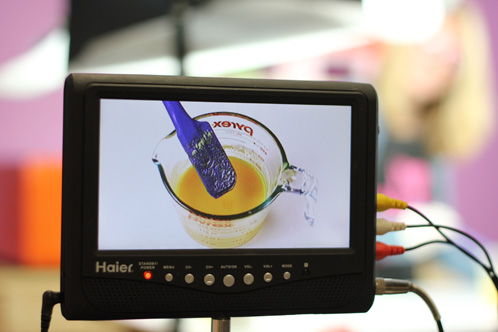 Can you guess what this liquid is? Hint: I was making Goat Milk Cold Process.