Welcome to August, everyone! This week we wrapped up our collection of Home Spa tutorials, which will hopefully keep you refreshed, relaxed and revitalized as warm summer days begin to turn into cool fall evenings. We also chatted with a fellow soapmaker about her delightfully tropical bath & body products and started wrapping up our August Soap Swap.
Outside the office, my parents celebrated their 41st wedding anniversary! My dad surprised my mom with that yummy looking berry cake, as well as a rather fun note ("Still happy to be married at 41 years to a hot babe!"). They are both great examples for me on how to be as individuals and also how to be completed in a relationship.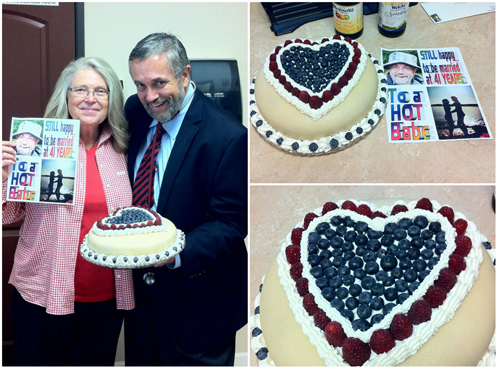 There was plenty of activity on social media too. Take a look below for my favorite tweets, pins, and 'grams of the week.
Pins: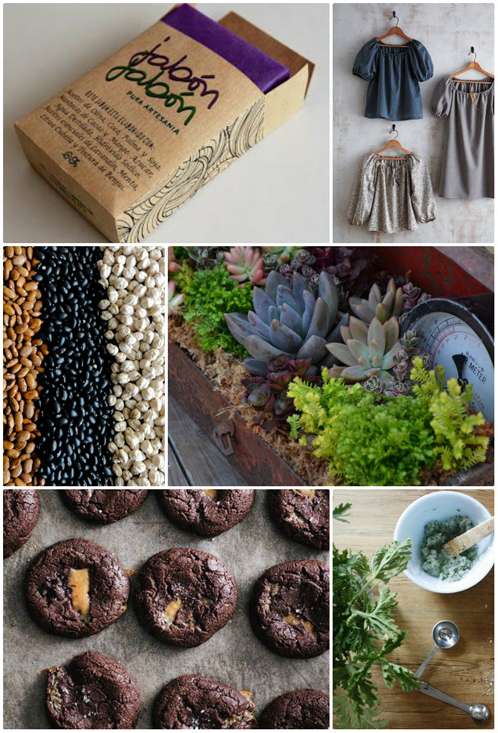 Top left: I think half the fun of creating your own bath & body products is creating the packing that goes along with them. Your presentation is just as important as your product, and I love this simple, elegant cardboard design.
Top right: Breezy summer evenings call for breezy summer tops, but why spend money on pretty blouses when you can make them yourself? These tops are super cute, and you can customize them any way you want. Definitely a good weekend project for me to practice my sewing skills!
Center left: I've been a devout vegetarian for 36 years, and I'm always looking for ways to incorporate more iron and protein in my diet. My secret weapon? Beans! They really are the magical fruit =) We have a local Bellingham store (The Market on Lakeway) that has the most amazing bulk food section I've ever seen with beans of all colors, shapes and sizes. Our household has been dining on delicious homemade chili all week thanks to the inspiration at The Market bean station.
Center right: It's always exciting to give new life to old household items, and this old toolbox re-purposed into a garden planter is an excellent example of that. It has a such a rustic, old farmhouse look.
Bottom left: These dulce de leche cookies look like they are to die for. Nothing wrong with satisfying your sweet tooth every once in a while!
Bottom right: I've been spending what little free time I have working on my garden lately, and this Rose Geranium Sea Salt Scub has inspired me to look to my garden for both bath & body ingredients as well as tasty snacks. I'll start with the trellis of sugar snap peas Jamisen and I built last week. And, I just happened to plan a fresh Rosemary bush last week too.
Instagrams:
Here's a look at the Firedrop Swirl, from the Soap Crafting book. Want to try this for yourself? You can order a copy of the book, with full color photos and instructions for this recipe and 30 others, here!

More soap cutting madness; this is the Goat Milk In-The-Pot Swirl, another Soap Crafting recipe. It's scented with a lovely (and pleasantly surprising) blend of peppermint and patchouli:
Tweets:
Have a great weekend everyone. We're headed to either a children's festival or a tractor exhibition today. It will all depend on the whims of a two year old. Find me on Twitter here, Pinterest here and Instagram here.