Welcome to mid July! I saw a funny little photo on Facebook this morning; it showed cars under snow with the message "Don't complain about the heat. This is just 16 weeks away." Yikes!  The summer is flying by, and there has no shortage of activity around here. We've been busy planning a super secret collection of tutorials for the end of this month, rolled out a Free Beginner's Guide to Butters and Oils and (somehow) Chris and I managed to take the kids on a train ride. It may be organized chaos, but it sure does make for a fun workday and life.  For now, sit back, relax, and take a look at my favorite things from the past two weeks on planet soapy social media.
Pins: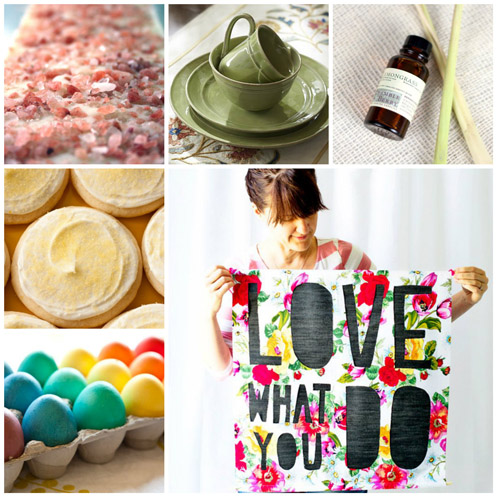 Top left (going clockwise): I love how elegant and charming salt soap can be. The pink salt in this soap adds a pop of natural color and acts as a wonderful exfoliant.
Center: Something to add to my wishlist: this collection of mint-colored dishware from Cambria! I (eh hem) may or may not have placed an order for half of them this week. Our dishes at home are 16 years old and we don't have a full set anymore, after many years of breakage, cracks and chipping.
Right: I'm constantly on the hunt for the perfect summer scent for my soaps. Year after year though, I find myself returning to Lemongrass Essential Oil. It has incredible staying power in cold process soap, and the slight citrus note grounded by a more earthy tone make this a complex, all around fantastic essential oil.
Bottom right: This is such a cute motivational poster. If you do what you love, you'll never work a day in your life! So thankful that I tripped on this truth when I was just 20 years old and founded Bramble Berry. #Lucky
Bottom left: What a fun twist on decorating Easter eggs — these are not only painted, they're also filled with glitter! Such a clever way to fill an eggs while keeping the shell (mostly) intact.
Left center: Some Lemon Sugar Cookies to compliment the Lemongrass Essential Oil (coincidence is completely unintentional, I swear!). These look absolutely delicious, and so perfect for summer. I had a work party last weekend and brought everyone sugar cookies from Pure Bliss Desserts. I had one on an empty stomach for breakfast. That was not a good choice but I'm ready to go at it again  (maybe with a little food in me next time!) with this delicious recipe.
Instagrams:
We've been hard at work on a fun collection of tutorials (we're channeling the idea of a day filled with relaxation and pampering). Expect lots of special deals coming at the end of this month too, but for now, here's a mini preview give you an idea of what's to come! (P.S. Interested in making this lovely scrub yourself? Buy the kit with everything you need on Bramble Berry.)

No spa experience is complete without a flickering candle flame. Here's a behind the scenes look at how to make a layered candle. Full tutorial coming soon!
Tweets: