SWI 2012: June 15th -17th,
Bramble Berry's annual Soap Weekend Intensive is an incredible opportunity to learn innovative techniques from some of the best instructors in the country. These classes are HANDS ON and you'll leave with soap, supplies and the confidence to make projects on your own.
This year, we are proud to welcome back Debbie Chialtas of Soapylove, Erin Pikor of Naid Soap Arts, Kat Hackney of Otion, Jill Heuser of Northwest Scents, and of course, moi, Anne-Marie Faiola of Bramble Berry. Also, the very vain part of me would like to point out that in the photo below, I look a little doughier in the face than usual because I had just had a baby. Eh hem, back to the topic at hand…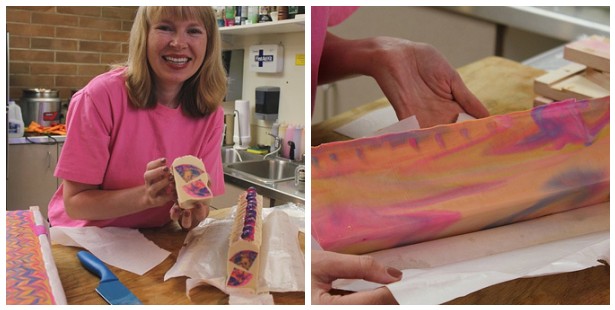 Anne-Marie cutting the CP soap project- SWI 2011
Early bird price of $350.00 through March 1st, 2012, the class price will raise to $400.00 after that date. In addition to the class price, there is also a $50 materials fee that includes all of the supplies you will need and most of the tools and molds you'll use will be yours to keep.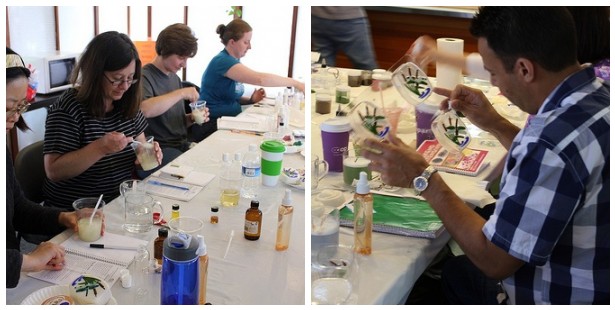 Students hard at work- SWI 2011
There is a cancellation fee of $25, no refunds will be given for cancellations after April 30th, 2012. Space is limited and every year has been sold out – so don't wait too long!
This year's projects will include: Advanced melt & pour with Debbie Chialtas including cupcake soap and splattered paint soap. Learn to make 4 different scrubs with Erin Pikor. Learn 2 swirl techniques in Cold Process soap with Kat. Make lotion with Jill. And learn to infuse herbs and spices with Anne-Marie, then how to use those infusion in a layered Cold Process soap.
The Soap Weekend Intensive is a mix of hands-on and advanced demonstrations. You will leave with examples of each project in addition to some of the special molds and tools you will be using in the hands-on portion for the classes.
Check out the Soap Queen Blog to see how much fun the previous year's classes were! This year's Soap Weekend Intensive is in Bellingham, Washington at the Co-Op learning center, in the center of beautiful downtown Bellingham.
In other Bramble Berry news, we put the SoapQueen.TV Funnel Pour Soap up on the Etsy Soap Queen Lab shop for those of you that are tactile learners (or skeptical that the bars really do look *that* cool with a horizontal cut!) =) Every Soap Queen Lab Etsy order this week is getting one of the Funnel Pour Soaps tossed in for FREE. We'd love to have you take a good look at these bars and get inspired to make 'em yourself. They really are worth the extra effort to make. All of the soaps come with full color printed project instructions to teach you how to make the example bar.