I think that one of best parts of soapmaking is the amazing community we're surrounded with — it's a wonderful feeling to be able to meet other soapers, learn new techniques, exchange ideas, and receive encouragement and feedback to help our community learn and grow.
After meeting so many amazing soapers at the Soap Crafting release event last Thursday, I began thinking of ways to bring people together around the Soap Crafting book, and I hope you'll all be delighted with what the team and I came up with: I am pleased to announce the Soap Crafting Club, a collaborative subscription-based group featuring techniques and recipes from the Soap Crafting book. Read on to find out more and get in on the fun!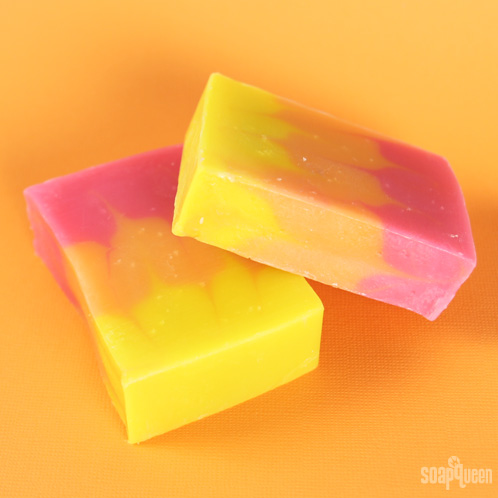 The Neon Swirl is part of the fall Soap Crafting Club session
Think of the club as a private, online classroom. When you sign up, you'll get access to instructional videos for each recipe, be able to ask questions on a private forum and have a space to share your own soapy creations. When you purchase a subscription, you'll receive pre-measured oils, lye colorant, fragrance and the soap mold. All you need to provide is the distilled water and the tools! The club is a great way for soapers to focus on technique because all ingredients are pre-measured, allowing lots of time for focus on technique and execution.
In the private Soap Crafting Club forum, I will be answering questions and giving feedback on the soaps. I want to give each soaper individualized attention. As a result, the number of members will be limited!  If a session fills up, have no fear — we're offering four, unique 3-month-long sessions throughout this year, as well as a subscription for the entire year. Every session features three different recipes from the book, and you can see the complete schedule below:
Fall 2013 Three Month Subscription:
September – Natural Colors Soap with Annatto p. 56
October – LabColors Ombre Soap p. 70
November -Neon Swirl Soap P. 180
2 pound wood mold with silicone liner
Winter 2014 Three Month Subscription:
January – Funnel Pour Soap p. 79
February – Avocado Moisturizing Soap p.134
March – Tie Dye Soap p. 198
5 lb Wood Mold with Sliding bottom and silicone liner
Note: You will need to provide distilled water and an avocado
Spring 2014 Three Month Subscription:
April – Black & White p.60
May – Coffee Grounds p.154
June – Wine Twist p. 147
Vertical Wood Mold
Note: You will need to provide distilled water, wine and coffee grounds
Summer 2014 Three Month Subscription:
July – Oatmeal Layers p.162
August – Psychedelic Green Tea p. 172
September – Linear Swirl p. 186
9 bar Birchwood Mold with silicone liner
Note: You will need to provide distilled water and oatmeal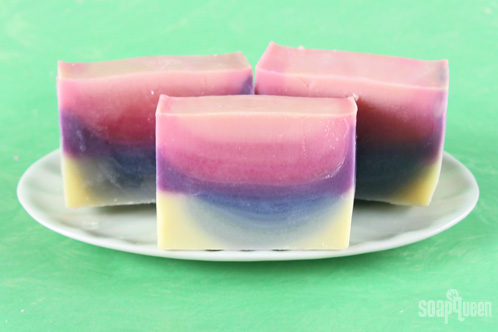 The Lab Colors Ombre, also part of the fall club session
To join our merry band of soapers and fun, click here to purchase a subscription. The fall session is currently live, and those who have signed up will receive their kits by September 30. There are still spots open, so don't hesitate to join in!