Merry Christmas Eve. =) Christmas is a time for family, gifts, food and of course…cookies! Every year, Bramble Berry celebrates something we like to call "Cookiepalooza." Everybody who wants to participate bakes (or buys) their favorite cookie recipe. All the cookies are placed on a large table, and then it's time to feast. Everybody helps themselves to the wide variety of cookies and enjoys a sugar buzz. This year we celebrated Cookiepalooza on a Friday, so everybody started off their weekend with on a sugar high!
One of my favorite cookies from this year's event (or any year) were these Star Wars cookies. Made by Ed, who works in the warehouse, and his wife, these cookies taste as good as they look. I was especially impressed with the detail on the R2-D2 cookies. The little red candies were a great touch.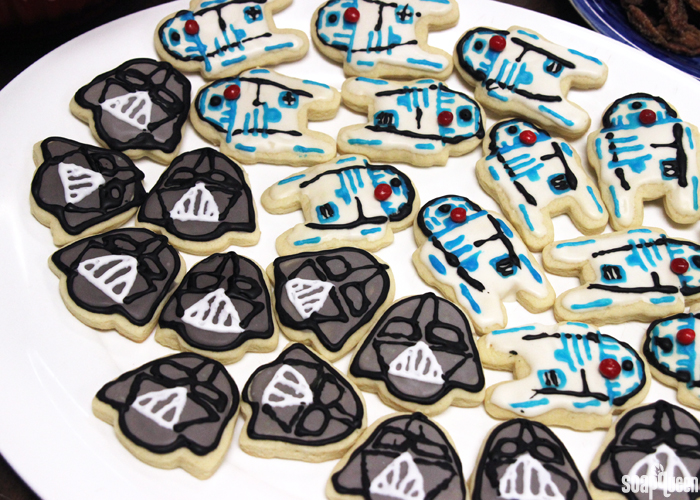 Just look at all those sweets! In addition to cookies, employees also brought candied pecans, candy and breakfast danishes. Anything full of sugar is welcome at Cookiepalooza. =)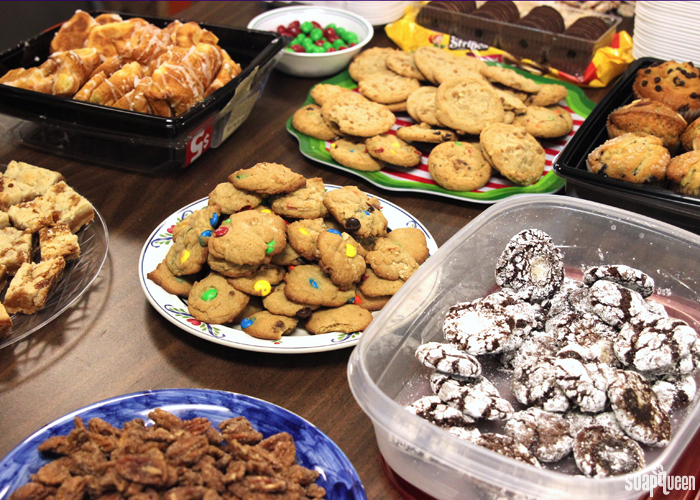 Kelsey, who monitors our Facebook page and more, made these cute and yummy Hershey's Kiss cookies. She mixed in candy canes for a little mint flavor. They also made them look really festive.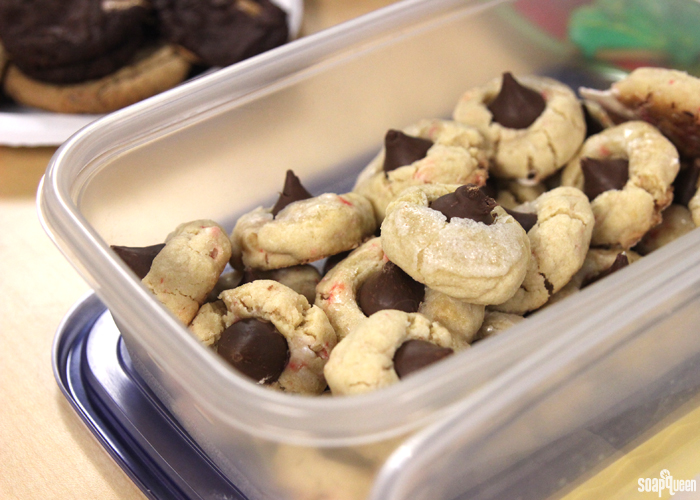 Below, myself, Haley and Kelsey load up our boxes with cookies. Haley's idea of buying takeout boxes worked great! They made for midnight snacking at home really easy.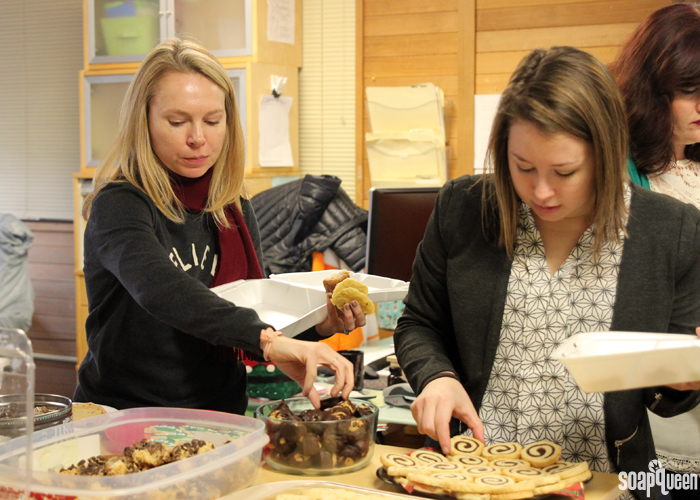 On the bottom left, you can see Carla's full box of cookies. Yum! The cute swirl cookies on the right were made by our awesome accountant Shon and the festive snowflake and Christmas tree cookies were made by Rachel in customer service.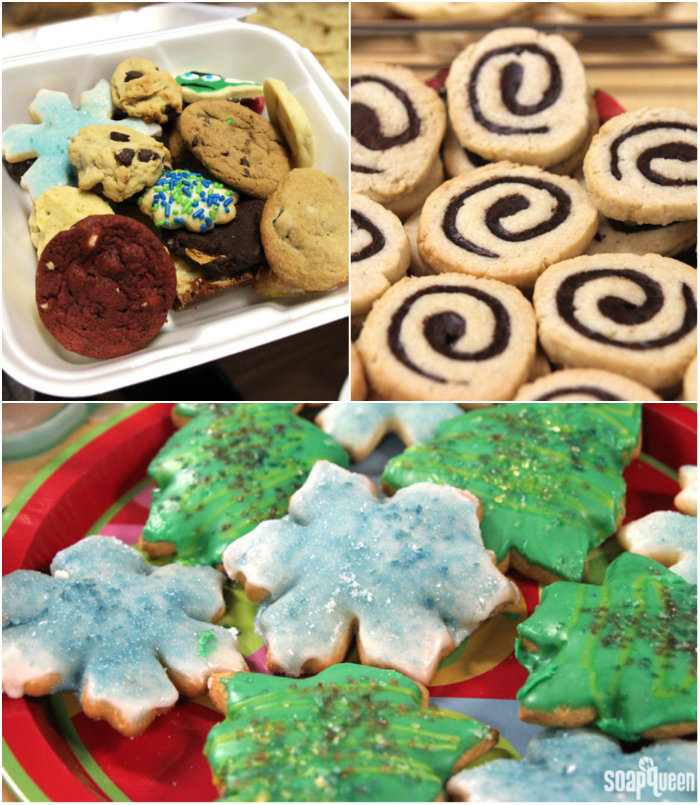 These Salted Caramel Butter Bars may have been the most loved cookie of the year. These delicious bars were made by Terah in customer service, and they were a wonderful combination of flaky dough and chewy caramel. You can find the recipe Terah used here. I definitely recommend trying them, they were amazing!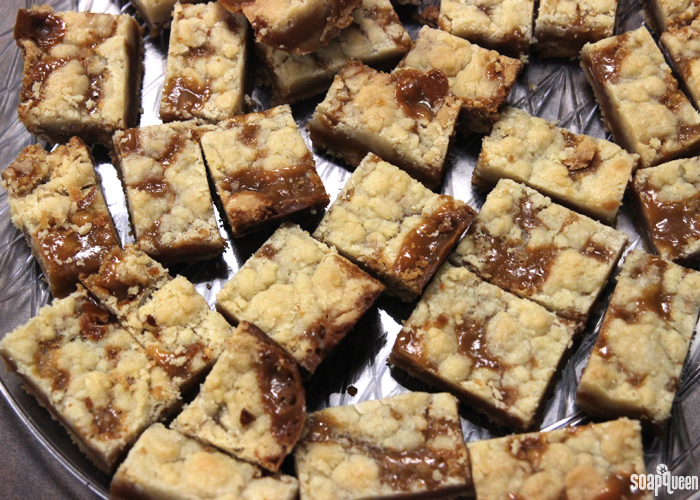 Below, Austin fills a glass of milk to wash down the cookies. In the background, checkout Terah's adorable sweater! It was covered in sequins and even made noise.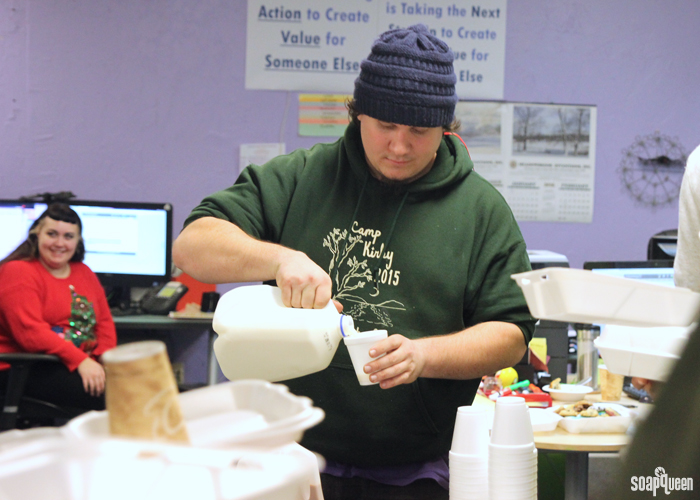 More Star Wars cookies! How cute are the little Yoda cookies? The Bramble Berry team is creative in so many ways. I'm always impressed!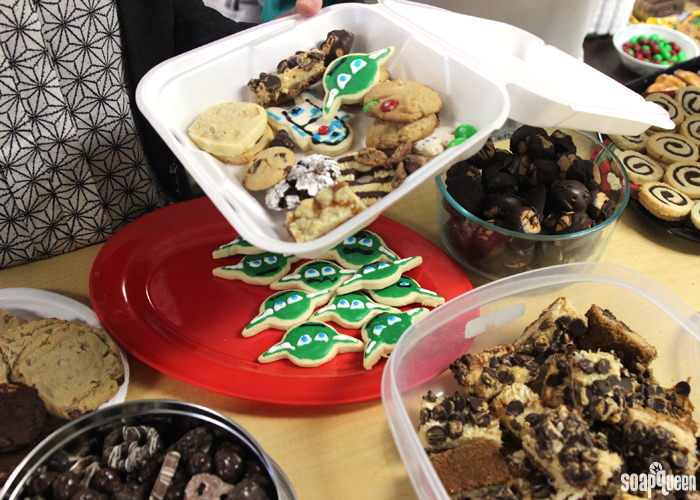 Below, Tina, Bentli, Dakota and Austin full up their boxes full of sugary morsels. We had so many cookies this year that there was plenty leftover. We have been finishing them up this week.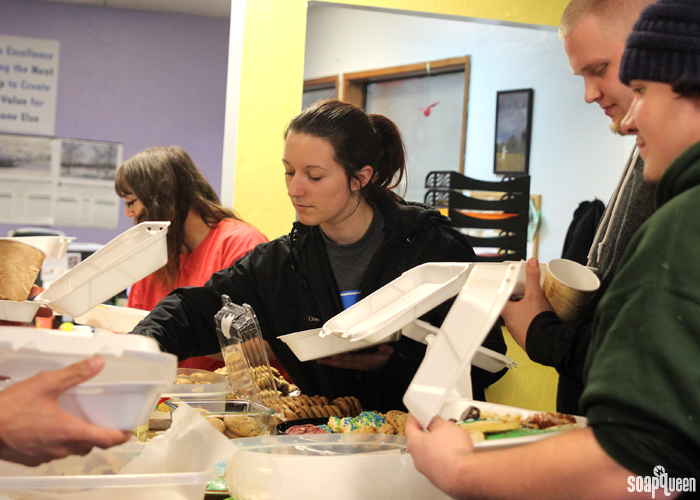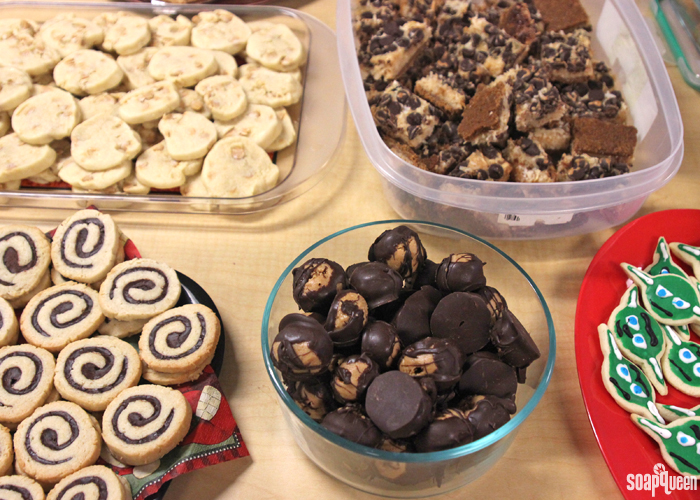 I always like to try a cookie recipe that's a little unusual. Last year I made a cheesy "cookie" recipe (find it here), and the year before that I made Brown Butter & Basil Shortbread (find the recipe here). This year, I couldn't decide between making more cheese cookies or making these Cornmeal, Black Pepper, Orange Zest and Rosemary Shortbread cookies. So I ended up making both! Below is the recipe from Edible Finger Lakes. These cookies are super unique with a great texture. I highly recommend!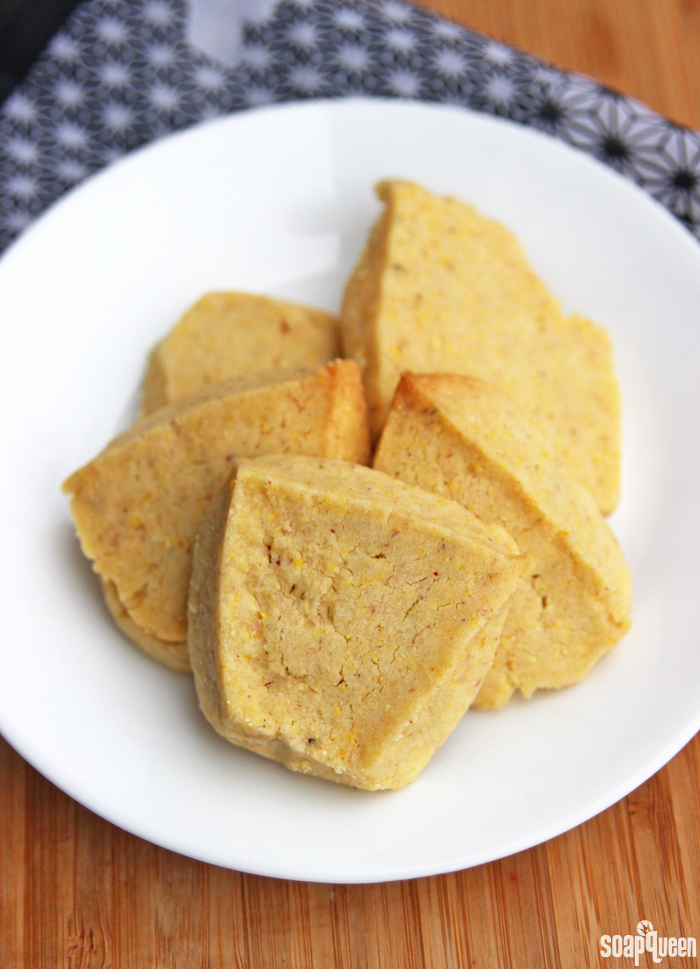 Recipe from Edible Finger Lakes
2½ cups local unbleached, all-purpose flour
1 cup local finely ground cornmeal
½ teaspoon fine sea salt
1½ cups local unsalted butter, at room temperature
1 cup sugar (or ¾ cup Grade A maple syrup)
2 teaspoons vanilla extract
1 tablespoon orange zest
2 teaspoons freshly ground black pepper
1 teaspoon fresh rosemary, minced
Whole black peppercorns
Demerara or Turbinado Sugar Crystals
In a large mixing bowl, sift the flour, cornmeal and salt. In a stand mixer fitted with the paddle attachment, cream together the butter and sugar (or syrup). Mix in the vanilla extract, orange zest, black pepper and rosemary. Add the flour mixture and blend on very slow speed, just until a ball forms. Chill the dough in the refrigerator for at least 1 hour.
Preheat the oven to 350° F.
Flour a clean surface and, with a floured rolling pin, roll the dough out to ½-inch thickness. Use a heart shaped  cookie cutter to press out shapes. Gently place cookies 2 inches apart on a baking sheet lined with unbleached parchment paper. Keep rolling out the dough and cutting cookies until all the dough is used. Coarsely grind black peppercorns over each cookie and then sprinkle each cookie with clear sprinkles. Bake cookies for about 10 to 12 minutes, rotating the pan at the halfway point to ensure even browning. Let cool on a wire rack before serving.
 What is your favorite cookie recipe? I would love to hear it. I hope you all are having a wonderful Christmas Eve!