Waiting on pins and needles for an update on the Bramble Baby? It's right around the corner. Anne-Marie and family are headed to the hospital as I type! Back at the office, we're attached to cell phones waiting for updates. Speaking of which – you might also be wondering who's keeping up shop while our fearless leader is away. We've got ya' covered. All your soapy questions on Facebook and on the Soap Queen blog will be taken care of by baby time veterans Amber and Kristen (hi!), along with the rest of your Bramble Berry favorites.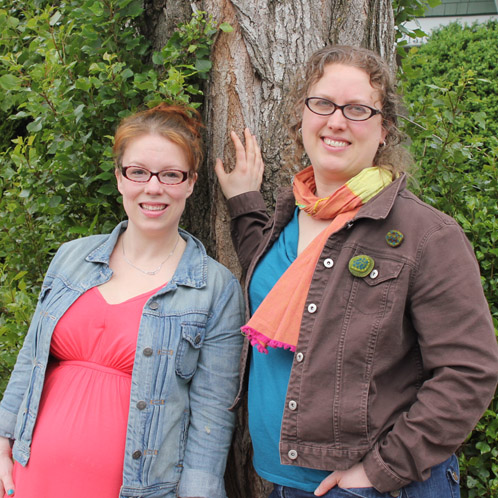 So who are we? Well, that's Amber above on the right. Amber is Bramble Berry's rockin' Chief Marketing Officer. Amber started at Bramble Berry as Anne-Marie's assistant many moons ago, and established her position from scratch (literally – it didn't exist before she came along!) by proving herself an invaluable part of the team. Amber is an avid gardener and foodie in addition to being a crafter extraordinaire.
And that's me, Kristen, on the left. I started at Bramble Berry in the warehouse pouring, picking, packing and processing your orders. Eventually I was asked to join the customer service team, then became Anne-Marie's assistant, and finally landed in my current position as Social Media Manager. I'm a sewist at heart (did you know you can get a degree in sewing?) and love making clothes and quilts for kids. You'll notice my own baby bump in the picture – can't let Anne-Marie have all the baby fun right? I'm expecting baby #1 in October and couldn't be more thrilled to have my own little one to spoil with handmade goodies.
Between the two of us, Amber and I bring more to the table than just matching glasses and jackets. We have thousands of hours of soapmaking under our belts and could not be more excited to jump in and help out while Anne-Marie welcomes Miss Lily (the front runner name but it could change by this afternoon!) to the world.