Happy summer! It's time for another Aloha Soap Mold promotional coupon code. Did someone say coupon code? Do we have your attention now? This summer's code will get you 30% off any of our Aloha Molds (See them all here). Please go to our Facebook page to get the promotional coupon code. If you're not an official fan yet, you'll have to "like" our page in order to view the coupon code. Hey…it's totally worth it for 30% off some super cute molds!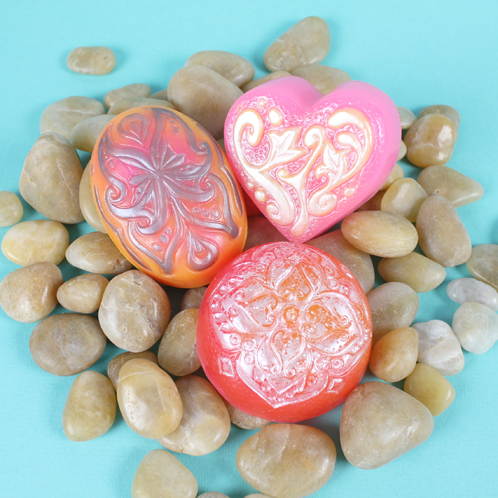 The soaps pictured above were made with Clear Melt and Pour, Tangerine Wow Colorant, Electric Bubble Gum Colorant, Fizzy Lemonade Colorant, Luster black Mica and Super Pearly White Mica. Scented with Pikake Flower Fragrance Oil. If you have ever been to Hawaii and love the tropical floral smell when you first step off the plane, then you will LOVE this fragrance oil.

Molds: Batik Dome Flexible Mold, Batik Heart Flexible Mold and the Abstract Wings Flexible Mold.
We used the Faux Swirl method to get the multi-color blend and the Mica Brushing method for the textured details on top.
Remember to go to Bramble Berry's Facebook page to get your coupon code!