Hi everyone!  It's me, Debbie Chialtas of Soapylove!  I love helping out here on Soap Queen.  I hope you like this post!
When it comes to glycerin soap inspiration, I always find glass beads to be an amazing source of ideas.  The same qualities of glass (color, translucence, surface texture, and shape) apply to glycerin soap as well!
For the Soap Lab issue of "Let's Get Soapy" – carried on Bramble Berry if you click here – I did a special article about combining pigments with micas to get glass-like colors.  By doing this I got the intensity of pigments with the light reflection of micas.  I was really pleased with the results.  I used the above beads as my color reference, then started mixing!
Here are my formulas, all made with colors carried by Bramble Berry.  Maybe you already have some in your soaping tool box!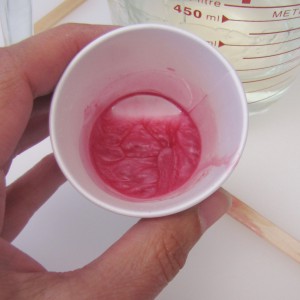 To make these formulas, mix them first in a little cup.  If you are using powdered pigments, spray some rubbing alcohol in your cup then dissolve the pigment and mica completely.  Making sure your lumps are broken down will make stirring the color into your soap much more successful.
Also – use a mica scoop as "one part," and use CLEAR soap base only.  White will not work!  Melt as much soap as you need, then slowly add the color mix until you achieve the intensity you like.
Jade Green:  4 parts super pearly white mica + ¼ part liquid green oxide
Amethyst: 4 parts liquid ultramarine violet oxide + 1 part antique blue mica
Smoke: 3 parts vintage gray mica + 1 part cappuccino mica
Amber: 1 part yellow oxide pigment + 1 part copper sparkle mica
Remember – playing around with color is how we learn best!  Tweak the above formulas and try other colors you have, and keep your eyes open for beautiful jewelry that inspires you!  Have fun!
-Debbie
(psst!  Don't forget to check out my latest issue of Let's Get Soapy, which comes with a great set of neon colorant blocks!  So cool!)