You only need a few ingredients to make a bath bomb from scratch. You can keep your recipe simple or add your favorite oils, scents, and colors. If you want to start making bath bombs or if you're ready to try a new recipe, find inspiration below.
The sky is the limit when it comes to bath bomb designs. The Doughnut Bath Bombs have sprinkles painted on with a mixture of mica and 99% isopropyl alcohol. They also have Fine Iridescent Glitter and sweet Strawberry Fragrance Oil. The Painted Berry Bath Bombs are drizzled with spring-inspired colors like Queen's Purple and Evergreen Mica. Mica can also be dusted on the outside of a bath bomb, as shown in the Midas Touch Bath Bomb tutorial. They're coated with King's Gold Mica. In the Tie-Dye Bath Bomb tutorial, La Bomb Colorants are used to create a layered design.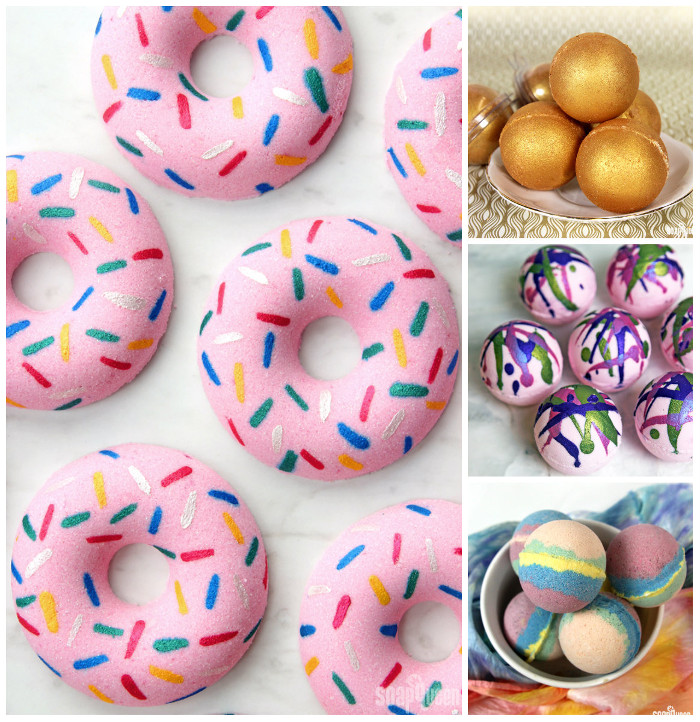 Clockwise, left: Sprinkle Doughnut Bath Bombs, Midas Touch Bath Bombs, Painted Berry Bath Bombs, Tie-Dye Bath Bombs
The Hidden Color Bath Bombs on Soap Queen TV have a surprise inside – as they fizz, the color in the center is slowly revealed. They're a great party favor for baby showers.
If you want to add some bubbling action to your recipe, SLSA is the way to go. It's used in the Pumpkin Spice Latte Bubble Bath Bomb recipe. They also contain powdered goat milk and coffee butter to moisturize the skin. The Aloe Bubble Bath Bombs are made with SLSA, Irish Green La Bomb Colorant, aloe extract, and Kentish Rain Fragrance Oil for a refreshing experience.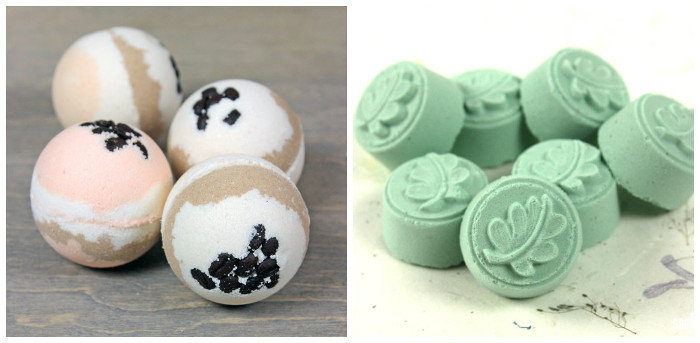 Left to right: Pumpkin Spice Latte Bubble Bath Bombs, Aloe Bubble Bath Bombs
Adding oil to your recipe is another way to make it special. It helps the bath bomb mixture hold its shape and adds moisturizing benefits for your skin. The Heavenly Lilac Bath Truffles are made with hydrating cocoa and shea butter. The Bath Truffles video on Soap Queen TV shows you how to create two recipes, one with a delicious dessert-inspired scent blend and one with earthy lavender 40/42 essential oil. For more dessert-inspired scent blends, check out the Orange Creamsicle Bath Truffles. They look just like the classic ice cream treat. The DIY Rainbow Bubbling Bath Truffles smell like chocolate-covered gummy bears and feature a vibrant color palette.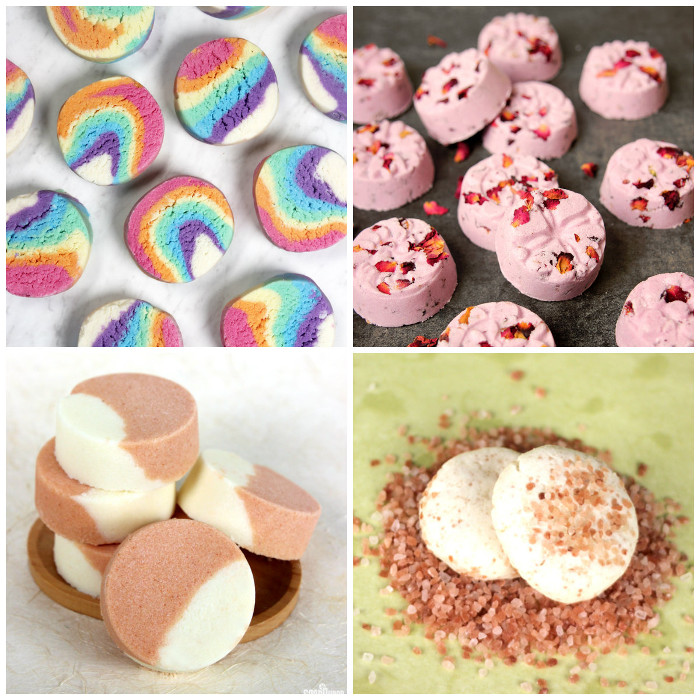 Clockwise, top left: DIY Rainbow Bubbling Bath Truffles, Heavenly Lilac Bath Truffles, Bath Truffles, Orange Creamsicle Bath Truffles
Natural ingredients work well in bath bombs too. The Lavender and Clay Mondo Bath Fizzies feature layers colored with pink and purple Brazilian clay and scented with lavender 40/42 essential oil. The Cucumber and Lavender Bath Bombs have a fresh scent blend, green and purple layers, and a finishing touch of lavender buds. The Aromatherapy Shower Fizzies have essential oil blends that help start your morning off on the right foot.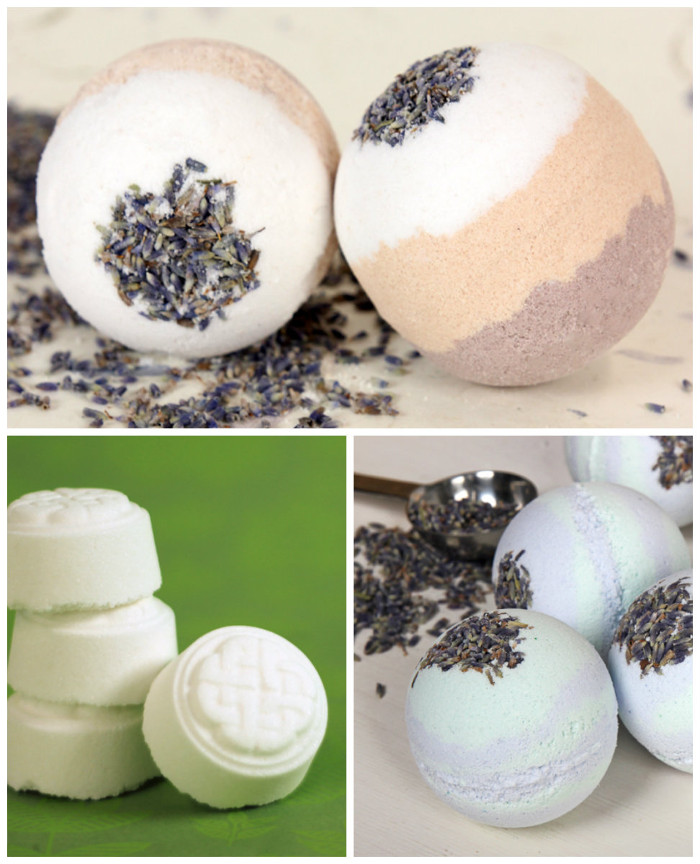 Clockwise, top: Lavender and Clay Mondo Fizzies, Cucumber and Lavender Bath Bombs, Aromatherapy Shower Fizzies
The blog also has resources to help you through every step of the process, including the Bath Bomb Questions and Answers post. In the Black Bath Bombs: A Cautionary DIY post, we show you what happens when you add activated charcoal to your tub. If your recipe doesn't turn out the way you planned, the Save the Bath Bombs post shows you a trick for packaging the broken pieces. We also experimented with bath bombs made without citric acid – see our results in this Soap Queen TV video.