A few years ago on the Soap Queen blog, I introduced Silvia, an up-and-coming soaper. She owns S.V. Soaps, and specializes in selling vegan dessert-themed bath and body products. She was kind enough to give us an interview back in  2011 (you can see the two-part interview here and here). This weekend — between visiting a lovely apple orchard and baking my mom's famous sour cream waffles — I was browsing Etsy shops and came across these adorable Pumpkin Spice Cold Process Cupcakes. Turns out, they were Silvia's! I wanted to catch up with her and see what had changed with business since her last interview, and see what other goodies she had planned for the festive holiday season. Read on to learn more about how her business has changed in the last two years and what advice she has for new soapers.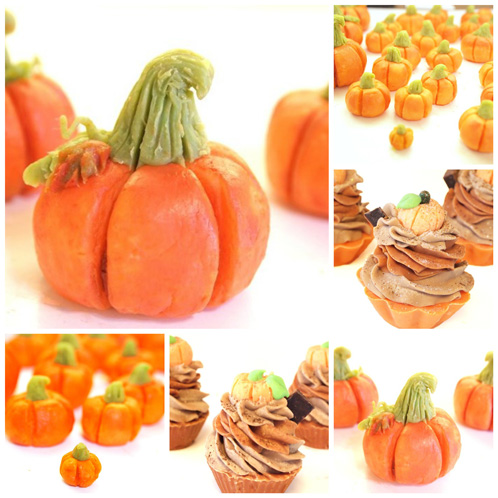 Soap Queen: What aspects of your business have changed and what kind of advice would you give to those in the business about soaping over time?
My business has changed quite a bit since my first Bramble Berry interview. I have to make a lot more soaps than I used to and I had to learn to master batch and delegate my work day a lot better.  I have learned a lot about my business in general, such as what works for my business and what does not. I've learned how to stay calm, professional and objective when dealing with a difficult customer or situation.  I strive everyday to learn, grow, and make my business the best it can be. It is truly a learning process that is not always easy.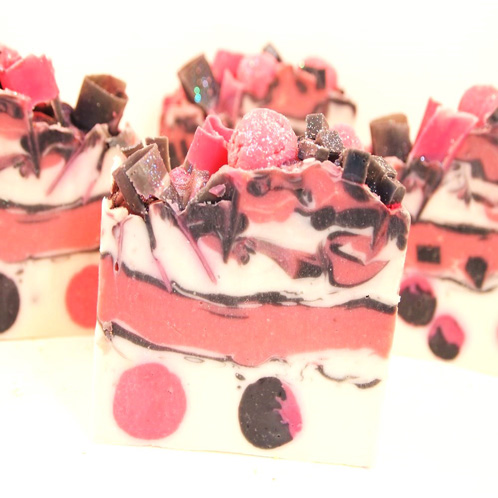 Soap Queen: What kind of business advice do you have for new soapers?
My advice to new soapers is to get out of your comfort zone. Don't be afraid to try new things. Be willing to take the risk of rejection, because no matter how fabulous your products are, you will face rejection at some point or another. Do not let it bring you down. Learn from it, grow from it, and try, try again. Also, make your products look professional! You do not have to spend a lot to have a professional looking product. Work to make your product unique.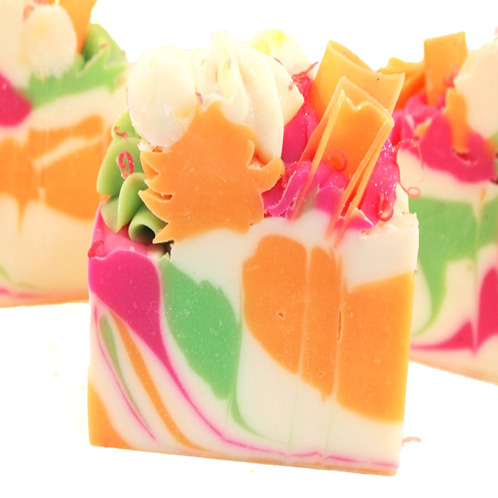 Soap Queen: What is your favorite type of soap to make?
My favorite soap to make is cold process soap. I love to make soaps with a lot of detail and my favorite thing to do when soaping is piping my soap tops. Sometimes I have to force myself to stop adding things to the soap and just walk away! Sometimes, I will think about it all night long — It can be hard for me to turn my brain off when it comes to soap. But I am usually happy with the turnout, and if I am not I will just change it up the next time around.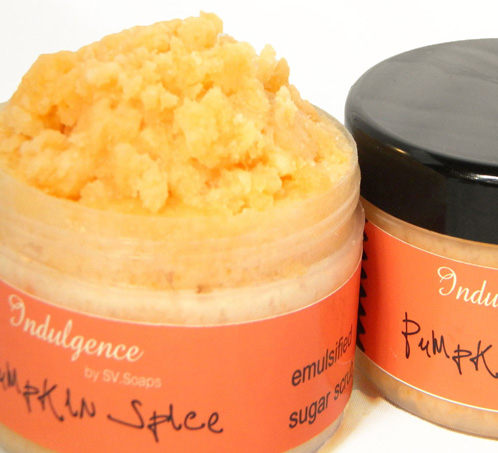 Soap Queen: Do you still make vegan products or has the scope of your business changed?
I do still make all vegan products and will continue to do so. The only thing I would love to make that is not vegan is cupcake bath fizzies. I have made them a few times before for family and I absolutely adore the way the turn out, but since they aren't vegan I won't include them in my shop. Maybe someday I will be able to come up with a recipe for the piped tops that is vegan!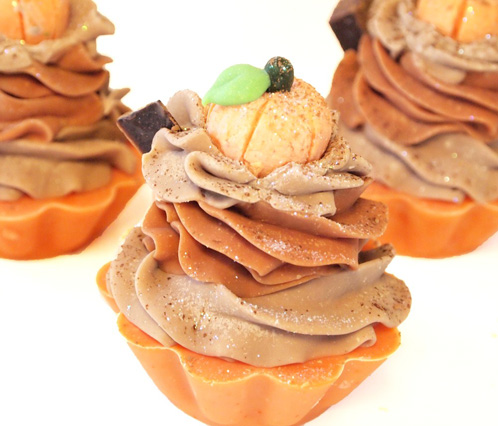 Soap Queen: What is your favorite Bramble Berry product and has it changed?
Bramble Berry has so many fabulous products. My favorite used to be the Rise and Shine Fragrance Oil (still fabulous), but my current favorite is the Pumpkin Lager Fragrance Oil. It is a beautiful pumpkin scent with warm spices and a yummy vanilla undertone. It is the perfect holiday scent. It will definitely be a part of my holiday line this year. Thank you so much to Anne-Marie and Bramble Berry for providing us soapers with such fabulous services and amazing products. I've also really been enjoying the new Soap Crafting book, it gives people trying the craft a great start!