Happy Brambleversary Norm!
Norman has been with
Bramble Berry f
or almost a decade! He started with Bramble Berry as a puller/packer/order person and has worked his way into the fabric of our company (and of course, our hearts). My second favorite dessert I've ever baked for a Brambleversary was also for Norman! See Norm's brambleversary treat from last year, 
Salted Caramel Choco-Beer Cupcakes
. They were such a hit with the staff, I knew I had to raise the bar. May I introduce you to the delectable, the ginger-iffic, the "savor every sweet bite" cupcake…Ginger Molasses Cupcakes with Lemon Buttercream Frosting! (
Insert Applause
)!
"The best cupcake you've ever made" — Norman
Ginger Molasses Cupcakes
3 cups all-purpose flour
2 teaspoons baking soda
1 teaspoon salt
8 ounces (2 sticks) unsalted butter, melted
1 1/2 cups sugar
2/3 cup unsulfured molasses
2 large eggs
1/3 cup hot water
9 ounces (2 pieces, each 6 inches) fresh ginger, peeled and minced (1 cup)
2 cups heavy cream, whipped to soft peaks
Ground ginger, for garnish
Cupcake Directions
Preheat oven to 350 degrees. Line standard muffin tins with paper liners. Whisk dry ingredients in a large bowl. Cream butter and sugar with a mixer until light and fluffy. Add molasses. Add eggs, 1 at a time, beating after each addition.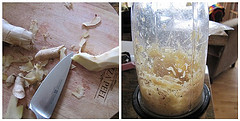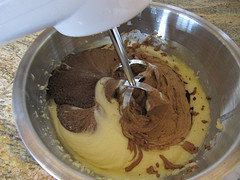 Reduce speed to low. Mix any remaining wet ingredients (water) in a bowl if needed. Add dry ingredients to butter mixture in 3 additions, alternating with wet ingredients and ending with dry. Scrape sides of bowl. Divide batter among muffin cups, filling each 2/3 full.
Bake cupcakes until testers inserted into centers come out clean, about 20 minutes. Let cool in tins on wire racks.
For the frosting, Martha (yes, we're apparently on a first name basis), suggested a whipped cream frosting. I got a bee in my bonnet that Lemon Buttercream would be delicious. So I went with my instinct (and it didn't steer me wrong).
Lemon Butter Cream Frosting
1/2 cup butter (not spread or tub product)
1 (1 lb) package confectioners' sugar, sifted
1/2 teaspoon grated fresh lemon rind
3 tablespoons fresh lemon juice
1 tablespoon milk
1 dash salt
Frosting Directions
Beat butter or margarine until soft in a medium sized bowl. Beat in confectioners' sugar alternately with lemon rind, salt lemon juice, and milk. Continue beating until smooth and spreadable.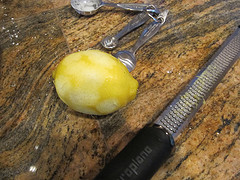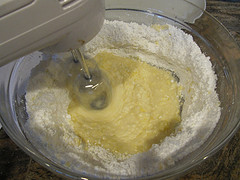 The Bramble Berry staff gives these cupcakes two enthusiastic thumbs up!
Leah, Customer Service- "They were so deliciously different! It was like a party in my mouth!"
Norm, COO- "The best brambleversary cupcakes I've had in 11 years!"
Linda, Accounting- "Ah-mazing!"