It's the call that every parent dreads. It can start with anything but ends with, "And we called 911."  In our case, it started with "I heard a ticking, and then a heard a bang. And now smoke is coming out of the vents. So Lily and I are on the lawn outside. Jamisen is with his Dad." I immediately logged into our nanny cams and saw the entire house was filled with smoke and every detector was going off – and rushed home. The fire trucks passed me on the way home.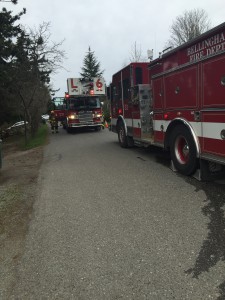 When I got there, our Nanny of 3 years was outside of my Bellingham home with Lily in pajamas along with 7 trucks of firemen, my husband Chris and our redheaded 4 year old. And there we all stayed. For almost three hours. No one knew what had happened except that the gas levels were so high in the house that no one could go in. One fireman told me, "If anyone had tried to cook anything, the entire house would have been leveled."
At some point, I got the genius idea to check the nanny cams again and saw this. It's grainy and small but clearly something was wrong; there's a wall missing beside the fireplace: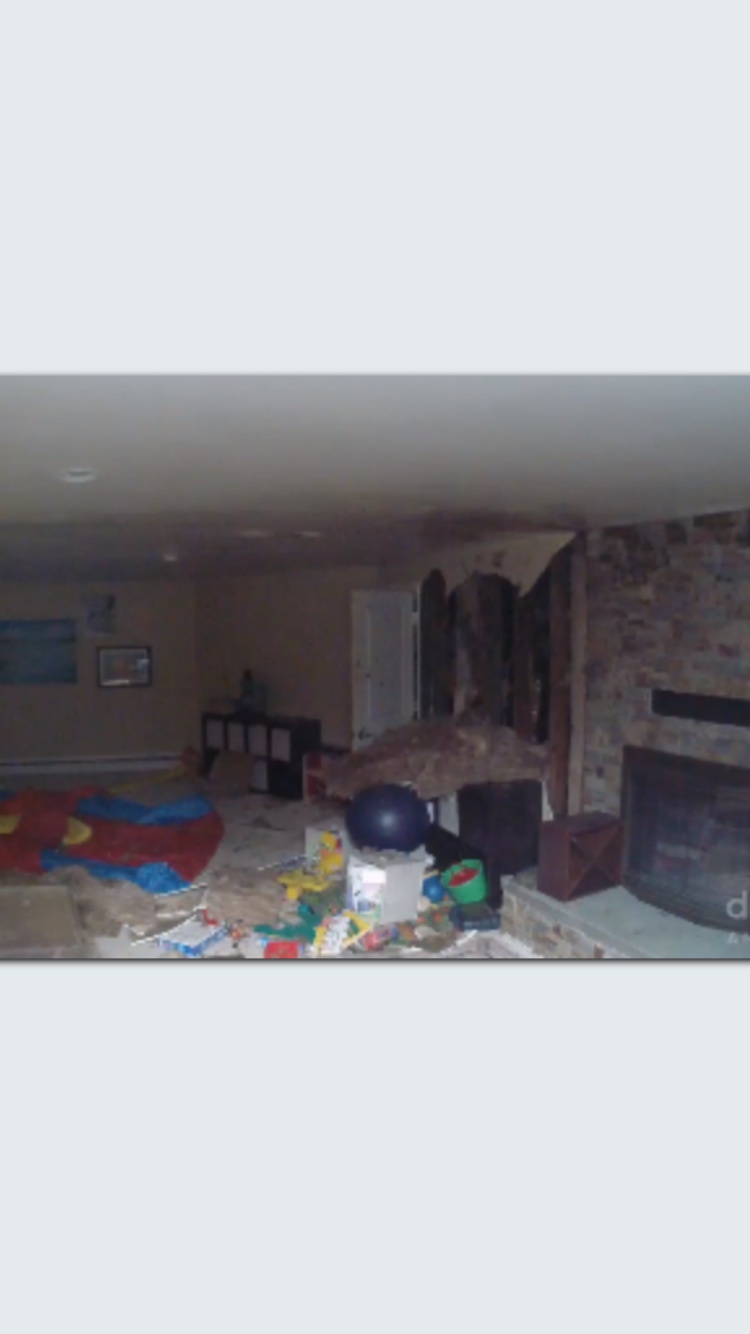 It turns out that our boiler blew up, directly into our kiddo's playroom where Jamisen had been playing recently.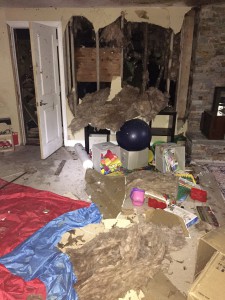 Thankfully, instead of blowing up like a rocket ship, the force of the blast took it sideways into our storage area, and not directly up into Lily's crib (her room is directly above the boiler).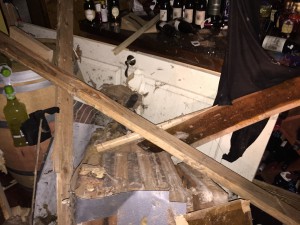 The nannycam caught the boiler explosion on video as it happened. And yes, it did happen on Friday the 13th!
There's a few lessons here – and I'm sure there will be more after the fire and explosion investigation is over:
1. Inspect your boiler and hot water heater regularly. Many homes have boilers in their crawl spaces. When was the last time yours was inspected? There are some places that suggest that this be done yearly. Ours was last inspected 18 months ago and deemed safe.
2. Escape plans do work. Our family escape plan is that in case of emergency we all run to the garden. When the explosion happened, our Nanny instinctively grabbed baby Lily and went to the pre-planned location to call 911.
3. Document, document, document. We had read all about home inventories and how important it was to do them. And, we even sort of half-heartedly have one done from last year. But when faced with an actual insurance claim, it is clear that we should have done a real one. The paperwork and questions are daunting and, right now our heads aren't in quite the best frame of mind to do them.
4. Check your homeowners insurance. We are lucky that the house wasn't leveled. If it had been, we would have found ourselves dramatically under-insured for the rebuilding costs by about 40%.
5. Always end with silver linings. I recently talked about the importance of joy, and cultivating gratitude in your daily life on the Indie Beauty Podcast (this episode right here). We have spent the last 12 hours going over all the things we have to be thankful for; that Jamisen wasn't downstairs (he had played there in the last hour), that the boiler blew sideways instead of up into Lily's room; that we had friends to take us in … all of it. We're focusing on that and the feelings of thankfulness, and how lucky we are, rather than the dull monotony of all the next steps. We are safe. Our house can be fixed.
Thank you to those of you who have reached out via social media already. I'm feelin' the love! =)  The entire Soap Queen and Bramble Berry community are amazing(!). I am so thankful for all the positive people in my life that are keeping me thinking about the good things and not the what'ifs! It also has been gratifying to see the message about boiler safety spread far and wide. Here are just a few of the news media outlets that covered this story: