It has been a while since we've done a Soap Queen interview and this is one you don't want to miss! It's with the super sparky founder of You Smell Soap, Megan Cummins. Her packaging, design and soap concept is strong for but that's second to her drive and desire to start up her soap business. Megan and her You Smell soaps were also featured on a popular and cut throat show, Shark Tank. Could you imagine the pressure? Check out Megan's Shark Tank Episode on Hulu (for free). Megan has developed 3 signature fragrances for her website: Lemon Verbena, Sweet Seduction (bright, fruity with rich undertones of caramel and vanilla) and Divine (fresh and clean). Make sure to check out Megan's website, You Smell, which just launched in the beginning of February. We're also fans of her blog that is centered around unique design, Vintage Me Oh My. Enjoy the interview…you're in for some inspiration!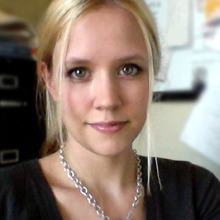 Megan Cummins
Soap Queen: How did you get started making soap?
Megan Cummins: A few years ago when this started, I actually never had any intention of making soap. I'm a graphic designer by trade and love fragrant products. I created a line of soaps in college as a packaging project- just as something I personally loved and thought would be great as gifts for my girlfriends. Well, word got out and it was all over the web instantly and I was getting calls from shops around the world along with major international press. I was flooded with requests – but I had nothing to give them! So, as the saying goes, if dozens of shops around the world contact you professing their love for your product, you have a viable business.
You Smell is an extension of me. It's so much more than "just a bar of soap" – it's an experience. We have a "small shop" mentality and pride ourselves in being a brand girls can trust – having great natural ingredients, sexy packaging, and bang for your buck. Basically, this is and always will be a brand for my girlfriends – I just might not have met them all yet!
Soap Queen: What's your favorite product to make?
Megan: The bar soap is really rewarding after it comes out of the mold, but I think the paper soap is by far the most fun. It was a major challenge since it doesn't exist here in the US. The few offerings available overseas are pretty bad, so it was a lot of fun developing something entirely new and unheard of here in the States…not to mention, it's just fun to use!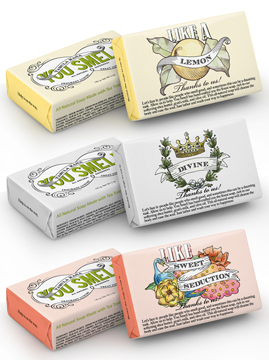 Megan: Well, it's just like it sounds. It's soap that's paper thin. It's about half the size of a business card and comes in a little paper packet that's smaller than a pack of gum, so it fits nicely into a wallet or purse. Ours are deliciously fragrant, so they actually double as a little purse freshener! (I'm guilty of throwing random scented things in my purse to make it smell better from time to time). To use it, you take a sheet out with dry hands (water will make them stick together), and 1 sheet = 1 hand wash. You just use it as you would a bar of soap and it disappears while you lather. It's great for traveling and on a date when you don't want to smell like generic soap or an alcoholic (from sanitizers). It's also perfect for kids who never wash long enough to kill germs; by the time it "magically" disappears, you've washed for the 20 seconds the CDC recommends – really though, even adults forget to wash long enough, completely defeating the purpose of washing! Even stoic businessmen have turned into little kids when they get their hands on our paper soap. How could they not? It's just awesome.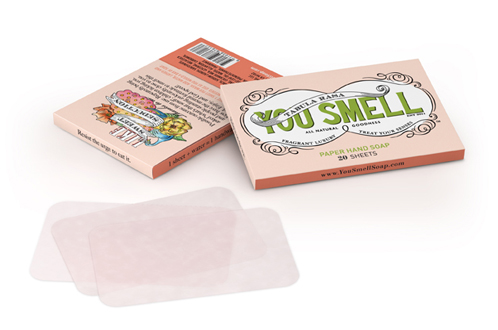 SQ:  Tell us about Kick Starter. Would you recommend it to other soapers trying to start a business? 
MC: YES! There are a few things I learned that I wished I knew before hand. First off, it's not so easy to get accepted onto the site. They're very wary of how you ask for funds. You can't just be asking for money to fund your company. You need to be offering something to the community. Also, don't be discouraged if they say no. I was turned away twice before I got on to the site. Listen to their advice and try again.
Secondly, they really pushed me to not exceed 30 days, and I regret that I listened. It took a while to start generating press and it wasn't until a couple weeks into it that I started getting a steady stream of funds. If I had done the 60 days, I'm sure I would have met my goal. Also, I should have tried to launch with fewer products to get my goal amount down. If I had done only 5K, I would be overfunded now. The "catch" is that if you don't reach your goal, all of the pledged money is refunded. It's sad, but luckily there's one last thing you should know:
Regardless of whether or not you reach your goal, you can get amazing exposure from being on Kickstarter. I've had several major blogs post about us (even the Sundance Channel!..bizarre for soap, but cool nonetheless), News stations asked to interview me, and best of all, I had a flood of design requests and investors contact me. So, although it appears I won't reach my goal, I was over-funded in the end and things turned out far better than I ever could have imagined, just through the exposure I received from it. And it only took me a little bit of time to set up the account – so what do you have to lose?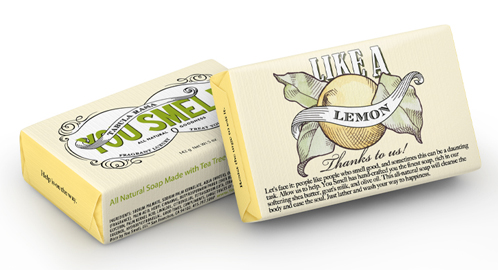 SQ: Do you have a favorite Bramble Berry product?
MC: I recently discovered Bramble Berry and fell in love! The products are so creative and adorable. I think the soap foods like the cupcake bath bomb and soap tarts are so much fun. The tutorials on the Soap Queen blog are what keep me coming back. They're incredibly easy to follow, and having all of the supplies you need on the BB site make it a stress-free endeavor. I'm getting the supplies to try my hand at the ribbon candy and caramel apple soaps. Though I honestly am worried I'll forget they're soap.
Soap Queen: Thanks for doing the interview with us, Megan. We wish you and You Smell Soap the best of luck in the future. Your drive and darling soaps are going to take you a long way!