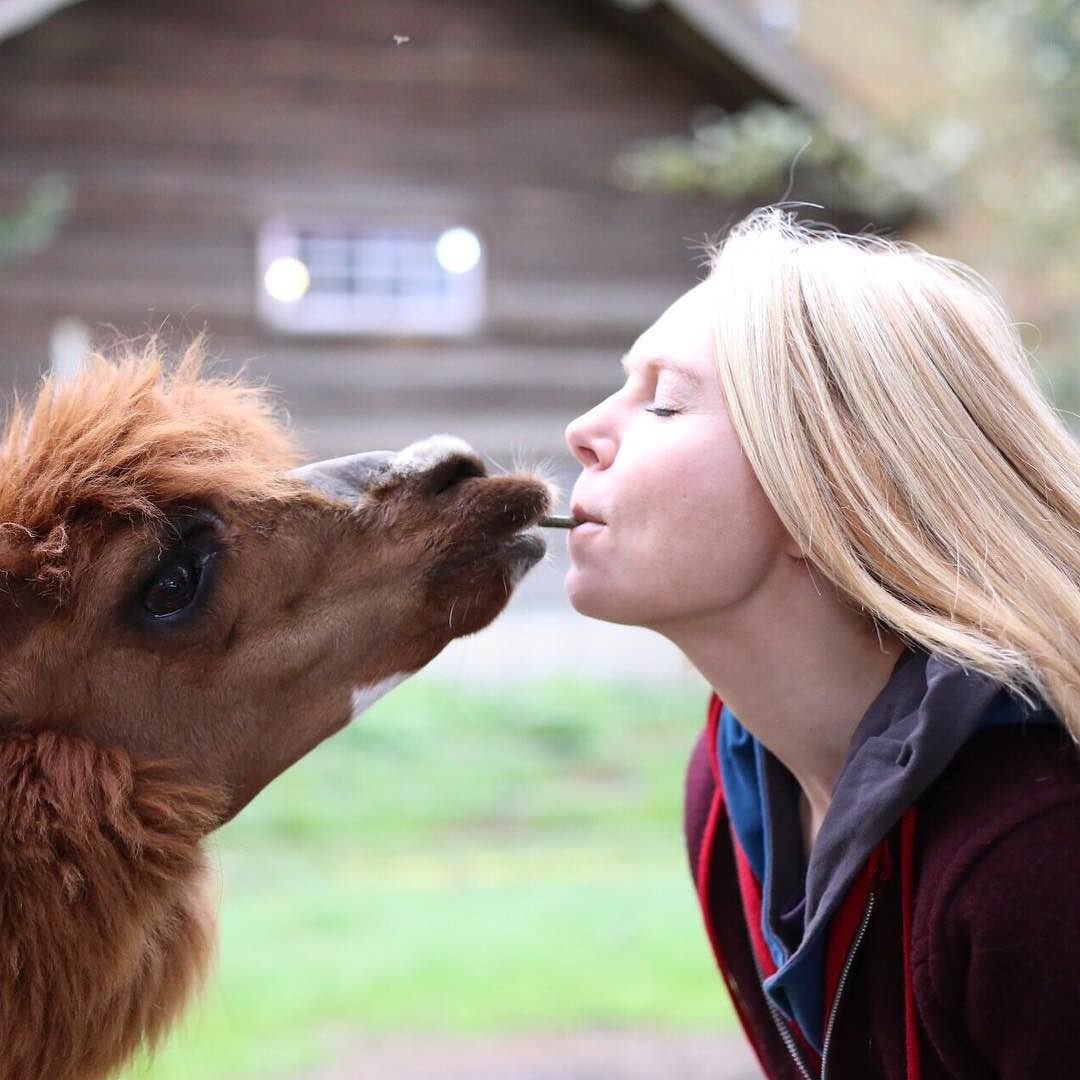 Happy Fall! Judging from the flood watch we have in Whatcom County this weekend (true story), fall is here to stay. The leaves are gorgeous reds, russets, gold and yellow and just popping outside for an easy run isn't as effortless as it was a month ago.  We were so happy when sister-in-law Cheriss invited us to spend the morning at a Kangaroo (!!!!) Farm in Arlington, Washington. What a treat! You can see I made a very good friend in the alpaca pictured above. While the dental work on the happy alpaca left something to be desired, her lips were surprisingly soft. True story!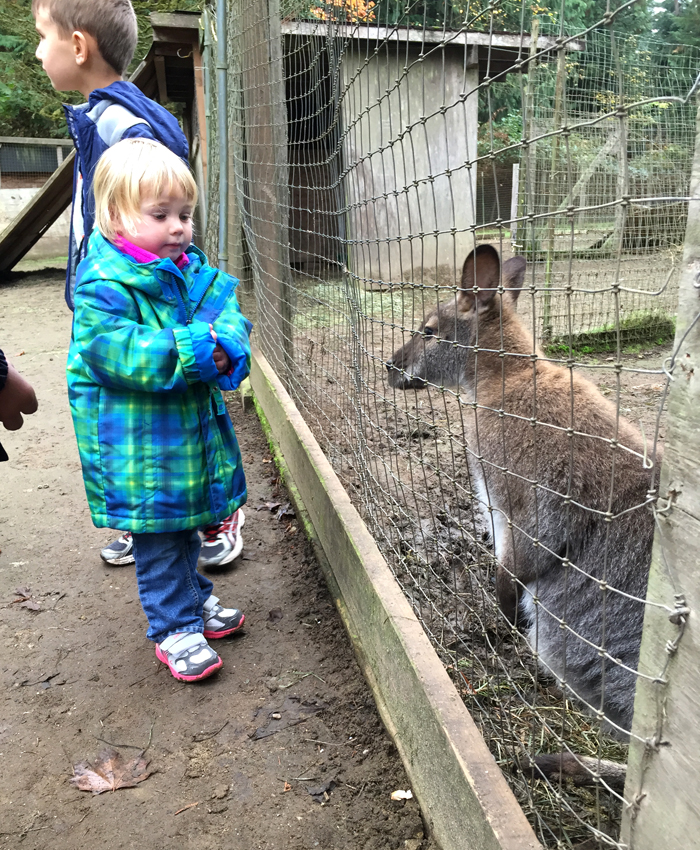 Lily was excited but cautious to visit with the kangaroos. We were able to play with the kangaroos but this little one was a little aggressive so was kept behind the fence.  It was awe-inspiring to see the kangaroos bounce around and show affection to eachmother and, us. Of course, it could be that they just loved us for our bread. Yup; the little hoppers ate bread from our hands. I don't blame 'em. I love my carbs too.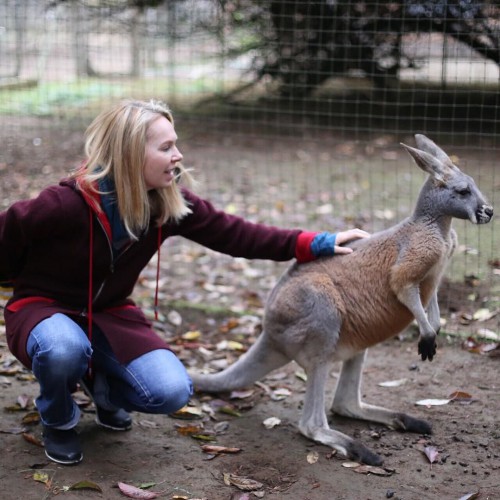 At the risk of anthropomorphizing the animals, the kangaroos seemed extremely intelligent, fun-loving and sensitive. We saw them playing with each-other (up on their hind legs), being gentle with babies and toddlers and even giving humans hugs. There were even five little babies in kangaroo pouches but not one of the babies peeked out long enough to snap a photo.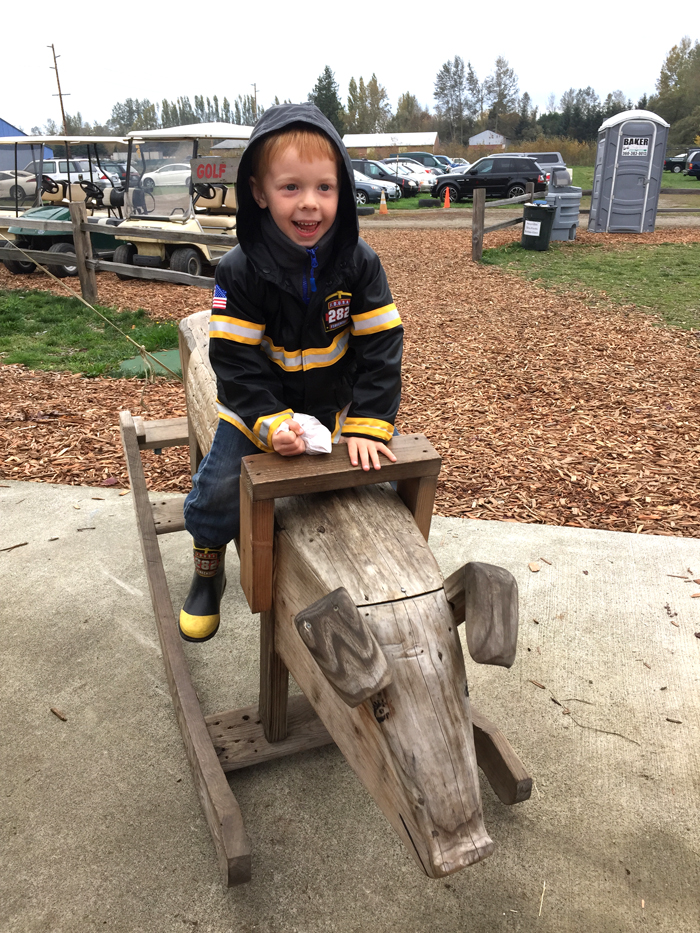 We also took a visit to the pumpkin patch to … get donuts. We stood in line not one, not two, but THREE times for the apple cider homemade, small–batch, fresh donuts that are made on site at Bellewood Acres. Jamisen waited the ENTIRE thirty minutes one time with me so he was pretty dedicated to holding tight to the bag of donuts (above). That made me pretty excited because, Stanford Marshmallow Study. If he can delay gratification now, that bodes well for him for his entire life. Things like saving for college, training for a triathlon or starting a daily gratitude practice, all take trade-offs in the now for success in the future.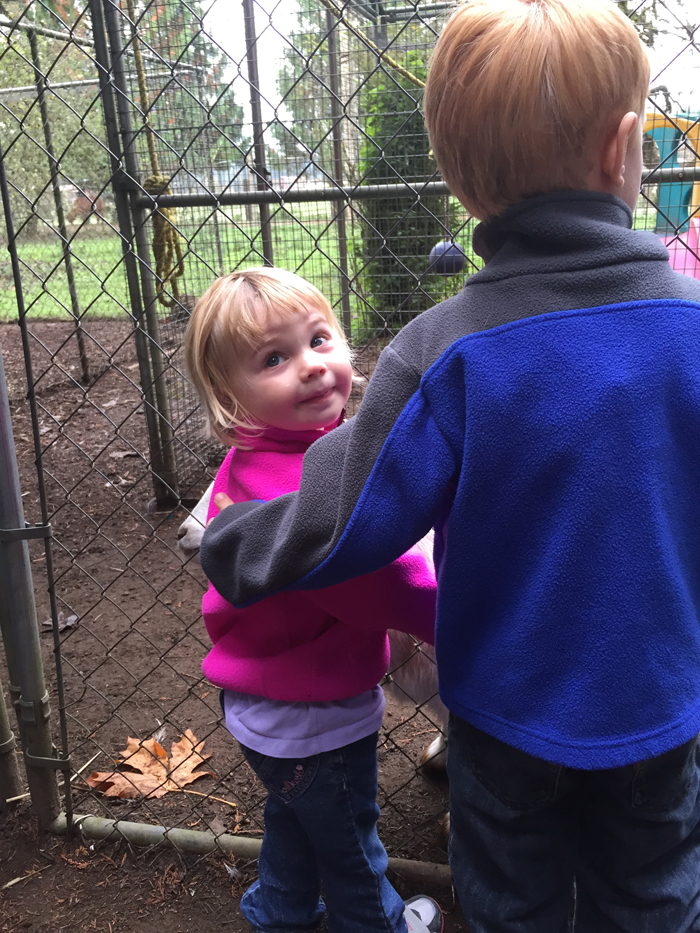 The kids are pretty dang cute together. Jamisen is usually pretty protective and kind of Lily … except when he's not. They're developing a 'big brother thinks little sister is annoying and little sister thinks anything big brother is doing, she needs to be doing' dynamic. Any suggestions on how to work on that so they grow up to be friends would be awesome. I read the book 'Siblings Without Rivalry' and that had some helpful suggestions but anything else? Tell me =)
We did Halloween last night. It was SO much fun. My brother and his family joined us as well as my parents, and my husband's brother. We were a full crew!
Funny story of a 4 year old: Jamisen insisted for three weeks that he wanted to be a flower. Clearly, he wanted to recreate this flower shoot from when he was a baby. Finding a ready-made flower costume was harder than it sounds. So, the team at work got creative and made an amazing homemade flower costume. And sure enough, the night came and Jamisen decided that no, after all of that work, he no longer wants to be a flower for the actual candy gathering time. He wanted to be his costume from last year, Clifford the Big Red Dog. Argh! 4 year olds… His sister and he did have a fun time splitting the costume up and trying it at home though. Team Bramble Berry is so creative!
Of course, since it's Washington state, it was cold and rainy for the actual trick or treating part of things so it's probably a good thing that Jamisen decided on the more warm costume. Even with the rain, we had a spectacularly fun family time. Today, we're roasting pumpkin seeds and I'm headed to an all-day Mastermind Vision Board workshop while the kiddos enjoy Grandma and Grandpa's creative and energetic company.
My belly is full of sugar and my heart is pretty full with thankfulness today – ❤ our Facebook and Soap Queen community (that's you, blog commenters, Instagram and bramble-berry snapchatters). Happy Weekend! =)