The annual Handmade Soap & Cosmetics Guild Conference is completely sold out. With talks by the always-fabulous Lela Barker, Kenna Cote and keynote speaker Professor Dr. Vijai K. S. Shukla, this year is shaping up to be a great conference.

Though I was originally scheduled to talk, I have an unavoidable family conflict and will be unable to attend or speak this year. This saddens me because there are many friends I was looking forward to reconnecting with and many new things to be learned from the awesome speaker line-up.
Great news though – this means that there is one extra ticket for the Conference (clapping and cheering all around). And, that ticket can be yours.
If you would like to go to the Conference this year, just comment below for why you would like to go (in 150 words or less!) and I will pick one lucky attendee from the group of comments by next Friday, April 4. Please note that you need to provide your own airline and travel accommodations, but the Guild will pick up most of your meals while at the conference. For our guest blogger coverage of past Soap Guilds, check out the archives.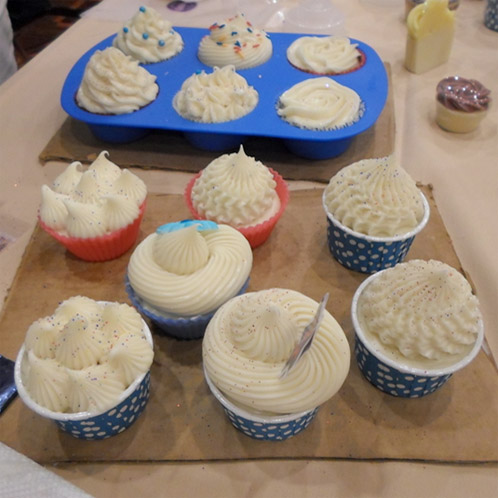 As a place to learn new techniques or perfect skills, the Soap Guild is unparalleled. These beautifully frosted cupcakes are from a session guest blogger Jean Horn attended at last year's guild.
If you can't go to the Soap & Cosmetics Guild Conference this year, there are a few regional gatherings that you may wish to attend. The Tennessee Soaper's Gathering is coming up May 3 & 4. Michigan is May 10 (for information on that, email the organizer at [email protected]). Alabama is June 6 & 7 and Texas is June 13 & 14.