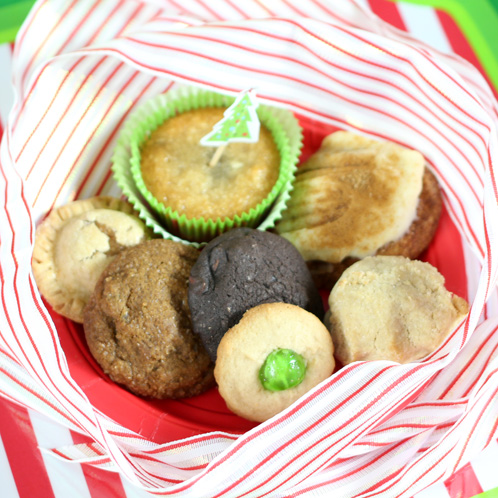 'Tis the season for traditions and in addition to our annual Salvation Army Shopping Trip, we do a cookie exchange at Bramble Berry.  This year's cookie exchange definitely topped last year's event with more cookies (even Paleo cookies!), more participants and more holiday cheer. This year I made Chewy Ginger Cookies from Bon Appetit (an deliciously wonderful magazine that offers recipes online as well). The cookies turned out sooooo good – very sophisticated, gingery and a surprising twist on traditional ginger cookies. These cookies may have even topped last year's cookie exchange (check out 2010's cookie exchange recipe here).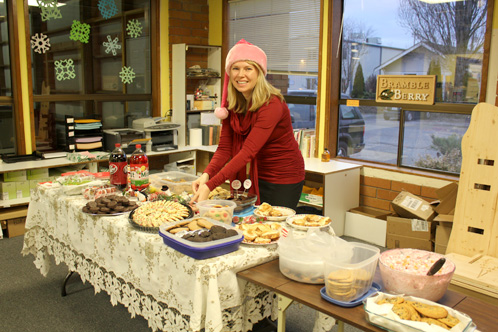 No, I'm not sneaking a cookie, I'm helping set up…I swear!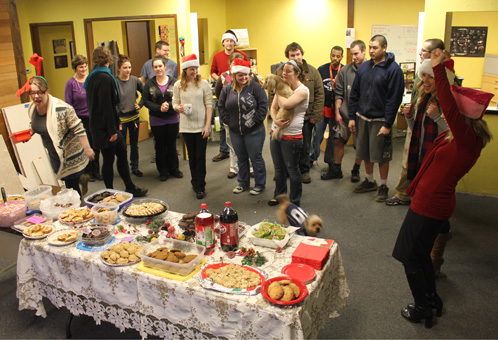 Some of the Brambleberrians gathered in the customer service office to mingle, eat cookies and laugh (which is what we do best together).
 Chewy Ginger Cookies from Bon Appetit 
Ingredients
2 1/4 cups all-purpose flour
2 1/2 teaspoons ground ginger
1 1/2 teaspoons baking soda
1/2 teaspoon ground cinnamon
1/2 teaspoon freshly ground nutmeg
1/2 teaspoon kosher salt
1/4 teaspoon freshly ground black pepper
3/4 cup (packed) dark brown sugar
1/2 cup vegetable shortening (preferably trans-fat free)
1/2 cup (1 stick) unsalted butter, room temperature
1 large egg
1/2 cup blackstrap (robust) molasses
2 teaspoons finely grated peeled ginger
1 teaspoon vanilla extract
1/2 cup finely chopped crystallized ginger (this goes into the cookie so the less fine, the larger the ginger 'hit' when you bite into the cookie)
1 cup raw or sanding sugar
Preparation
Arrange racks in lower and upper thirds of oven; preheat to 350°. Line 2 baking sheets with parchment paper. Whisk flour, ground ginger, baking soda, cinnamon, nutmeg, salt, and pepper in a medium bowl. Using an electric mixer on medium-high speed, beat brown sugar, shortening, and butter in a large bowl, scraping down sides halfway through beating, until light and fluffy, about 3 minutes. Reduce mixer speed to low. Add egg, molasses, grated ginger, and vanilla; beat just to blend. Add flour mixture; beat on low speed just to blend. Mix in crystallized ginger (dough will be very soft and sticky).
Place raw sugar in a shallow bowl. Using a tablespoon measure, scoop out dough. Using a second spoon, scoop dough from tablespoon measure into bowl with raw sugar; turn to coat well. Roll into ball. Transfer to prepared baking sheet. Repeat with half of remaining dough and sugar, spacing balls 1 1/2″ apart.
Bake cookies, rotating sheets halfway through, until edges are firm and centers appear cracked, 10–12 minutes. Transfer cookies to wire racks and let cool. Repeat with remaining dough and sugar, using cooled baking sheets and new parchment. DO AHEAD: Can be made 3 days ahead. Store airtight at room temperature between sheets of parchment or waxed paper.
Note: I would probably stick the dough in the fridge if you're going to make it ahead of time =)