Even though we're only halfway through December, it's never too early to start planning for special handcrafted treats you have in mind for Valentine's Day. This is especially true when making cold process soap, which takes up to 6 weeks to fully cure. The frigid weather can also delay packages and lengthen transit times. Plan ahead to ensure you receive your items with plenty of time to create your perfect gift. It's cold outside so there is no better time to cozy up in front of the fireplace and plan how you will share the love for Valentine's Day than right now!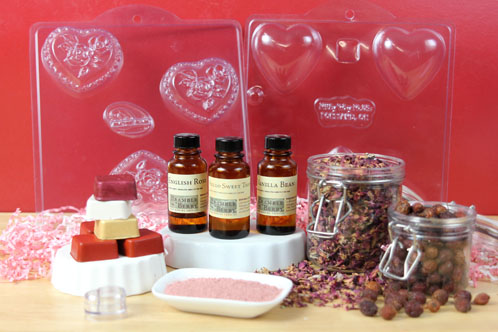 Pictured above from left to right : Color Blocks for Melt and Pour in Non Bleeding Perfect Red, Shimmer Light Gold, Shimmer Super Pearly White, and Shimmer Merlot Sparkle. Fragrance Oils; English Rose, Hello Sweet Thang, and Vanilla Bean. In jars, Rose Petals and Buds and Rose Hips. In front, Rose Clay and Heart Lip Butter Pot. Molds in the back, Heart with Rose Mold and Simple Heart Mold.
We are feeling inspired to make projects full of hearts, frills, pink and of course affection for the special people in our lives. Here are some ideas to get your creative juices flowing! =)
Melt and Pour
Interested in some fun melt and pour recipes? Melt and pour is so easy and quick, and because of all intricate designs possibilities, it's the perfect way to impress your loved ones. If you're new to melt and pour, here is a whole video series on melt and pour soapmaking, as well as a few melt and pour tutorials to get you started.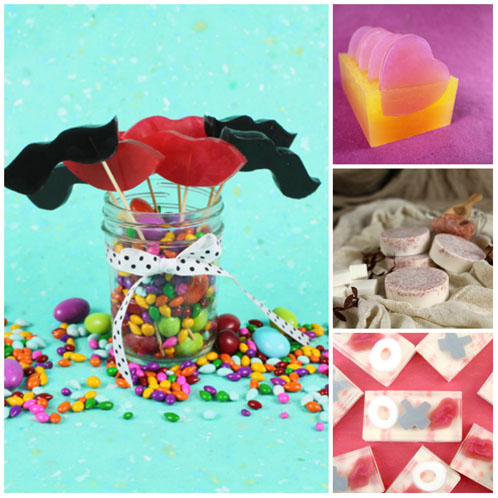 From left to right (clockwise):
Perfect Party Favors Melt and Pour, Embedded Heart Melt and Pour, Home Spa: Pink Salt and Shea Bath Bar and the Valentine Hugs and Kisses.
Cold Process
If cold process is more up your alley, we've got plenty of Valentine Day projects for you too! We've unlocked the secret to achieving the perfect Valentine's Day red in cold process, so check out this post to create it for yourself.  If you're a traditional chocolates and roses type of person, try these projects with Dark Rich Chocolate Fragrance Oil, which discolors to a beautiful ebony in cold process. Just make sure your gift recipients know the soap isn't edible! =)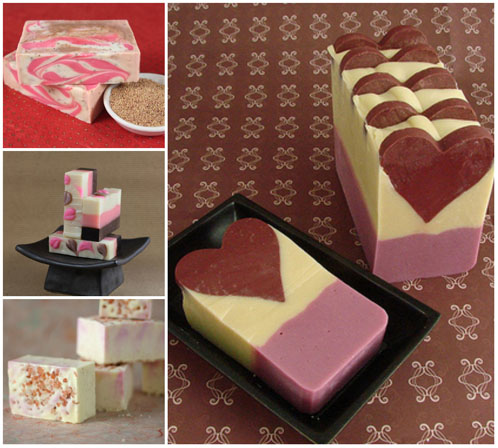 From left to right (clockwise):
Strawberries & Cream Soap, Valentine Cold Process Soap, Pretty in Pink: Salty Cold Process, Neapolitan CP for Valentine's Day
We just got these super cute Mini Heart Silicone Column Molds, and we can't imagine anything better for Valentine's Day projects. These silicone molds come in two piece that you can easily pull apart, making your cold process (or melt and pour) soap a breeze to unmold. They fit perfectly in the 10″ Silicone Loaf Mold, or you can cut it up and use the little hearts as top embeds.
 Bath Bombs
If you'd like to give your loved ones additional pampering, bath bombs are great way to spruce up bath time. If you're looking for some sweet Valentine's Day inspired scents, try Baby Rose, Sweet Pea, Relaxing or Wild Flower Honey Fragrance Oils.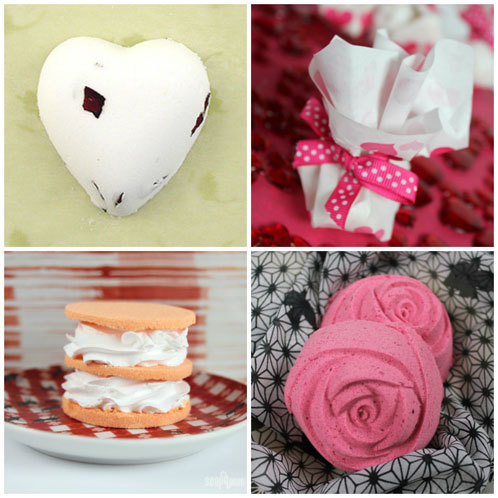 From top left to right, clockwise:
Rose Bath Fizzy, Save the Bath Bombs Valentines Day Style, Sparkle Power Bath Bomb, French Macaron Inspired Bath Bombs
Lotions, Scrubs & Balms
And finally, don't forget about some lotion, scrubs or lip products! Both the Chocolate Lip Balm and the Rose Clay Sugar Scrub are made using natural colorants Rose Clay and Dutch Cocoa Powder.  If you're interested in learning more about natural colorants (or all our other types colorants!), check out this blog post.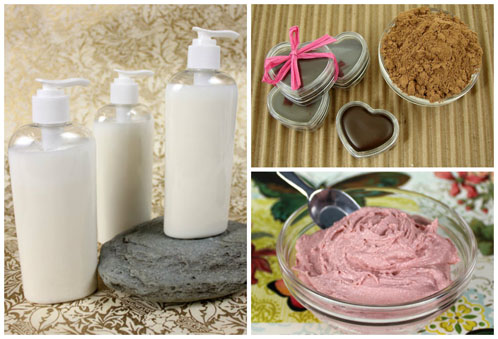 From left to right, clockwise:
Kissably Soft Lotion, Chocolate Lip Balms with Cocoa Powder, and Rose Clay Sugar Scrub.
Have you planned as far ahead as Valentine's Day? Is there something special you'd like to see us tackle as a tutorial?