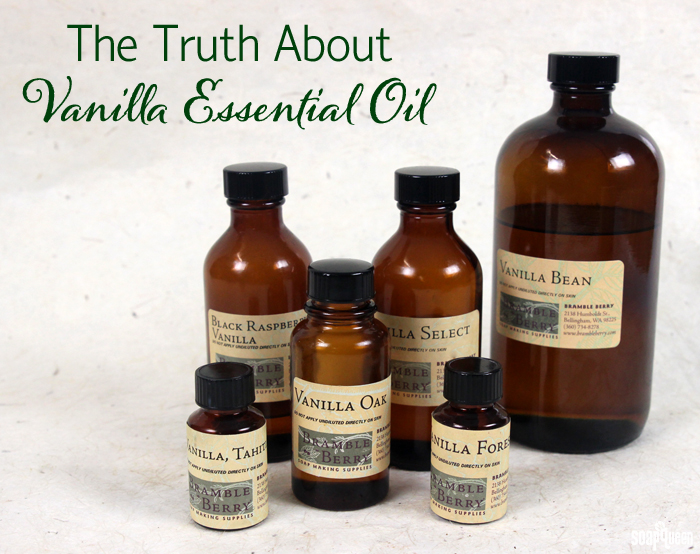 Vanilla may be one of the most popular scents ever. It's sweet, warm, complex and comforting. It's versatile and blends well with a variety of other fragrance notes including sweet, spicy, floral and clean. Bramble Berry has more than 10 different vanilla-centric fragrance oils, including Vanilla Bean Fragrance Oil, Vanilla Vanilla Cybilla Fragrance Oil, Sandalwood Vanilla Fragrance Oil and Black Raspberry Vanilla Fragrance Oil.
With so many different fragrance oils featuring vanilla, you're sure to find just the right blend for your project. But, you may be asking yourself, what about a vanilla essential oil? Can vanilla ever be natural?Good question! The short and rather unfortunate answer is 100% pure vanilla essential oils do not exist. Vanilla fragrance is easy to create synthetically in a lab, but the nature of the vanilla bean does not allow for the distillation process which produces essential oils. Before you say, "Bu, bu, bu, I've seen it in the stores," there is a way to extract scent from the vanilla bean, but it's not considered an essential oil. Read on to find out the hows and the whys of vanilla absolute and extracts.

Based on the definition from the International Organization for Standardization, essential oils are defined as "a product obtained from a natural raw material of plant origin, by steam distillation, by mechanical processes from the epicarp of citrus fruits, or by dry distillation, after separation of the aqueous phase — if any — by physical processes." Click here to read this statement, which is included in their vocabulary of aromatic natural raw materials (ISO/D1S9235.2).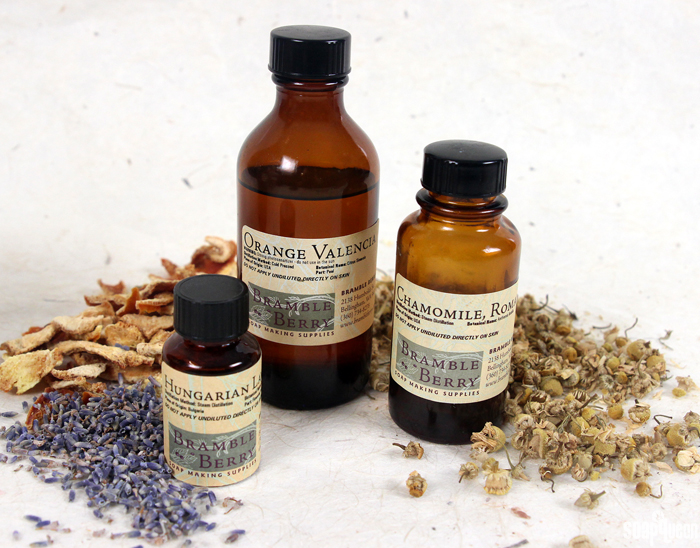 Essential oils such as Orange Valencia, Hungarian Lavender and Roman Chamomile are distilled from natural plants. 
There are several different kinds of essential oil distillation methods including (but not limited to) steam distillation, cold pressing and expeller pressing. The distillation method used depends on the type of plant material. For example, cold pressed distillation is commonly used for peels and rinds to produce Grapefruit Essential Oil and Lemon Essential Oil. Steam distillation is perhaps the most common form of extracting and creating essential oils. This is because steam distillation generally yields the largest amount of oil for most plants and  maintains the integrity of the desired compounds.
The aromatic compounds of the vanilla bean cannot be attained by distillation. The only way to release the aromatic compounds of the vanilla bean and other delicate plants is to introduce a solvent. Aromatic, concentrated oils from plants derived by introduction of a solvent are referred to as an "absolute." Common absolutes made from delicate plant matter include jasmine and rose absolute.
Absolutes are similar to essential oils. Both essential oils and absolutes are oils produced by plant matter. To produce an absolute, the plant material is placed into a drum and introduced to a solvent along with gentle heat. The solvent is then removed, which leaves behind a resin known as a concrète or resinoid. This resin is then treated with alcohol to separate the aromatic compounds. An absolute is the most concentrated form of plant material, and may be thicker in consistency than an essential oil produced by distillation. Typically, absolutes are extremely pricey and often don't make economical sense for soap products.
If you search for "Vanilla Essential Oil," you will indeed find products labeled as such. Most commonly, this product is simply vanilla extract that has been diluted with a carrier oil, such as jojoba oil. These products may also be synthetic fragrance oils or an oil infusion. Vanilla extract found in the grocery store is very different than a vanilla essential oil or absolute. What makes them different is how they are produced.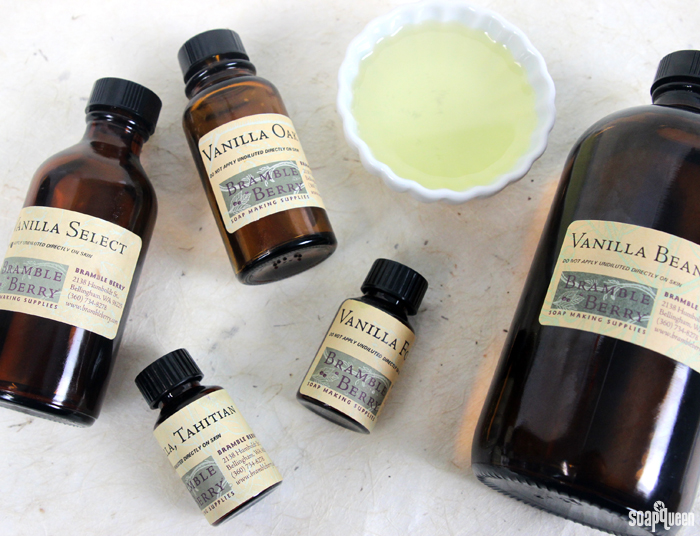 Bramble Berry carries a wide selection of vanilla scents, including Vanilla Select, Vanilla Oak and Vanilla Bean Fragrance Oil.
Vanilla extract found in the grocery store is usually either synthetically produced with vanillin or is produced from vanilla beans extracted in alcohol. When shopping for vanilla extract, the price is usually the easiest way to differentiate between the two – imitation vanilla extract is cheap, while "real" vanilla extract can be quite expensive. Because vanilla extract is made by extracting the vanilla flavor with alcohol, it is very different from an essential oil and should not be used in the same way. Vanilla extract should not be used in soap, as adding alcohol to soap can cause unpredictable and negative results. Plus, vanilla extract won't leave any scent in your soap, making it a waste.
Like vanilla, there are many plants that do not allow for the distillation process. Consider a strawberry; while it is a plant, it will not produce an oil when distilled. Products claiming to be a "strawberry essential oil" may contain some strawberry material, but not 100% pure oil. When purchasing essential oils, make sure they come from a reputable source. When shopping for essential oils, look for the distillation method, the country of origin and the botanical name. This information is crucial in determining if the product is in fact an essential oil. Contact the manufacturer of the oil if you have any doubts regarding its purity.
If you're looking for more information on vanilla fragrance oils, including vanilla discoloration and vanilla-centric tutorials, check out the posts below!
"Why Did My Soap Turn Brown?"
Best Selling Bramble Berry Fragrance Oils + Discoloration
Fragrance Oil Blending Tips
Vertical Sandalwood Vanilla Soap, With a Twist!
Neapolitan CP for Valentine's Day
Chocolate Mint Melt and Pour Squares
Holiday Cookie Bar Cold Process Tutorial
Strawberry Vanilla Doughnut Melt and Pour