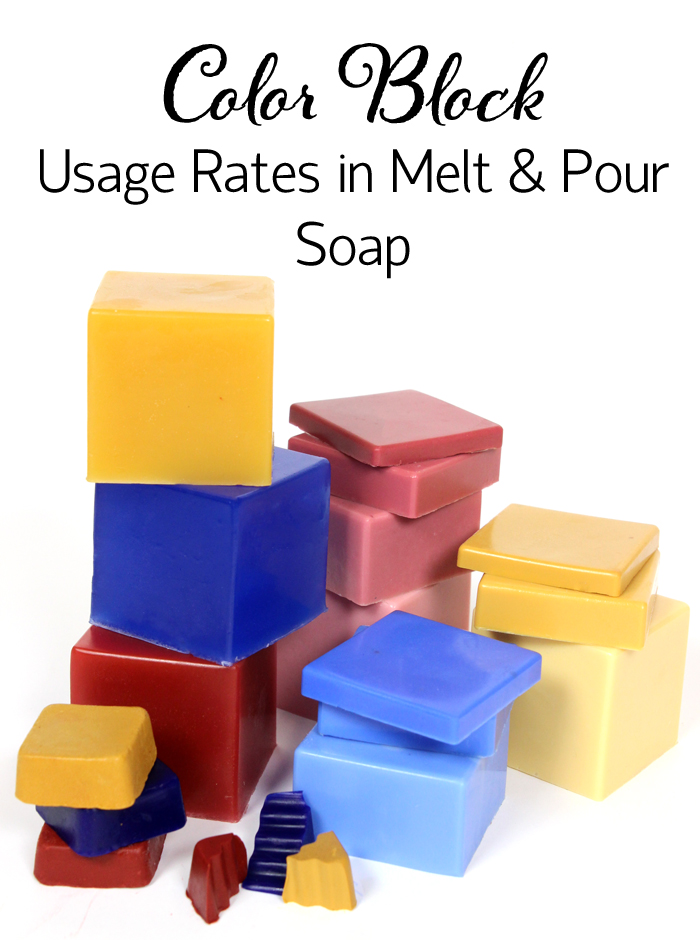 If you want to add color to melt and pour soap, there are plenty of options. You can use micas, liquid colorants (like LabColors), natural colorants and more (click here to check them out!). One of my favorite ways to color melt and pour projects is with Color Blocks. Color Blocks are small pieces of highly concentrated melt and pour soap. They're mixed with various oxides, pigments and micas. They are easy to use; simply add a small amount of the Color Block to melted soap and stir. The heat melts the Color Block shavings, which color the soap. Color Blocks are great for preventing clumps and speckles, and incorporate easily into melt and pour bases.
Color Blocks are considered a "what you see is what you get" type of colorant. This means that the color you see in the melted base will be the same color when the soap hardens. The easiest way to get the colorant you want when using Color Blocks is to add small amounts until you reach the desired shade. Check out the Soap Queen TV video below to learn how to use Color Blocks.
While adding small amounts of Color Blocks until you reach the desired shade is easy, it's not the most precise method. In the melt and pour tutorials here on the blog, I often say to add shavings of the colorant until you're happy with the shade. If you want to be super exact, you can chop the Color Block into small pieces and add them to your melt and pour by weight. To give you an idea of just how much Color Block is generally needed, I decided to add an exact amount of Color Block to various amounts of melt and pour bases. I wanted to give you an idea of just how concentrated the Color Blocks are, and how far a small amount can go. =)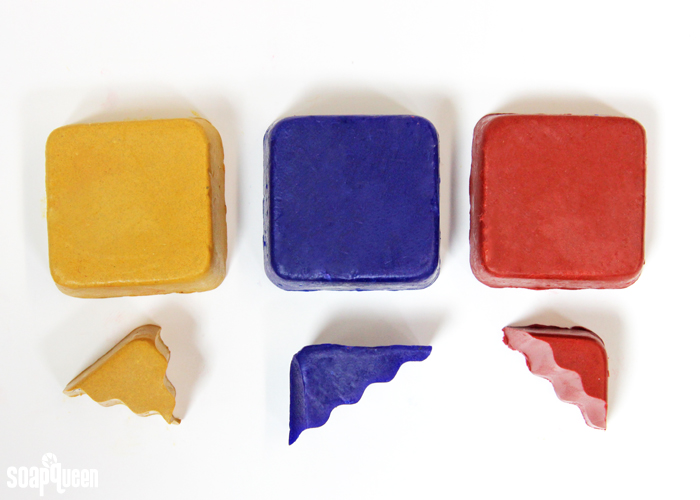 In the photo above, whole Color Blocks are shown in the top row and .1 ounce of the color block (or 3 grams) is shown in the bottom row. Each Color Block weighs approximately .8 ounces.
For this experiment, I used three color blocks in both white and clear melt and pour base: the Perfect Red Color Block, Ultramarine Blue Color Block and the Yellow Oxide Color Block. Color Blocks weigh approximately .8 ounces. This will vary ever so slightly from block to block because they are made by hand. For this experiment I added .1 ounce (or 3 grams) of the Yellow, Perfect Red and Ultramarine Blue Color Blocks to 1, 2, 4, 8 and 16 ounces of white and clear bases. See the results below!
.1 oz. Yellow Oxide, Perfect Red & Ultramarine Blue Color Block in 1, 2, 4, 8 & 16 ounces of Clear Melt and Pour Soap: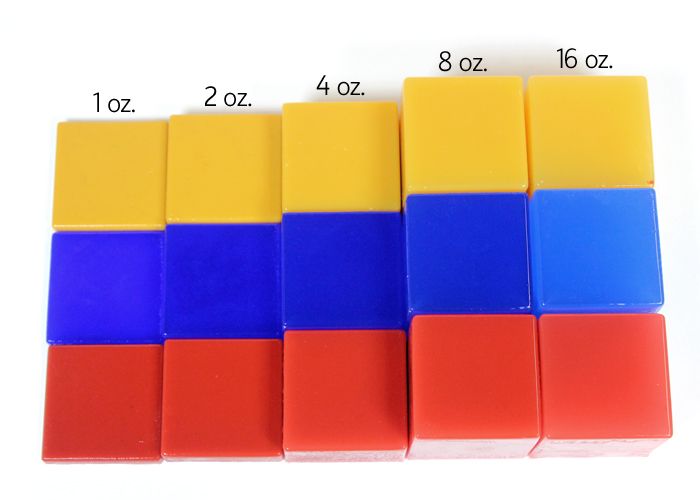 .1 oz. Yellow Oxide, Perfect Red & Ultramarine Blue Color Block in 1, 2, 4, 8 & 16 ounces of  White Melt and Pour Soap: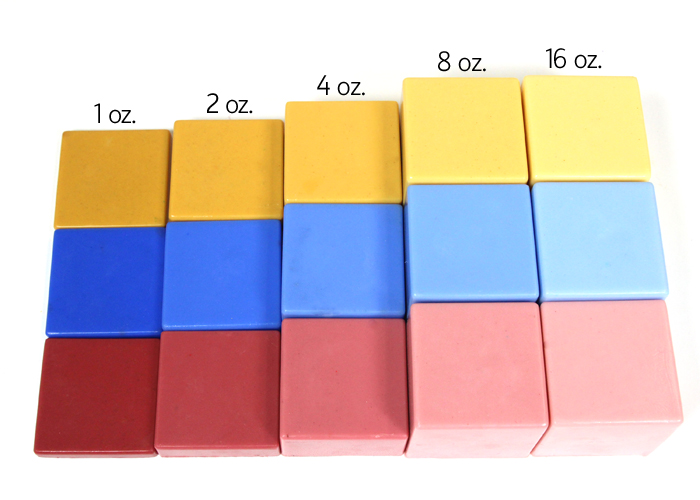 As you can see, the clear bases are more pigmented than the white. The various color concentrations also made more of a difference in the white bases. One takeaway from this is if you're using white melt and pour soap, be prepared to use much more colorant than in a clear base. Another thing to keep in mind is that if you're using a clear base, don't waste your colorant by using a lot of Color Block…a little goes a long way. =) For example, 3 grams of colorant looks just about the same in 1, 2, 4 and 8 ounces of soap.
If you make large batches of soap to sell, you may want to consider measuring the precise amount of Color Block for your projects. That way, you know you'll always have a consistent color. Doing so can also help with calculating costs and inventory because you can accurately predict how much you will use.
Want to get crafting with Color Blocks? Below are some of my favorite melt and pour projects using Color Blocks. If you love bright colors, the Rainbow Hearts Melt and Pour Soap and the Color Block Rainbow Soap use a variety of blocks to create vivid hues. If you're looking for more sultry and sophisticated options, the Thai Tea Melt and Pour and the Animal Print Melt and Pour Bars use rich copper and burgundy colors.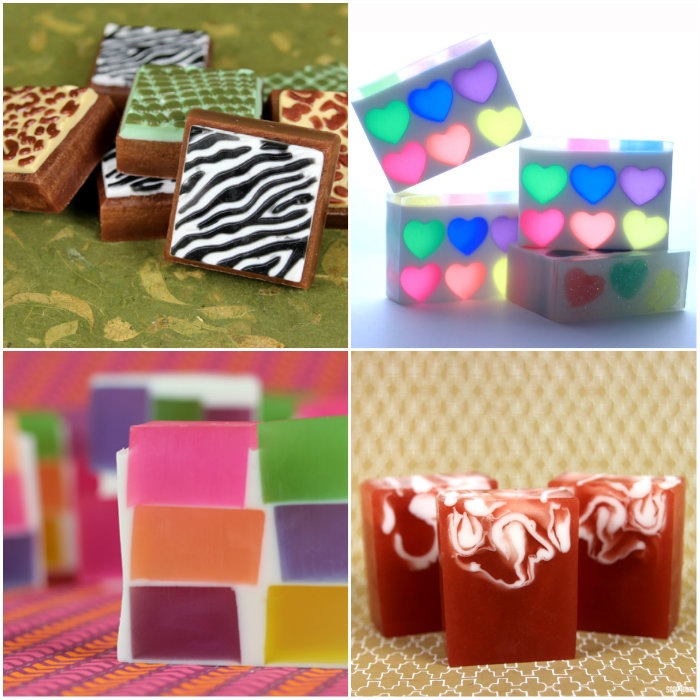 Top left, clockwise: Animal Print Melt and Pour Bars, Rainbow Hearts Melt and Pour Soap, Thai Tea Melt and Pour, Color Block Rainbow Soap
If you'd like to learn more about melt and pour soap making and colorants, check out the blog posts below!
Beginner's Guide to Soapmaking: Melt and Pour
Talk It Out Tuesday: Colorants
Sunday Night Spotlight: Melt and Pour Bases
Tips for Swirling Melt & Pour Soap
How to Avoid Burnt Melt & Pour
Tips & Tricks for Using Oxide Colorants in Melt and Pour
Natural Colorants for Melt and Pour Soap