This is a guest post from Otion, our a retail store in downtown Bellingham, Wash. This tutorial is similar to our Intergalactic Planetary Melt and Pour, but with a twist; the planets are leftover shreds of cold process soap, making this project a great way to give new life to old soaps.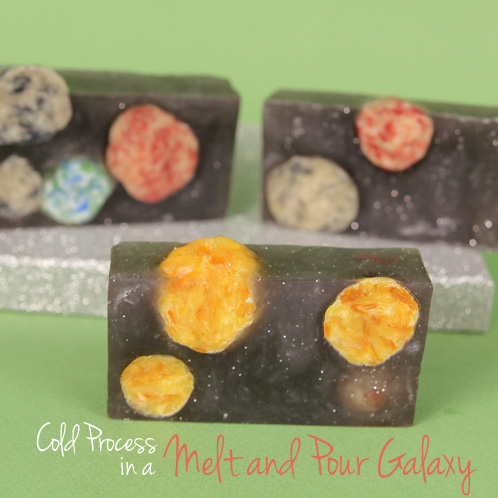 What you'll need:
16 oz. leftover cold process soap (or rebatch!)
24 oz Clear Melt & Pour base
1 mL sodium lactate
4 mini scoops Luster Black Mica
.5 oz. Black Tea Fragrance Oil
3 mini scoops Silver Glitter
Mini Temperature Gun
Mini Scoops
10″ Silicone Loaf Mold

Click here to add everything you need for this project to your Bramble Berry shopping cart!
ONE: If you have some in-the-pot-swirl soap laying around, shred the bars using a cheese grater. If not, you can color some rebatch soap using either the double-boiler or plastic baggie technique. I used about 16 oz. of cold process soap.
TWO: Once your cold process is grated, roll the shreds into 15 – 20 balls ranging from 1/2 inch in diameter to 1 1/2 inches. Keep CP shreds separate so colors will be more defined. This process works best with freshly grated soap.
THREE: Once soap balls are rolled, it is time to make your universe. Start by melting 24 oz of clear melt & pour. Add the Luster Black  mica, Black Tea Fragrance Oil and Glitter. Stir well!
FOUR: Once soap has reached 130 degrees, add sodium lactate, this will thicken your soap and allow your planets to float! Spray about 10-14 of your planets with rubbing alcohol and place them into your mold.
FIVE: Pour the melt & pour base over the planets and begin to add more sprayed planets. Repeat in a quick fashion until the mold is full.
SIX: Spray once more with rubbing alcohol and let sit.
Your soap will be ready to cut with a sharp knife in approximately 2 hours. There is no cure time needed if you used fully cured cold process soap to make your shreds with.