Once I saw the Gnome Mold at Bramble Berry I knew I had to have it.  Gnomes are in right now.  You see them popping up on Etsy and if you have kids you might have seen the movie Gnomeo and Juliet.  I wanted to give the gnomes detail and color so I thought Water Soluble Paper would be the perfect way to do that.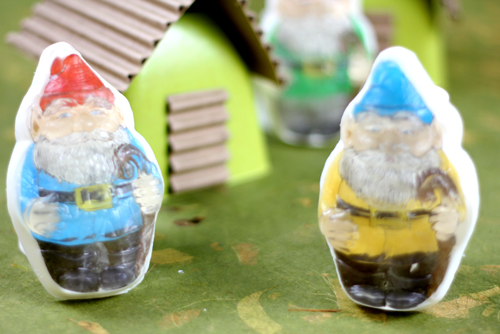 Before we get started you'll need to print out the Gnome images on water soluble paper.  A laser printer works best.  If you need a quick lesson on using water soluble paper, check out Anne-Marie's video here.  When you print it out be sure to choose "none" for page scaling.  You don't want it bigger or smaller than how it comes.  Go ahead and cut them all out.
Ingredients
Or Buy the kit at Bramble Berry with everything you need in the click of a button (below)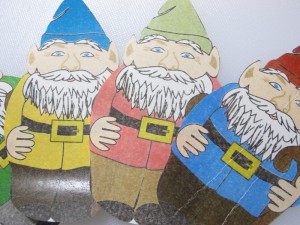 Lay one in your mold just to make sure it printed out okay.  It should be slightly smaller than the cavity so the top and bottom layers of your soap will touch around the edges without paper in between it.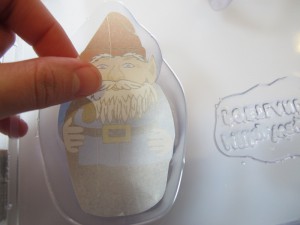 Now we're ready to melt and pour our first layer.  For the first layer I like to use Clear Melt & Pour Soap Base.  Melt about 4 or 5 ounces on short bursts just until melted.  Don't over heat.  I like to blue this a bit to help with clarity.  To do that I added a drop of Blue Mix Lab Color.  You can add scent to this layer or not.  Just be sure your fragrance doesn't color the soap.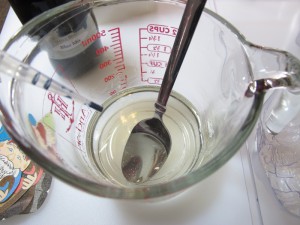 Pour this into each cavity just until you reach the top of the gnomes boots.  That is the highest point in the design.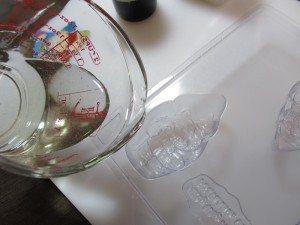 Spray with a light mist of alcohol to get rid of any bubbles.  Before we insert our gnome let the layer cool down a bit.  Gently blow on the soap and when a very slight skin forms it's time to add the paper.  Lay the gnome face down over the clear soap.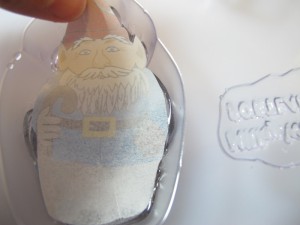 Now here's where I become a bit of a rebel.  Because the gnome design is pretty deep if you were to leave your embed like this you wouldn't be able to see the detail that well in the finished soap.  To help with that I simply take my finger and push the paper down into the soap as well as I can.  As long as the soap is cooled down a bit and nice and thick it won't start dissolving the paper.  You'll be fine.  Please note that this works only when printed with a laser printer.  Paper printed with a ink jet seemed to bleed right away.  So go ahead and push that little gnome down into the soap.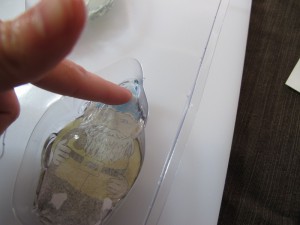 Let the littles guys harden up a bit and it's time to do the white layer.  Melt 6-7 oz of White Melt & Pour soap base.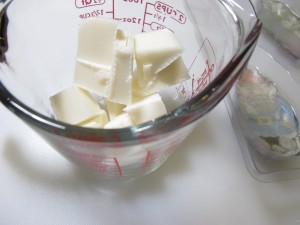 Add your fragrance.  Spray the little guys with alcohol to help with the layers sticking and pour your white base into each cavity.  Finish with a spray of alcohol to get rid of any bubbles.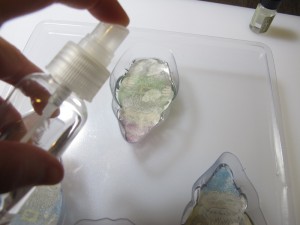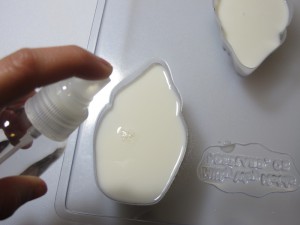 Allow to cool completely.  There you have it!  Soon you'll have a forest full of these adorable little guys.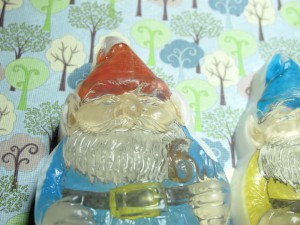 -Amanda, www.lovinsoap.com