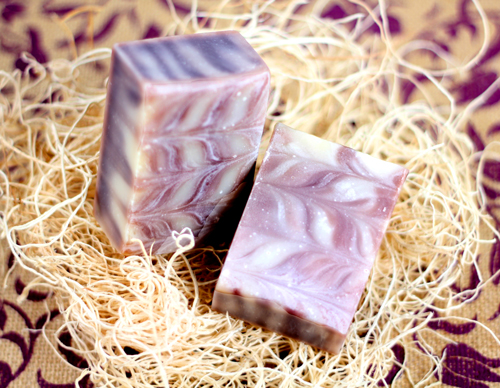 Alkanet is one of my favorite natural colorants to use. You end up with a wide variety of shades ranging from smoky purple to maroon depending on your soap's PH, base oils and whether your soap gels or not. The most effective way to use it as a natural colorant is to infuse your liquid oil; I infuse my olive oil. I add 1 tablespoon of powdered alkanet and 5 ounces of olive oil into a jar and let it infuse for a week or two shaking it once a day.
Since we're doing a swirl and infusing our olive oil, we'll need to make two batches of soap at the same time (split your recipe in half). One batch will use regular olive oil and the colored batch will use infused olive oil for a percentage of the olive oil. I like to use about 15% PPO of alkanet infused olive oil.
The recipe (you'll make this twice!):
Palm oil – 150g
Coconut oil – 120g
Olive oil – 180g
Castor oil – 30g
Sodium hydroxide – 67g
Water – 150g
I've already divided my favorite recipe (above) in half so will need to make two batches simultaneously. One batch you'll use regular olive oil and the colored batch you'll add 80g infused olive oil and 100g regular olive oil. You'll have to experiment with how much you prefer to use…just realize if you use too much you run the risk of a staining and colored lather!
Before I used my alkanet infused olive oil I like to strain it. This is easy to do by using panty hose or other mesh-like material over the jar mouth while you pour it out.
Not it's time to make our soap! Remember…we're making two batches simultaneously so you you'll need enough containers for two lye waters and two sets of oils. Gear up in your goggles and gloves! If you're new to making soap…be sure to check out Anne-Marie's cold process soap making videos online on Soap Queen TV.
Step 1: Measure out your lye and water and make your solutions. I like to put mine in a cold water bath to cool them down as I prepare my oils.
Step2: Measure out your solid oils and melt. Melt just until melted…don't overheat.
Step3: Once your solid oils are melted, add your liquid oils to the solid oils. In one container be sure to add your portion of infused oil. If you are following the recipe above then in one container you will add 80g of alkanet infused olive oil and 100g regular olive oil.
I like to add my fragrance oil to the oils before adding the lye water. I went with Energy.
This is what we end up with…two lye solutions ready to go and two containers of oils.
Pour the lye solutions into the oils and bring each mixture to a stable emulsion or a light trace. If you are doing a swirl…be sure not to over mix.
Once your mixtures are the consistency you're looking for, it's time to swirl! Pour the base color into your mold and swirl in the alkanet colored soap. Use a craft stick or skewer to complete your swirl. Need swirling help? Be sure to check out Bramble Berry's Advance CP Swirl video found here.
One thing to be careful of when using alkanet is to not use too much! It can stain a wash cloth and cause your lather to color. I tested this recipe and here's what the lather looks like! Check out those suds!
No colored lather and no staining! Whew!
I ended up gelling this batch with the help of a heating pad underneath my Bramble Berry 9 bar slab mold. You'll find that you get different resulting colors with gelling and not gelling.
Amanda Griffin
www.lovinsoap.com