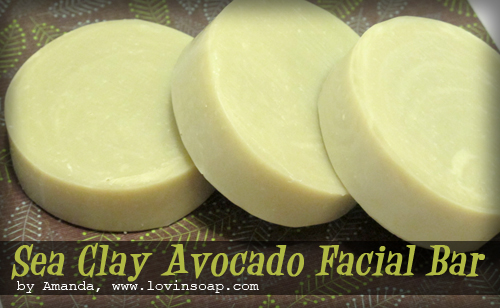 Guest post by Amanda from LovinSoap.com
I was so excited to see sea clay being offered at Bramble Berry!
This dark gray-green clay is ideal for facial masks and body mud masks. It originated as mud laid down under the sea millions of years ago. This clay acts as a mild exfoliant and is thought to have many properties around detox and cellulite reduction. – Bramble Berry website
I immediately thought of making a facial bar.  I had a new recipe that I wanted to try out.  This recipe is great for those that want to go palm oil free but don't want to sub lard or tallow.  I'm really happy with how it came out and make it often.
The recipe:
Olive oil – 12 oz
Coconut oil – 8 oz
Avocado oil – 6 oz
Cocoa butter – 4 oz
Castor oil – 2 oz
Water – 10 oz
Lye – 4.42 oz
1 teaspoon sea clay
1 oz essential oil blend for face (Lavender, Geranium and Tea Tree essential oil)
When I use clay in cold process soap the first thing I like to do is hydrate the clay.  To do this simply measure out your clay and add some water to it.  I usually do about 1/2 tablespoon water to 1 teaspoon clay.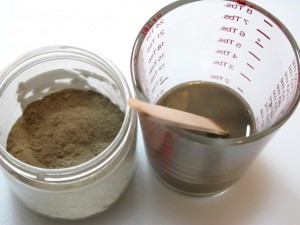 Before you start…be sure to gear up in your goggles and gloves! Safety Info for CP soapmaking is here or on SoapQueen.TV
Step 1: Weigh out your lye and water and make your solution. Set it to the side to cool of a bit.
Step2: Weigh out your solid oils and melt. Melt just until melted…don't overheat.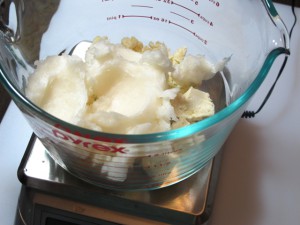 Step3: Once your solid oils are melted, add your liquid oils to the solid oils.
Step3: Go ahead and add the clay water to the oils.  It will bead up and not mix in but will once you start stick blending.  You can also add your scent at this time.  Since this is a facial bar I did a lavender, geranium and tea tree essential oil blend and added 1 ounce.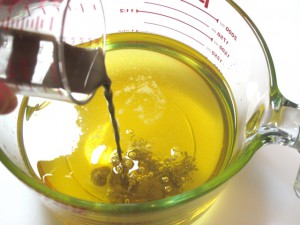 Step5: Once your oils and lye solution are both in the range of 120-140 go ahead and add the lye solution to the oils and stick blend to trace.  Since we're using a high amount of cocoa butter I like to soap a bit hotter than usual.  My usual temps are 100-120.  You don't want the cocoa butter to start to solidify and give you false trace so keep the temps up a bit.
Once you've reached trace, pour into your mold.  I love making round facial bars so prefer to use pvc for molding.
One of the best things about pvc is that I usually get a full gel without having to insulate the molds.  The next day remove your soap from the molds, slice up and cure 4-6 weeks.
Happy Soaping!
Amanda, www.lovinsoap.com