We hope that everyone had a fantastic holiday yesterday — we sure did, and today we've got a very special cold process recipe for you. If Instagram 'likes' equal popularity, this Rainbow Squirty Swirls soap may be our most popular soap yet (see for yourself — more than 120 'likes,' wow)! This tutorial uses the same technique as the Squirty Swirls recipe in the Soap Crafting book, and it's an easy process that results in beautiful soap every time.
One thing to note about this recipe is that it can take 10 – 15 minutes to squirt all the soap into the mold, so it's important to use a slow-moving recipe and a fragrance you know won't accelerate trace. In this case, we used our new Amazon Lily & Rain Fragrance Oil, which performed beautifully and gave our rainbow soap a little tropical flair.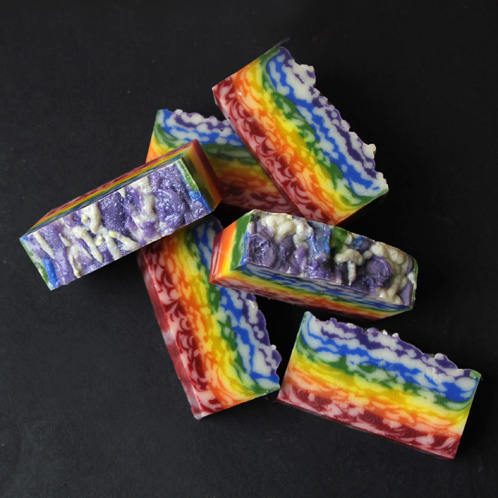 What You'll Need:
5.2 oz. Sweet Almond Oil
7 oz. Canola Oil
10.5 oz. Coconut Oil
1.7 oz. Hazelnut Oil
1.7 oz. Mango Butter
8.75 oz. Palm Oil
4.9 oz. Sodium Hydroxide
11.5 oz. distilled water
2.2 oz. Amazon Lily & Rain Fragrance Oil
Optional: 8 Squirt Bottles

Click here to add everything you need for this project to your Bramble Berry shopping cart!
If you've never made Cold Process soap before, stop here! I highly recommend checking out our FREE four part SoapQueen.tv series on Cold Process Soapmaking, especially the episode on lye safety. And if you'd rather do some reading, Bramble Berry carries a wide range of books on the topic, including my newest book, Soap Crafting. You can also checkout the digital downloads for that instant gratification factor. This is an advanced technique and should not be attempted without a few recipes under your belt.
SAFETY FIRST: Suit up for safe handling practices! That means goggles, gloves and long sleeves. Make sure kids, pets, and other distractions and tripping hazards are out of the house or don't have access to your soaping space. Always soap in a well-ventilated area.
COLOR PREP: Disperse 1 teaspoon of each color except Titanium Dioxide, Electric Bubblegum and Merlot Sparkle Mica into 1 tablespoon of liquid oil (we like Sweet Almond or Sunflower oils). Prep double the amount of Titanium Dioxide, so disperse two teaspoons of colorant in two tablespoons of liquid oil. To create Bramble Red, disperse 1 teaspoon Electric Bubblegum colorant and two teaspoons Merlot Sparkle Mica into three tablespoons of liquid oil.
Prepping your colors in the beginning will allow you to work quickly and give you more time to work with your soap. Use the mini mixer to get all those clumps worked out smoothly.
ONE: Slowly and carefully add the lye to the water, and stir until clear. Set aside to cool. If you'd like a harder bar of soap that lasts longer in the shower, you can add Sodium Lactate to the cooled lye water. Use 1 teaspoon of Sodium Lactate per pound of oils in the recipe.
TWO: Melt and combine the Canola, Coconut, Hazelnut, Mango, Palm and Sweet Almond oils in a large glass container. Once the lye water and the oils have cooled to 130 degrees or below (and are ideally within 10 degrees of each other), add the lye water to the oils and stick blend until thin trace.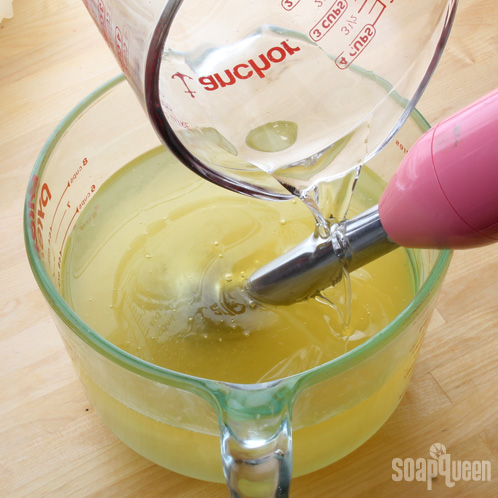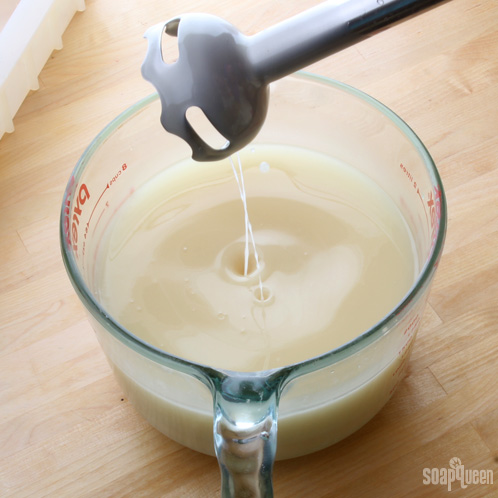 THREE: Split off about half the batter (3 cups) into a separate container. Into the newly separated batch, add 4 teaspoons of dispersed Titanium Dioxide.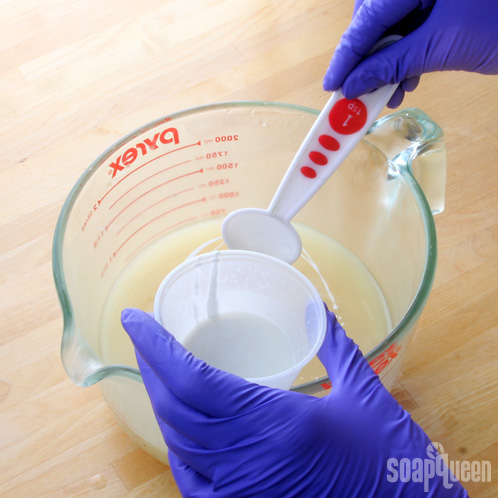 FOUR: Now add the colorants to the squirt bottles. We added one colorant per bottle in the following measurements:
2 teaspoons dispersed Fizzy Lemonade
2 teaspoons dispersed Tangerine Wow! and 1/8 teaspoon dispersed Bramble Red
1 teaspoon dispersed Bramble Red
1 teaspoon dispersed Chrome Green
1 teaspoon dispersed Ultramarine Blue
1 teaspoon dispersed Ultramarine Violet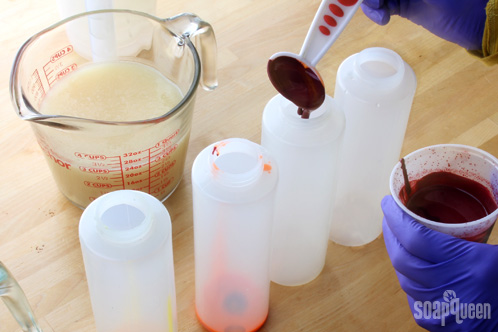 FIVE: Split the fragrance roughly in half between the white and uncolored batches of soap. Mix in the fragrance with a wire whisk or spoon.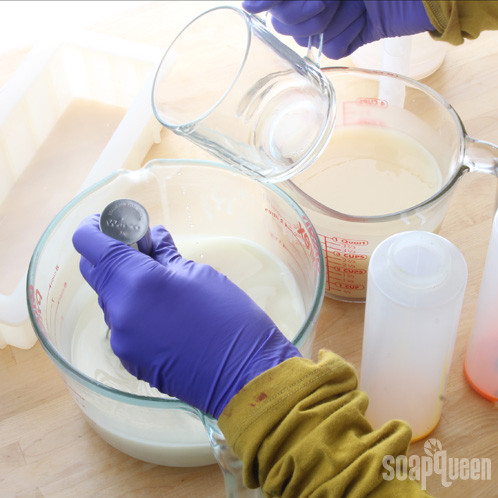 SIX: Pour the container of white soap batter into two condiment bottles. Pour until both bottles are full (our bottles hold about 12 oz.)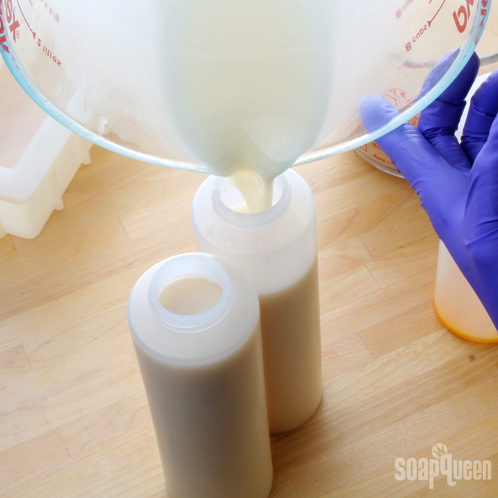 SEVEN: Pour the uncolored soap into the color bottles, filling each about a third of the way full. Then, cover the tip with your finger and shake vigorously, releasing your finger with the tip pointing away from your face.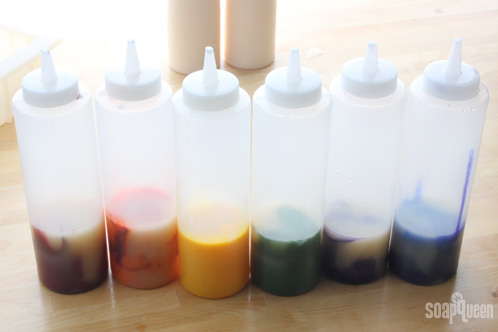 EIGHT: Now comes the fun part! Take your first color (we chose red) and drizzle it into the mold. Once the bottom has been covered with a thin layer of squirty swirls, drizzle a layer of white. Repeat this process with all the other colors, repeating the same order (we followed roughly the order of a rainbow: red, orange, yellow, green, purple, blue). Alternate between layering a color, white and then another color until the bottles have been emptied. Because this is a time intensive recipe, your batter may begin to thicken as you get closer to the top. If you need to, pop the bottles in the microwave for 10 seconds to keep the batter liquid enough to work with.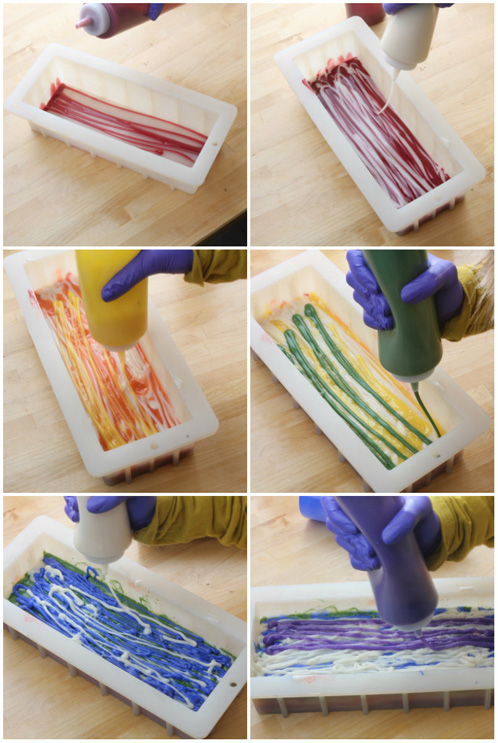 NINE: We finished the top of this soap by simply drizzling purple and white together. Tamp the mold on the table several times to disperse bubbles, and then cover and insulate for 24 hours. Unmold after 3-4 days and allow to cure for 4-6 weeks.