Why put Pink Himalayan Salt in your CP?  The obvious answer is that it looks totally unique. What you may not know is that  Pink Himalayan Salt is known for its nourishing and soothing properties. I love it inside cold process for its exfoliating and moisturizing abilities. Plus salt bars have a very creamy lather.  For this project, we just added a little of the coarse sized salt on top for the WOW factor!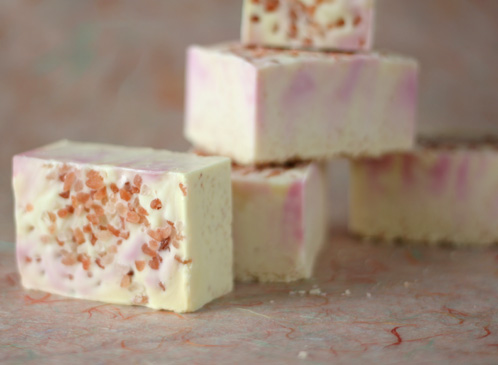 This is a 5 pound recipe using 2 different molds. You can either make this recipe in a 5 pound mold or split it up into two molds (like I did) using the 9 Bar Baltic Birch Mold and the 2 Pound Loaf Mold. I really wanted to show you two different looks that you can get using two different molds.
Ingredients
16.5 oz Coconut Oil
19.2 oz Olive Oil
16.5 Palm Oil
2.7 Shea Butter
8 oz Lye
18.1 oz Distilled Water
1.5 oz Eucalyptus Essential Oil
5 cups Small Pink Himalayan Salt
1 oz Coarse Pink Himalayan Salt (optional for garnish)
Buy Everything you need in the click of a button! Molds not included in kit button.

Safety Tips: If you have never made cold process soap before, I strongly suggest getting a couple of  basic recipes under your belt before diving in. Check out Soap Queen TV on Cold Process to get started. It's a 4 part series that will take you through the basics (and be sure to watch the episode on Lye Safety). If you're a book worm, Bramble Berry also has some helpful reading on the cold process technique.
ONE: In a well ventilated area, carefully prepare your lye water by adding the lye to the water (never add the water to the lye). Stir until the mixture turns water clear. Be sure that you're wearing your safety goggles, gloves and long sleeves.  I would also recommend watching the Lye Safety video on Soap Queen TV. Safety first, soapers!
TWO: Combine and melt the coconut oil, palm oil and olive oil. Once the oils are heated, stir in the shea butter until fully melted.
Tip: If shea butter gets too hot it has a tendency to become grainy, which is just the nature of the butter. Stirring the butter into the heated oils melts it at a lower temperature, avoiding the grainy texture all together.
THREE: Slowly and carefully add the lye mixture to the oils and stick blend for 10-15 seconds.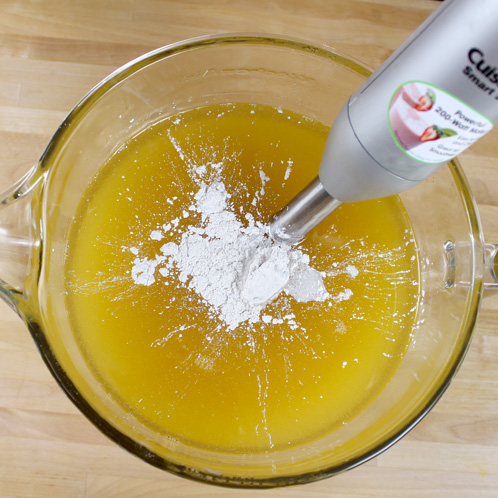 FOUR: Add 1 Tablespoon of Super Pearly White Mica and mix for 20-30 seconds until the mica is fully incorporated into the soap.
FIVE: Separate (roughly) 2 cups of the super pearly white soap batter and pour it into two separate containers. Into the first container, add 1 teaspoon – Tablespoon (personal preference) of diluted Fuchsia LabColor . Give it a couple pulses with the stick blender to mix. Do not add anything to the second container of soap batter.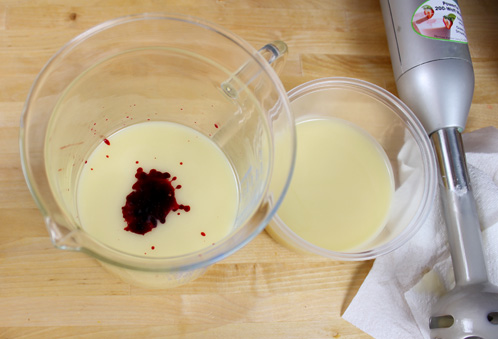 SIX: To the remaining soap batter (which is still in your large mixing bowl) add 1 ounce of Lemongrass Essential Oil and 1.5 ounces of Eucalyptus Essential Oil. Quickly stick blend to make sure the essential oil blend is fully incorporated. Then swoon over the fresh, citrusy and energetic aroma.
SEVEN: Once the mixture has reached light trace, add 5 cups of  pink salt and hand stir with a spatula. Work quickly. This mixture thickens up fast!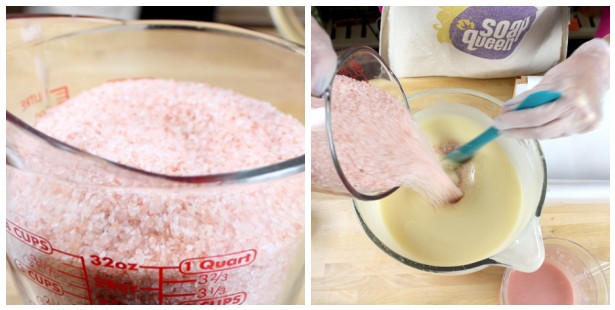 EIGHT: Now it's time for the fun part, creating our salty swirl. Pour a small layer of pink salted soap into the mold, followed by thin stripes of the pink soap and thin stripes of the white soap until you fill up the entire mold. Use a skewer or spoon to create a linear swirl.
NINE: Firmly press down the dividers. Pop on the lid and wrap it in a towel to insulate the soap. Then put it to bed. I was able to unmold my soap the very next morning and it turned out beautiful!
Note: Because of the salt, the dividers may not reach the very bottom of the mold. Just get them down as far as you can.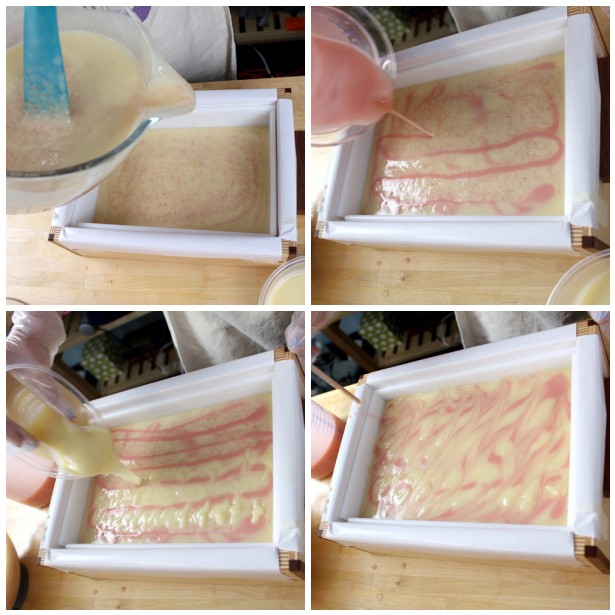 LOG MOLD OPTION

Have your log mold lined with freezer paper ahead of time and repeat steps eight and nine of the slab mold, alternating pours of salted soap with pink and white swirls. I saved a little bit of unsalted pink and white to get a perfectly lovely swirl on the top of the soap (that's why the salt portion of the bar doesn't extend all the way to the top).

Cutting the Log Mold: On a piece of wax paper, turn the soap log upside down so your beautiful swirl is on the bottom. Cutting the soap from this end will prevent any crumbling with the salt, which can be a common occurrence in CP salt bars.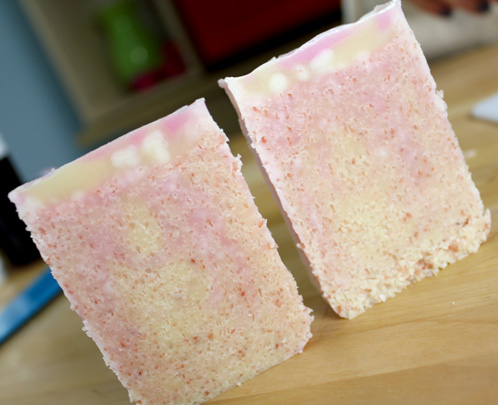 Do you make salt bars? I'd love to hear how your process differs than mine and if you have any can't-fail tips to share with Soap Queen Readers!