I am still so in love with our new cube mold! For this project, I wanted to create a seasonal feel using non-traditional colors and an unexpected yet comforting scent blend. What a great way to welcome the colder months.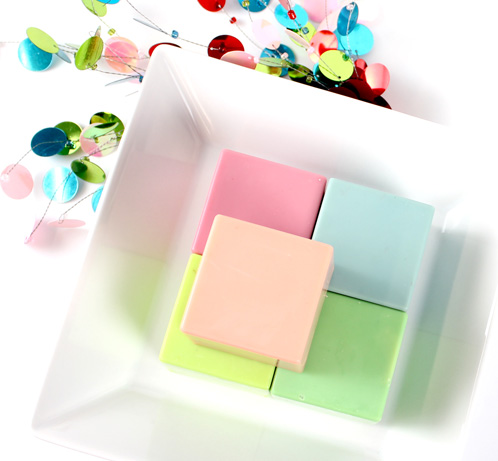 Recipe:
24.5 oz. Coconut Oil
39.2 oz. Olive Oil
24.5 oz. Palm Oil
9.8 oz. Palm Kernel Flakes
14.4 oz. Lye
33 oz. Distilled Water
2.2 oz. Sodium Lactate
4.5 oz. Rise and Shine Fragrance Oil
2.25 oz. Christmas Tree Cybilla Fragrance Oil
1.75 teaspoons diluted Red Velvet LabColor
1.75 teaspoons diluted Green Apple LabColor
1.75 teaspoons diluted Citrus Green LabColor
1.75 teaspoons diluted Blue Mix LabColor
1.75 teaspoons diluted Soft Orange LabColor
Get all of the ingredients in the click of a button!

If you have never made cold process soap before, I strongly suggest getting a couple of  basic recipes under your belt before diving in. Check out Soap Queen TV on Cold Process if you want to get started with cold process. It's a 4 part series that will take you through the basics (and be sure to watch the episode on Lye Safety). If you're a book worm, Bramble Berry also has some helpful reading on the cold process technique.
PREP: I mixed Rise and Shine (citrusy, fruity blend) with Christmas Tree Cybilla for a balanced yet unexpected blend, perfect for the transition into Fall! Also, If you have never diluted your Bramble Berry LabColors learn how here.
TIP: Blending basics denote the need for a top (citrus) note, a middle (fruity and/or floral) note, and a base (vanilla, musk) note. For this unique blend, I relied on the balsam (pine) notes of the Christmas Tree to act as the base note and carry the fruity and citrusy notes of the Rise and Shine. Top and middle notes are the first to disappear, thus the need for a 2 to 1 mix of Rise and Shine to Christmas Tree.
ONE:  Suit up! Make sure you're wearing long sleeves and put on your goggles and gloves. Carefully add the lye to the water (never the other way around!) and mix until the water is clear, taking care to not breathe in the fumes. Set aside to cool.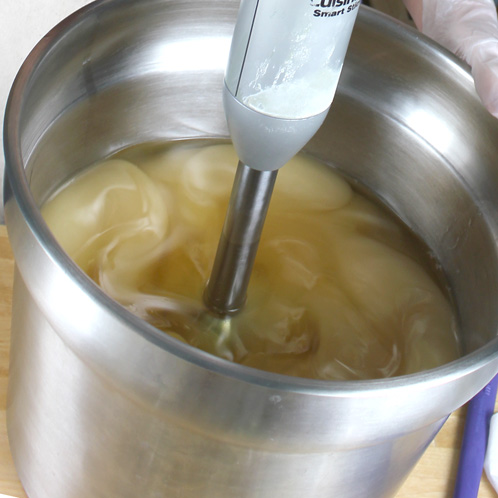 TWO:  Melt and mix the Coconut Oil, Palm Oil, Olive Oil, and Palm Kernel Flakes. Add Sodium Lactate to cooled Lye water. Slowly add the lye water to the oils, stick blending for about 15 seconds or until you reach a super light trace. Add the Christmas Tree/Rise and Shine Fragrance Oil blend and stick blend for a few more seconds, taking care to stay within a super light to light trace range.
THREE:  Divide your batch into 5 equal parts. I measured each part out at 3.5 cups (about 28.5 ounces by weight) each.
TIP:  For the next step, I switched to a whisk. I wanted the soap to stay at a light trace for as long as possible so that I had plenty of pouring time. Make sure that you keep your eye on all five batches; give each batch a little bit of love with the whisk from time to time.

FOUR:  Color your batches. LabColors work on a WYSIWYG basis (What You See Is What You Get), so start off with the amounts above but feel free to add more colorant as you see fit. Keep in mind, though, that if your soap goes through gel phase the colors will brighten quite a bit! If you've never worked with LabColors before, check out the post we did here. As you color each batch, mind the others to make sure they don't lose trace and mix a bit just to be sure.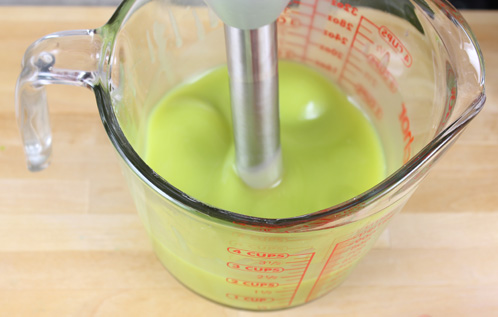 FIVE:  Pour each colored batch into your mold. Each part should fill about 5 cavities, but as you are pouring make sure to leave about ¼ of an inch of space at the top to ease in the unmolding process. I poured in columns so the outcome was a rainbow effect in the mold!
SIX:  Leave the soap in the mold for at least 7 days. Yes, 7 days! We found that because of the self-insulating tendencies of the mold, the soap just isn't ready to come out until it's been sitting for a full 7 days.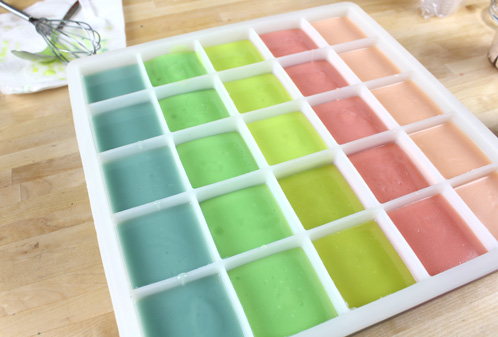 SEVEN:  Unmold the soap by pulling the mold gently away from the sides of the soap, and gently push out (the soap that wasn't exposed to air will still be soft and prone to denting) and allow to cure for 4-6 weeks.