There are so many unique and interesting ingredients hitting beauty products all over the market. We've moved way beyond just Shea Butter and Cocoa Butter. If you haven't checked out our butters lately, take a gander; you'll be surprised at how many we've grown to. Coffee Butter is just one of those fun and unique ingredients that we're intrigued with. It's luxurious, rich and it feels like it can wake you up on one whiff! Just the smell alone makes me smile. It's perfect for a mocha lip balm, lotion, body butter or cold process soap recipe.
Recipe for Coffee Butter Cold Process Soap: 
10 oz coconut oil
10 oz palm oil
12 oz olive oil
4 oz coffee butter
12 oz water
5.1 oz lye for a three pound batch
Silicone Loaf Mold
First Time Making Cold Process Soap?
I strongly suggest getting a couple of basic recipes under your belt before diving into this advanced recipe. There are serious safety considerations (gloves, goggles, no children or pets etc...) to take into account before you get your soaping groove on. Check out Soap Queen TV on Cold Process if you want to get started! It's a 4 part series that will take you through the basics (and be sure to watch the episode on Lye Safety). If you're a book worm, Bramble Berry also has some helpful reading on the cold process technique. Check out our E-Book on Cold Process.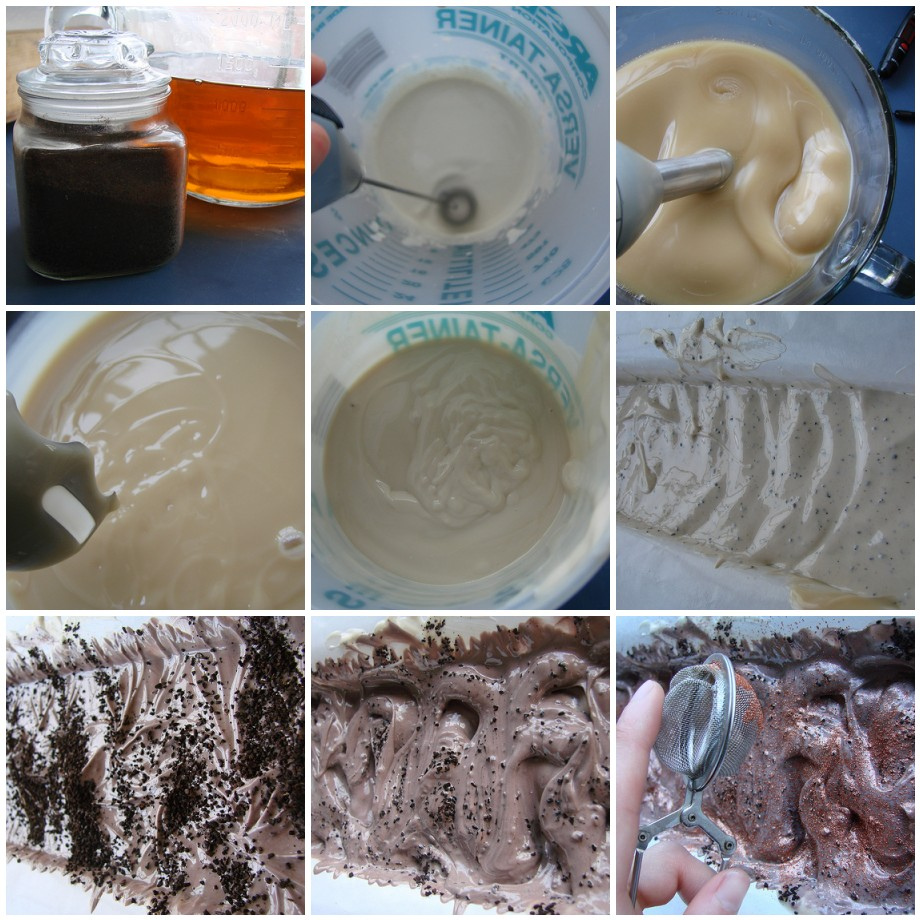 This batch was split into three (uneven) layers. The bottom layer (the largest) is uncolored soap batter. The middle(ish) lighter (small)  layer has a pinch of titanium dioxide and the top brown (small) layer is colored with the coffee grounds and Cappuccino Mica. Finally, the last layer is topped off with Copper Sparkle Mica. There is no fragrance oil added to the soap so you'll get natural and subtle coffee scent with a light exfoliant from the coffee grounds in the top layer. If you want more "umph" to your scent, you can do Turkish Mocha in that top brown layer to help boost up your batch (keep it out of the light layers or else those light layers won't stay light). Let us know if you've ever experimented with coffee soap! There are so many different ways that you can create a coffee soap recipe.