Who is Anne Bloom? According to her blog profile, she's a northwest native, soapmaker, bagpiper, and teacher; a lover of plants, food, travel, history, and arcane knowledge; a wife and mother of three…who currently resides in Seattle, Washington. If that wasn't enough, she runs a local soap company Seattle Sundries handcrafted Soaps. I received some of her soaps as very sweet baby gift from one of our fabulous customers. As soon as I saw her adorably packaged products  (love love love those tins and whimsical labels), I knew I wanted to feature Anne on the Soap Queen blog.  Of course, I had to place an order to get even more goodies so I am positively swimming in Anne's soaps right now. Let's find out a little more about the local soapmaker from Seattle…
Soap Queen: When and how did you get started making soap?
Anne Bloom: I started making soap in the early 90s after a friend introduced me to the process.  I found that I really enjoyed all of the aspects of soapmaking: everything from the scientific blending of ingredients to the creative and expressive side of scent, color and packaging.  For me, soapmaking is the perfect combination of artistry and practical ingenuity.  And now that I'm a parent and am increasingly focused on the ingredients that my family uses, I also love how proud I feel making products that are so natural and wholesome.  It makes me feel good to make good soap.
SQ: What's your favorite product that you make?
AB: Don't ask me that!!!  It's like trying to choose your favorite child. Besides, it really depends on my mood and the occasion.  There are certain products that I know I will never remove from my line, though…they are just right.  I feel that way about my Bitchin' Kitchen, Road Trip & Highland Fling Soaps, and the Lavender & Lemon Smooch Stick.  I always leave a little room in my product line for change, though.  I think that new products help to keep customers engaged, and coming up with new concepts for a product is really half the fun for me, personally.  I can't tell you how many times I've sat in my office, all alone, laughing out loud to myself about some new idea or name that comes up.  Good times…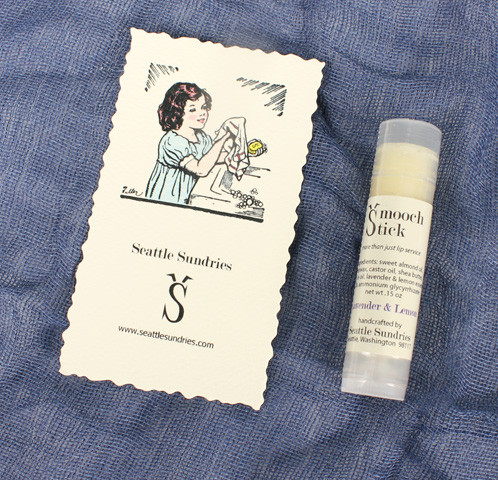 SQ: Any business advice for the aspiring soapmaker out there?
AB: I wish that I had some profound words of wisdom to give aspiring soapmakers, but I don't.  My business has grown and transformed over the years in a somewhat disorganized, but organic way.  There are certain things that I've done that have helped to propel it forward in spurts, but nothing that has been an instant recipe for success.  I have focused my energy at different times on niche marketing, product development, website optimization and social media, but I mostly just plug away every day at doing something that I really enjoy.  Perhaps most importantly, I like my customers.  I appreciate people who appreciate what I do. I enjoy getting to know them, hearing their feedback, and coming up with new ideas that I think they'll love.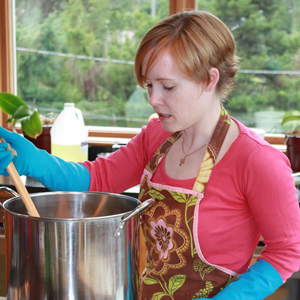 SQ: Where do you get your inspiration for the soap and packaging?
AB: One evening, several years ago, I sat around the kitchen table with my brothers, drinking a glass of beer (or maybe it was wine, who knows).  We were talking about Bigfoot…because he's frequently a topic of conversation when I get together with my brothers.  Somebody was commenting on how Bigfoot is supposed to smell really bad, then someone else said "you need a soap for that!"  I don't even remember who came up with the idea first.  Families can be like that.  We had a good laugh about it that night and the next day Sasquatch Soap was born.
The inspiration for my packaging comes from my life.  Sometimes it's a conversation that I have with someone, or a witty play on words that I like (Bitchin' Kitchen).  Sometimes I start with an image and build the concept around that (Gender Neutral).  Sometimes I start with a name that I must use (like Potty Mouth), and come up with an image later.  Sometimes I pick a "theme" that is fun and I think my customers would like (Gardener's Gold).  And now it's gotten to the point where family, friends and customers have started mentioning soap ideas to me when they think of them.  It's nice to know that soap is on everyone's mind!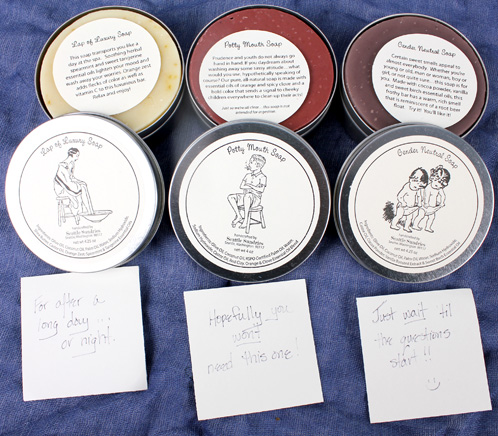 SQ: I see on your blog that you do other crafts. What are your other hobbies when you're not soaping?
AB: I have lots of other interests.  My mother says I have too many for my own good.  😉  I sew, cook, garden, teach, play the bagpipes, lead a 4H club, and generally like making things and making things beautiful.
Get some soaps for yourself at Seattle Sundries handcrafted Soaps and check out her fun, crafty Blog: Skruben!