We're midway through our Winter 2014 Soap Swap, and dozens of Swap boxes are arriving daily. If you've signed up and haven't sent your box yet, you have until Monday, March 17 to get it to the Bramble Berry warehouse. You can send Swap boxes to:
Bramble Berry Inc.
C/O Soap Swap
2138 Humboldt Street
Bellingham, WA 98225
Soap Swaps are a fantastic way to practice your soaping skills and get inspired by fellow soapers. If you haven't signed up, you still have time! Simply email to sign up. Be sure to include your name, the fragrance you'd like to use and what type of soap you're making. If your soap won't be cured into time to send in, that's okay too. Simply include a cure date so the recipient knows when they can use it.
We hold swaps three to four times per year, and the best way to find out about the next one is to keep a close eye on the Soap Queen blog. We tear into every box that arrives to the warehouse. These are just a smattering of some of the fantastic soaps that have arrived: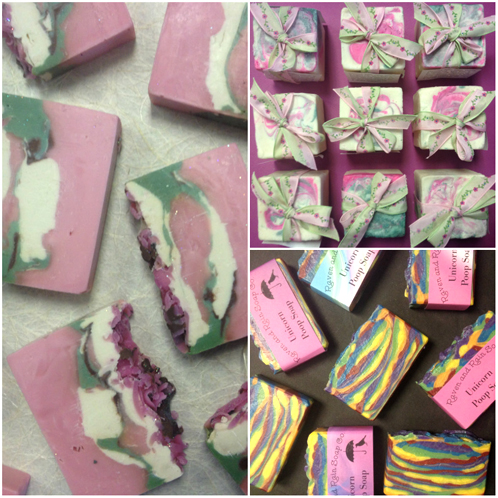 Follow us on Instagram for more Soap Swap photos
And there are countless boxes still to come! The first swappers who send in their boxes will receive a mini handcrafted soap featuring one of my favorite new fragrances. Below is the recipe for the Amethyst Garden Soap, which will be included in every box that arrives to the warehouse early.
This is such a large batch of soap (12 lbs.) that you might want to scale it down to fit in a smaller mold. It would work wonderfully in the 18 or 9 bar mold, for example. This recipe contains 30% Palm, Coconut and Canola oil and 10% Avocado oil.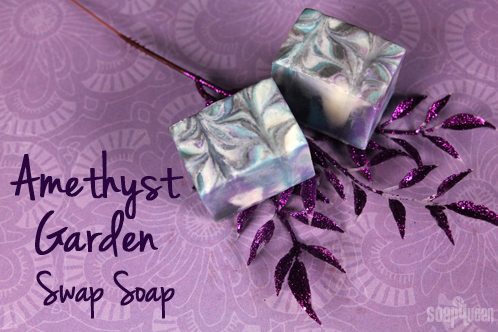 What You'll Need:
13.3 oz. Avocado Oil
39.9 oz. Canola Oil
39.9 oz. Coconut Oil
39.9 oz. Palm Oil
18.8 oz. Sodium Hydroxide
43.8 oz. distilled water
7. 5 oz. Sunny Herb Garden Fragrance Oil

Click here to add everything you need for this project to your Bramble Berry shopping cart!
If you've never made Cold Process soap before, stop here! I highly recommend checking out our FREE four part SoapQueen.tv series on Cold Process Soapmaking, especially the episode on lye safety. And if you'd rather do some reading, Bramble Berry carries a wide range of books on the topic, including my newest book, Soap Crafting. You can also checkout the digital downloads for that instant gratification factor.
SAFETY FIRST: Suit up for safe handling practices! That means goggles, gloves and long sleeves. Make sure kids, pets, and other distractions and tripping hazards are out of the house or don't have access to your soaping space. Always soap in a well-ventilated area.
COLOR PREP: Disperse 2 teaspoon of each colorant into 2 tablespoon of Sunflower or Sweet Almond Oil (or any other liquid oil). Use a mini mixer to get clumps worked out smoothly. Prepping your colors in the beginning will allow you to work quickly and give you more time to work with your soap.
MOLD PREP: Before you begin, be sure to line the mold with freezer paper (we're always looking to add products to our line, and a silicone liner for this mold is definitely on the list!). For now, click here to learn how to line the mold yourself.
ONE: Slowly and carefully add the lye to the water and gently stir until the lye has fully dissolved and the liquid is clear. Set aside to cool.
TWO: Combine the Avocado, Canola, Coconut and Palm oils (remember to fully melt then mix your entire container of Palm Oil before portioning). Once the lye water and the oils have cooled to 130 degrees or below (and are ideally within 10 degrees of each other), add the lye water to the oils and stick blend until thin trace.
Because this is such a large recipe, we highly recommend adding Sodium Lactate to the cooled lye water so you can release this soap from the mold more quickly. Use 1 teaspoon of Sodium Lactate per pound of oils in the recipe, or about 8 teaspoons total for this recipe.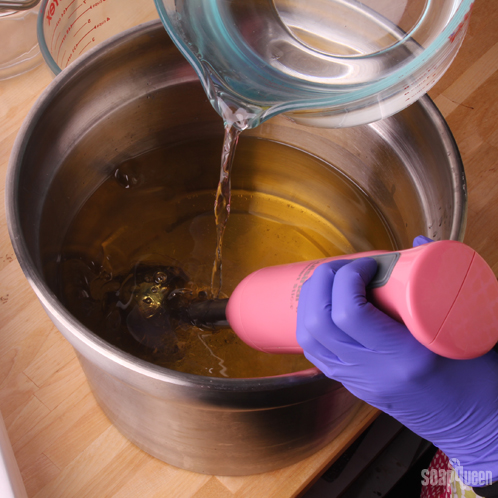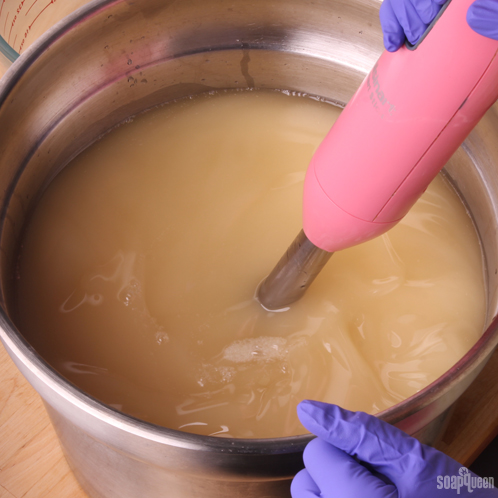 THREE: Split the soap batter equally into four large containers. The full pot of soap batter is heavy. Make sure to have your core engaged before picking it up. After splitting, each container should hold about 6 cups of batter.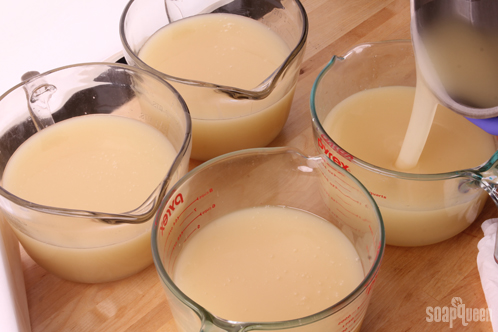 FOUR: Add the following colors to the batters at the following rates:
In one container, add 2 tablespoons of dispersed Ultramarine Violet.
In the second container, add 2 tablespoons of dispersed Titanium Dioxide
 In the third container, add 2 tablespoons of dispersed dispersed Neon Blue Raspberry
In the last container, add 1 tablespoon dispersed Black Oxide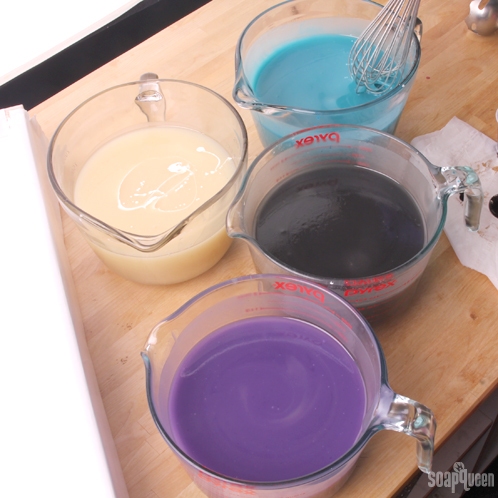 FIVE: Fill four Squeeze Bottles about 1/3 of the way full and leave them unscented. Set aside until step 8.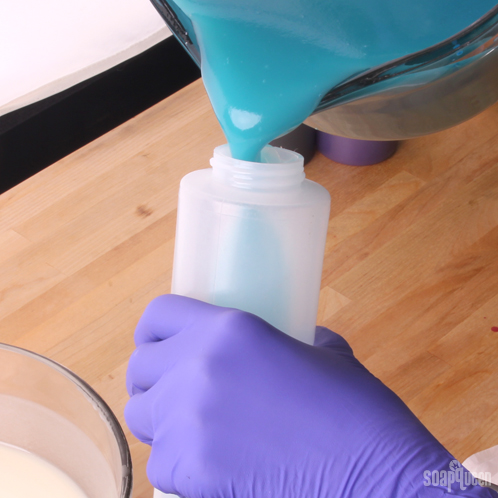 SIX: Divide the fragrance roughly between the four containers. Eye balling is okay! Incorporate the fragrance into the batter with a whisk or spoon.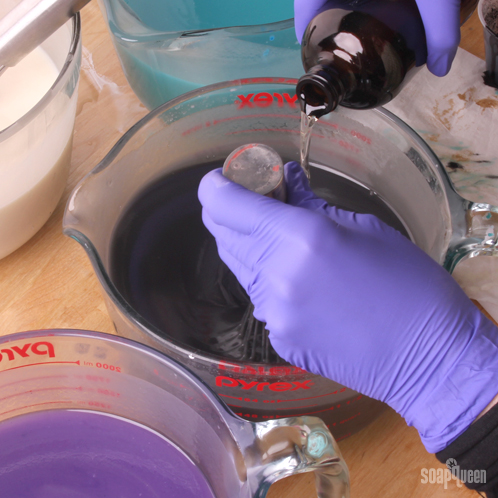 SEVEN: Alternate pouring the batters in big, looping curves. Choose a color order and stick with it until you empty all four containers. Be sure to tamp the mold on the table surface several times between every few pours to release any trapped air bubbles.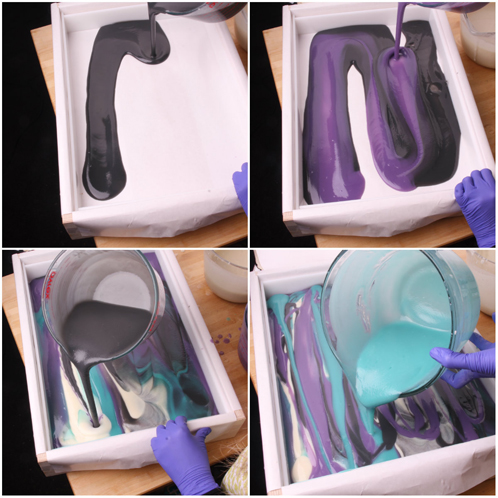 EIGHT: Take your Squeeze Bottles from step five. Pour thin, vertical lines up and down the length of the mold. Repeat this process with the other colors, methodically layering one on top of the other in the same order and pattern. Do this until you've emptied all the colored squirt bottles. Optional: Finish by running the Comb Swirl Tool once down the length of the mold.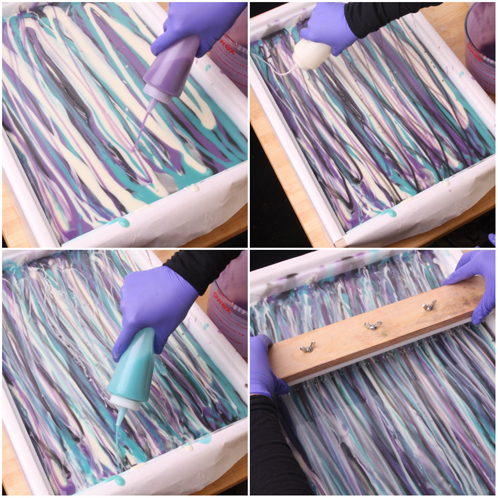 EIGHT: Insert a chopstick or dowel all the way into the soap. Start in the top left-hand corner and drag it back and forth through the soap until you reach the bottom of the mold. Lift it straight up and out when you reach the end.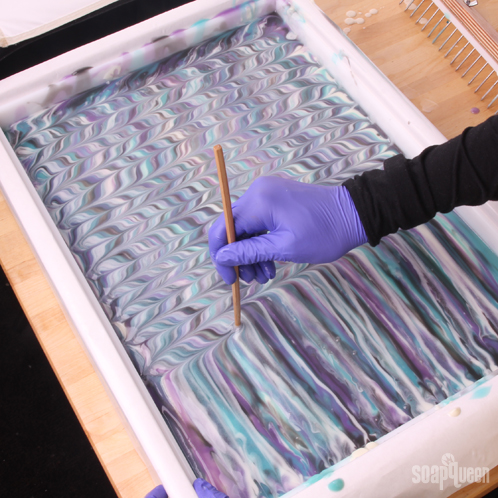 NINE: Now repeat step eight, but with a twist. Start in the bottom righthand corner and drag the tool up and down through the soap until you reach the other side of the mold.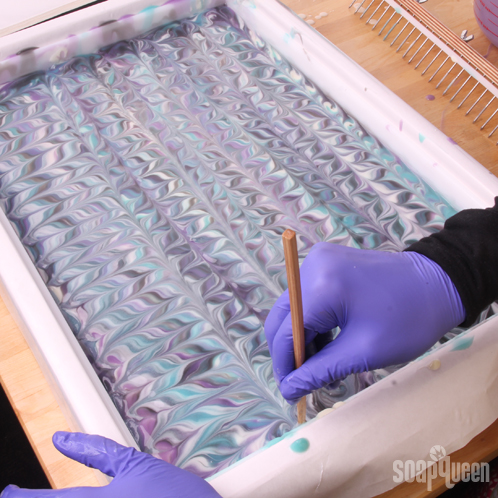 TEN (optional): You can finish this soap by inserting either our 36 bar or 72 bar divider set.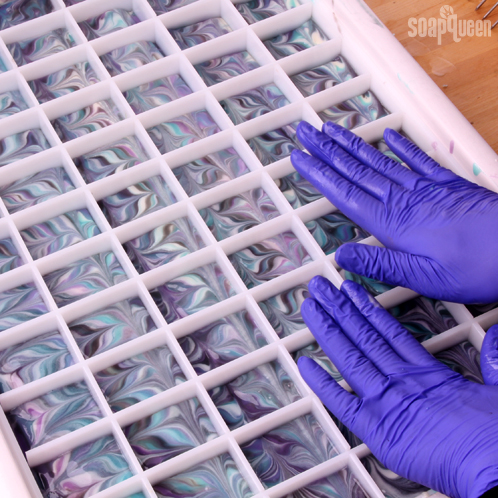 This is such a large batch of soap that you may need to wait up to a week before attempting to unmold it. If you use dividers, start by gently twisting the side panels off first. With the side panels removed, gently lift the center dividers straight up and out, one-by-one. If at any point the soap sticks to the dividers, don't force it! It simply means the soap is still too soft and needs to sit for 2 – 3 more days to harden up. Let the soap cure for 4 – 6 weeks and enjoy!