We have been working with a small local manufacturer to create these remarkable machines. Our Bath Bomb Maker will allow you to make numerous Bath Bombs in a fraction of the time.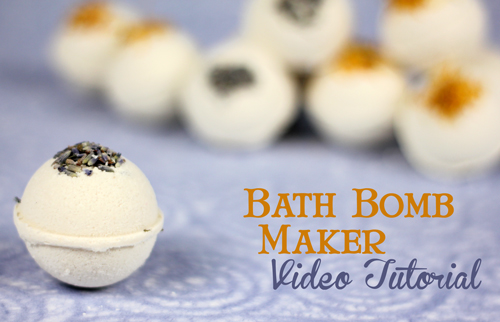 The machine is an investment. If you are just starting out, I would not recommend this  product for you. You'll definitely want to build up your customer base and product line before getting one of these. But if you have been making and selling Bath Bombs and are ready to expand production – this is the tool for you! The ingredients for making Bath Bombs are very inexpensive and yet they can sell for $3 – $7 each. Since the profit margin for Bath Fizzies is aggressive and much of the cost ends up being in the actual labor of producing a bath fizzy, it can make sense to invest in a machine like this.
In this video I show how easy it is to use the Bath Bomb Maker. The key is to get your mixture just the right consistency. I have found that it needs to be a little wetter than the mix would be if I were packing the Bath Bombs by hand. The great thing is – if the first bath bomb doesn't come out you, just dump it back in the bowl and try again! I won't lie; the first time I tried the machine, I got frusterated. The mixture needed to be wetter than if I was making bath fizzies by hand. I couldn't figure out how high to fill the little tube. And my bombs kept splitting. After a solid 20 minutes of experimenting, I was able to get the consistency right, the fill levels perfect and since then, I haven't had an issue. I know just what my go-to recipe and technique is – and I share it below.
To Make this Bath Bomb recipe you will need:

  Get everything you need to make these Bath Bombs with the click of a button!